Need something simple to bring a little more Valentine's Day decor into your home?  How about a practical and super simple kitchen towel?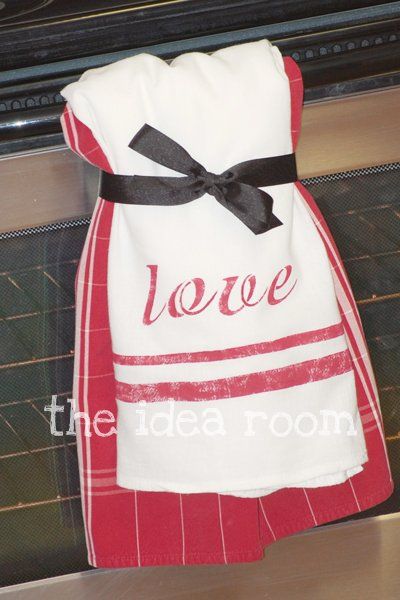 I am loving the look of the linen flour sacks that have been floating around the internet lately and this love hand towel was inspired by them.  I took a boring white hand towel that I had sitting in my drawer and decided to pretty it up a bit.  I think I originally found them at Kmart from Martha Stewart's line.
Then I simply took some blue painter's tape and laid two strips down across the entire bottom length of the towel.  Then taking a little stipling brush and some acrylic paint, I "stenciled" the space between the strips of tape.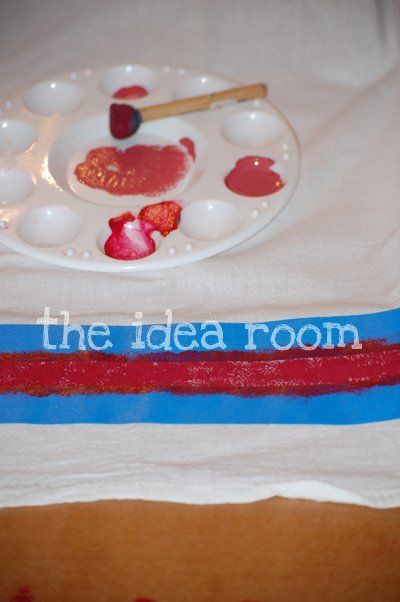 Then I let it dry completely…about 20 minutes.  Then I removed the tape and added two more strips of new tape to make the second line.  This one a made a bit thinner and placed it right above the thicker line.  Let this paint dry as well.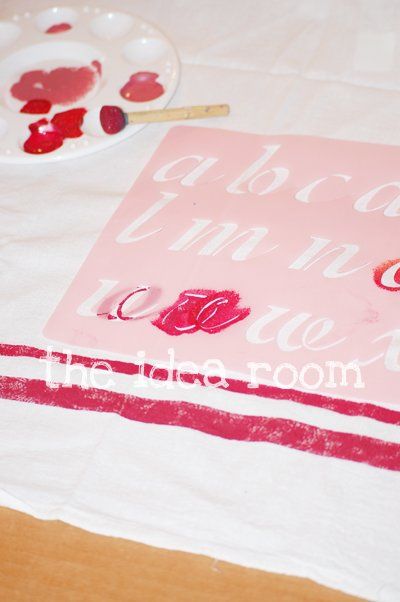 Then I took a lettered stencil that I already had on hand and stenciled the word "love" above the lines.
Now, you are probably wondering if the paint can be washed.  I was wondering the same thing and did not want to have to go out and buy paint specifically for fabric.  I read online that if you iron the back of the painted towel or fabric that this will heat seal the paint so that it does not bleed in the wash.
So I ironed the paint on the back and then also on the front.  I covered the front with a brown paper bag between the iron and the paint so that it would not accidently bleed onto my iron or the ironing board.  I have washed it once by hand…so far so good.  But, I am thinking that I probably won't throw it into the wash/laundry with my white load!
I am really happy with how it turned out.  I want to make some more that are monogrammed for myself and for gifts.  Wouldn't monogrammed ones be so much fun?  I think next time I am going to make the top line a bit thinner…but other than that…I "LOVE" how it turned out!
**Check out this fun Guest Post from Cap Creations over in The Idea Room Community today—Valentine Countdown Activities!
**And Kristen Duke's Say No to Auto ebook winners and the Disney on Ice winner have been posted in the community here.
Linking up here:
Sassy Sites
JOIN OUR NEWSLETTER
Would you like more Recipes, DIY, Printables and Organization Ideas?
---
Subscribing to the newsletter will enable us to periodically send you creative content exclusively for Idea Room subscribers.
*View our Privacy Policy here.