Well, my baby just recently turned three! So we had a little family birthday celebration for her. We served strawberry cupcakes because my little girl LOVES "strawbrees" and the color pink. They were delicious, if I do say so myself! I began searching my favorite recipe sites for a strawberry cupcake recipe and found this one from one of my favorite sites…Recipe Girl.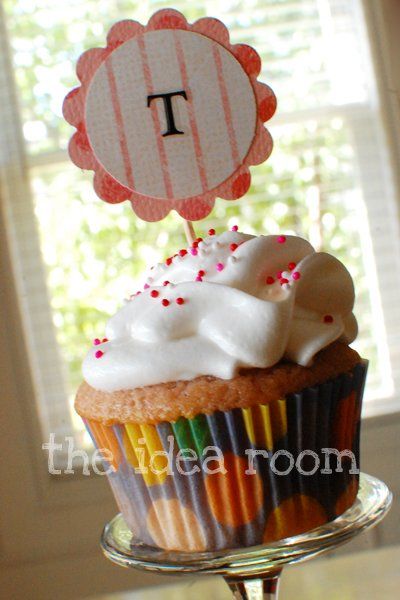 Strawberry Cupcakes
Recipe from Recipe Girl
2¼ cups cake flour
1½ cups granulated sugar
2¾ tsp baking powder
½ tsp salt
1½ sticks (¾ cup) unsalted butter, at room temperature
¾ cup pureed frozen strawberries (about ¼ of a 1 pound bag)
4 large egg whites
1/3 cup milk
1. Preheat oven to 350°F. Line 18 cupcake pan with paper liners.
2. In a medium bowl, whisk together flour, sugar, baking powder and salt; set aside.
3. In a large bowl with electric mixer, blend butter with strawberry puree. Add flour mixture and blend until light and fluffy (batter will be very thick).
4. In another bowl, whisk together egg whites, milk and dye. Add whites in three parts to the batter mixture, mixing only until incorporated after each addition.
5. Fill cupcake liners about 3/4 full. Bake 18 to 22 minutes, or until toothpick inserted in center comes out clean.
6. Let cupcakes cool completely before frosting.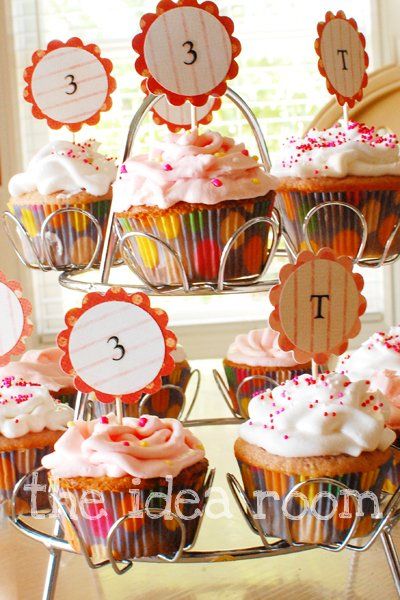 Instead of using a buttercream recipe like Recipe Girl, I made my favorite Vanilla frosting recipe. It is so light and fluffy. I have a hard time eating buttercream frosting anymore after discovering this yummy frosting recipe a couple of years ago.
Fluffy White Vanilla Frosting:
1 1/2 cups sugar
1/2 cup water
1/2 teaspoon cream of tartar
3 egg whites
1 1/2 teaspoons vanilla
Combine sugar, water, and cream of tartar in a pan on the stove. Cook over medium heat until bubbly and all of the sugar is dissolved. In a mixing bowl, combine egg whites and vanilla. Add sugar mixture to egg whites, bit by bit, beating constantly. Beat frosting until stiff peaks form. Refrigerate for at least 30 minutes before frosting your cake or cupcakes. This recipe makes quite a bit and will easily frost a larger cake or 18 cupcakes.
Yum! Go ahead and try this recipe! If you like strawberries, you are going to love these cupcakes!
★Amy
JOIN OUR NEWSLETTER
Would you like more Recipes, DIY, Printables and Organization Ideas?
---
Subscribing to the newsletter will enable us to periodically send you creative content exclusively for Idea Room subscribers.
*View our Privacy Policy here.