Don't worry…The Idea Room is not becoming a recipe blog anytime soon…LOL! I have just been a bit obsessed with food lately :)!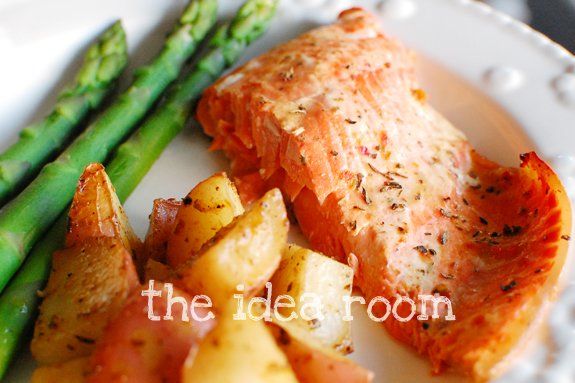 *Recipe from Kraft.
What You Need:
1 Untreated cedar plank (14x7x1 inch)
1/2 cup (or more) KRAFT Sun-Dried Tomato Dressing
1/4 cup finely chopped fresh parsley
1/4 cup finely chopped oil-packed sun-dried tomatoes
1 Tbsp. Oil 1
Salmon filet, 1-inch thick
IMMERSE plank in water and allow it to soak for at least 4 hours. Soaking the plank will help prevent the cedar plank from catching on fire while on the barbeque grill. I fill a jelly roll pan with water and soak my plank in it.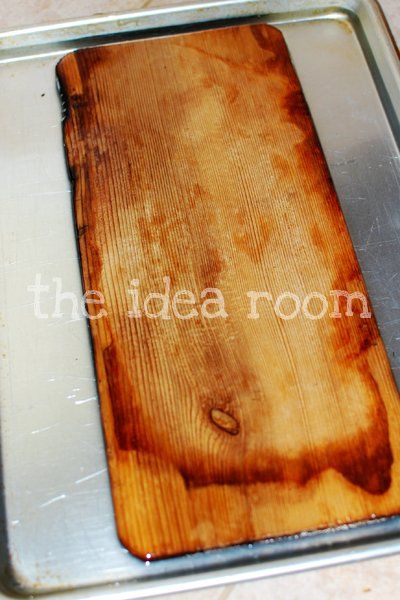 I will also lay a wet towel over the top of the plank to keep it submerged.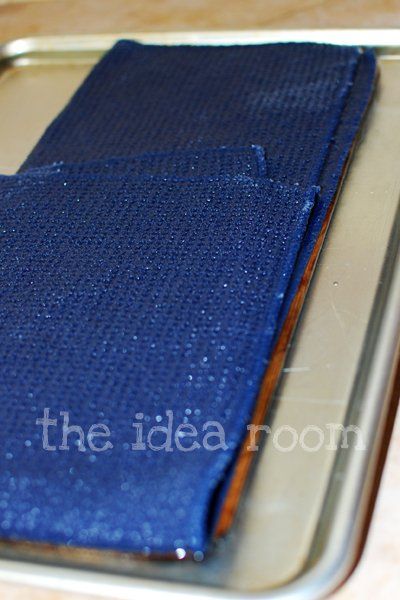 Then while the plank is soaking, I will pour the 1/2 cup of Sun-Dried Tomato Dressing into a ziploc bag with the Salmon and marinate it in the fridge for several hours. (I buy my Salmon from COSTCO and it is so YUMMY!)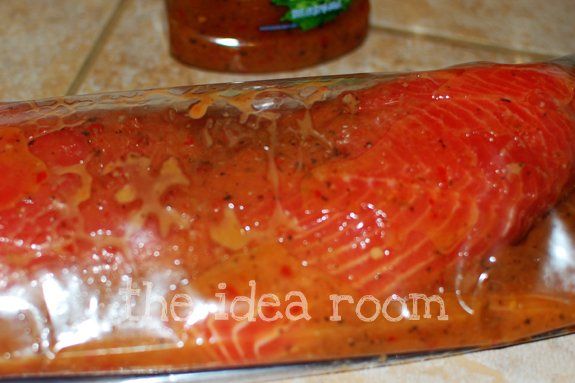 Then at dinner time, HEAT grill to medium heat. Brush top of plank with oil; top with fish. Place on grill; cover grill with lid.
Mix left-over dressing in plastic bag with parsley and sun dried tomatoes and set aside.
GRILL 10 min. Brush fish with dressing mixture; grill 10 min. or until fish flakes easily with fork.
*Keep a spray bottle of water close at hand if needed for flare-ups.
*Salmon can also be grilled on a sheet of heavy-duty foil instead of the cedar plank.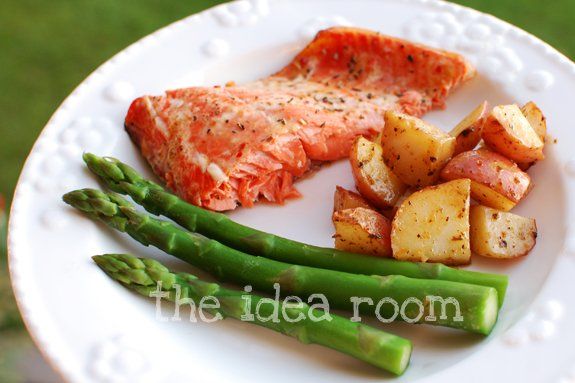 This is one of our favorite meals! It is so yummy and pretty healthy too. The best thing about this meal is that ALL of my kids LOVE it! They jump for joy when they find out Salmon is on the menu! My husband is NOT a fish eater, but he LOVES this too! Now that is a major accomplishment right?
Speaking of menus…I was sent this fabulous menu planner from Scribbles n Such. Isn't it so cute, yet practical? I love having it right on the fridge so I don't have to worry about the 5:00 dinnertime scramble. Scribbles n Such has quite a few other clever and cute things to make a mom's life easier and more organized. So head on over and check it out!
On Sunday afternoons, we sit down in our family meeting and plan out our menu schedule. Each kid helps with one meal a week. We can fill this sheet out now and be ready for the upcoming week. It also has room on the side to write down the groceries you will need for that week's menu. Then when I head out to the grocery store I just rip off the sheet and have my grocery list ready to go.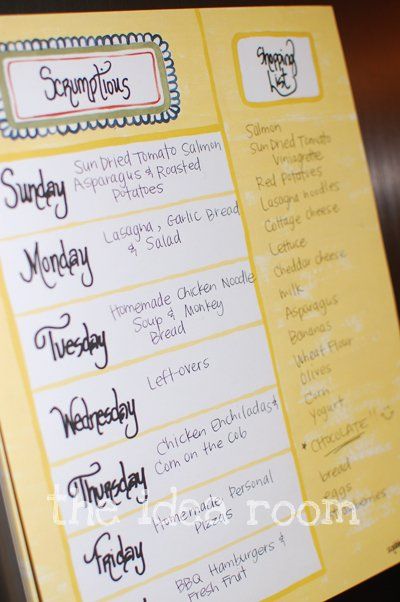 It works great to then transfer the written menu to our chalkboard menu hanging in our kitchen announcing to all what will be served in our home for the week. No more endless "What's for dinner?" questions either!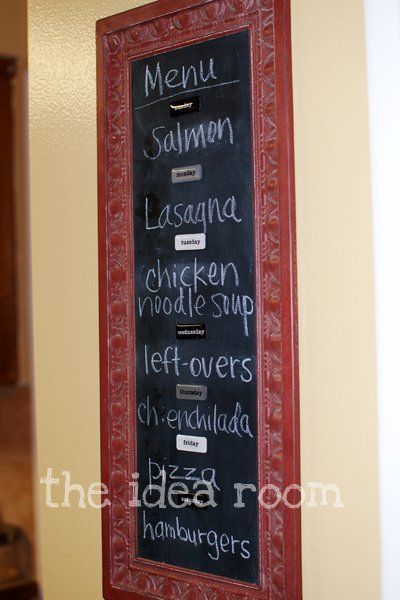 So hurry up and make yourself some delicious Salmon while you can still use your outdoor grill!
**FYI–I have added a new feature on The Idea Room. In the upper left-hand corner I have a spot for 4 of my reader's links to a website or blog. Every couple of weeks we will have a little contest to choose which readers links will be added. The links will stay on my blog for two weeks FREE OF CHARGE. Today the contest was carried out on my Facebook Page. Next time it could be on Twitter, my Blog Frog Community, or here on the blog. Sound fun? So go and check out who were the lucky winners today and leave them some comment love!
★Amy
JOIN OUR NEWSLETTER
Would you like more Recipes, DIY, Printables and Organization Ideas?
---
Subscribing to the newsletter will enable us to periodically send you creative content exclusively for Idea Room subscribers.
*View our Privacy Policy here.