Well hallo there. I'm Amy from Mod Podge Rocks. I'm not the Amy you're used to, but I hope you'll like what I bring to the table! My blog is all about decoupage, a seventies craft that has become cool again. I learned of its wonders a little more than two years ago, started a blog and I've never looked back. With the big "V-Day" right around the corner, I decided to give you a little Mod Podge love action.
Here are my Valentine's Day embroidery hoop wall hangings. Perfect if you need some sizzlin' home decor, and the kids can join in. Plus I know that many of you sew; these use scrap fabric. I'm typically a big Grinch-ola when it comes to the day of chalky heart candies and helium balloons, but my heart softened a bit as I was making these. I do believe in love!
Making embroidery hoop wall hangings is a snap, and once you start you'll definitely get addicted. To start, gather these supplies.
Embroidery hoops – any size
Mod Podge Fabric
Fabric scraps in your choice of colors
Felt scraps in your choice of colors
Acrylic paint – I used pink and red
Buttons – coordinating
Hot Glue Gun – I'm addicted to my Imaginsce Cordless
Scissors
Paintbrush
Die cutter or template for cutting flowers – I used my Sizzix Big Shot
Gather fabric and felt scraps. If you don't have any in Valentine's colors, Jo-Ann sells fabric in fat quarters. They are great for crafting with. I wash and dry my fabrics before any project. I guess you don't have to – it's a lesson I learned from sewing camp "back in the day" and I've stuck with it.
Prepare all of your fabrics with Mod Podge Fabric – this means spread a medium layer of Mod Podge over the piece of fabric large enough to cover the area you need to cut out. What the Mod Podge does is prevent fraying when you cut the fabric. It also adds some durability and makes it less flimsy when you put it into the embroidery hoop. Sweet, huh?
Paint both embroidery hoops and allow to dry.
Once the fabric and embroidery hoops are dry, pick two colors for the base fabric. I used my pink and white. Sandwich them in between the embrodiery hoops and tighten. Tip – I use a little craft glue on the inside of the embroidery hoop to make it permanent.
Cut your hearts out of the Mod Podged fabric. For this step I went back to my kindergarden years – fold, cut 1/2 a heart shape and unfold for the full heart. Hey, after all these years it still works!
Use the Mod Podge Fabric to attach the hearts to the base. Cover the entire piece with Mod Podge; allow to dry and then give another coat.
Start planning your embellishments – you can see here that I laid out some buttons and flowers I cut from felt. If you have a Sizzix Big Shot, I used the 3-D flowers by Beth Reames. If you don't, never fear – you can cut felt flowers using patterns and/or templates you find on the internet. Search for "felt flowers template" in Google and you'll find tons of awesome results.
Hot glue your embellishments to the wall hanging. Yes, my glue gun has a headlight. It seems weird but is actually very helpful. I had no idea until I used it!! I have a love affair with my glue gun. Allow everything to dry before hanging.
Thanks to Amy for allowing me to share with all of you today – I love The Idea Room, so it's such an honor. If you haven't been to Mod Podge Rocks, swing on by when you have a chance – I'll roll out the virtual welcome wagon for you. We have a great community and you won't believe everything that can be done with a bottle of white sticky stuff. See you soon!
**Love Amy from Mod Podge Rocks! Thanks Amy!
Be sure to head on over and check out Mod Podge Rocks. Here is a glimpse of the project I am sharing over there today…A Chalk Board Purse!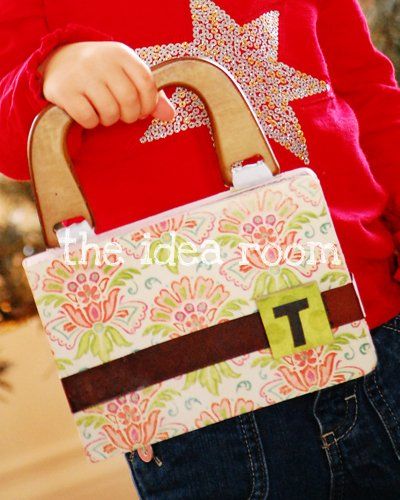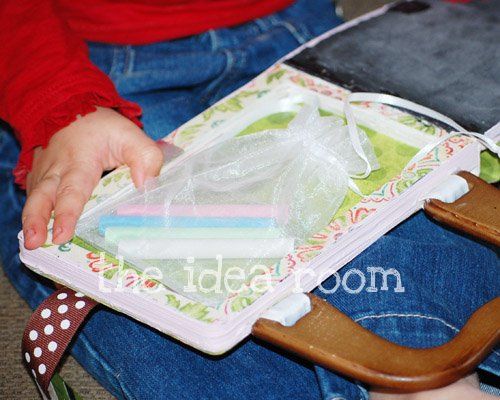 ★Amy