This Giveaway is now closed!
You are going to love this…

I was recently introduced to Greenridge Organics. They are an all organic company that sells facial and body products. Colleen, The Greenridge Organics founder, sent me several of their products to test out for myself. And I have to tell you, I was pleasantly surprised at how much I really loved their products. I loved the way they smelled and left my face feeling so smooth, soft and fresh. A feeling that lasted all day long.
Well…Colleen has generously offered to give all of you a chance at winning some of their products. She is giving away a Deluxe Facial Care Gift Set. This gift set has a $130 value.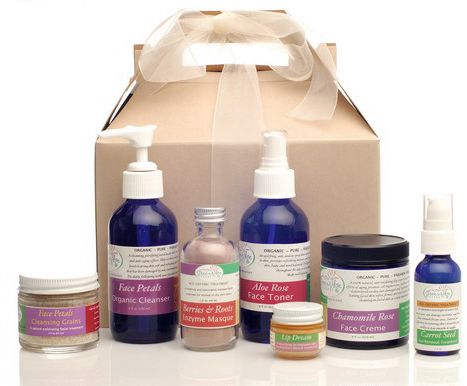 It includes 7 of their best selling products:
* Chamomile Rose Face Cream
* Aloe Rose Toner
* Lip Dream Moisturizing Treatment
* Carrot Seed Eye Renewal Treatment
* Berries & Roots Enzyme Masque
* Face Petals Organic Cleanser
* Face Petals Cleansing Grains
I also love that the company was founded by a woman with a passion for beauty products who used her knowledge and know how to create beautiful organic products for women (and men). Here is a little excerpt from Colleen herself: "I quickly discovered and gradually perfected my passion of mixing, formulating and harmonizing these truly remarkable natural ingredients, and turned that energy into a business. At the time it was also just the most natural step".
Colleen has Certified Herbalist training and a Bachelor Degree in Plant and Soil Science to help guide her in creating natural skincare products that are inspired by nature, and yet effective for a variety of skintypes. Every month they offer a fun, free gift and through the rest of December will have FREE SHIPPING. And if the giveaway weren't enough, Greenridge Organics will take 10% off your order by mentioning this blog using the following code: AMYS10 (for a limited time only).
Now for the giveaway rules…To take part, you must be a follower. Then simply go to the Greenridge Organics site and have a look around at their many products. Then come back here and leave me a comment telling me what product of theirs you would like to find in your Christmas Stocking! Please remember to make sure you leave an email address or a way to contact you!
The giveaway will close on Wednesday, December 23rd at 11:59 p.m. PT. Good Luck to you all! And a huge THANK YOU to Colleen at Greenridge Organics for her amazing generosity!
JOIN OUR NEWSLETTER
Would you like more Recipes, DIY, Printables and Organization Ideas?
---
Subscribing to the newsletter will enable us to periodically send you creative content exclusively for Idea Room subscribers.
*View our Privacy Policy here.