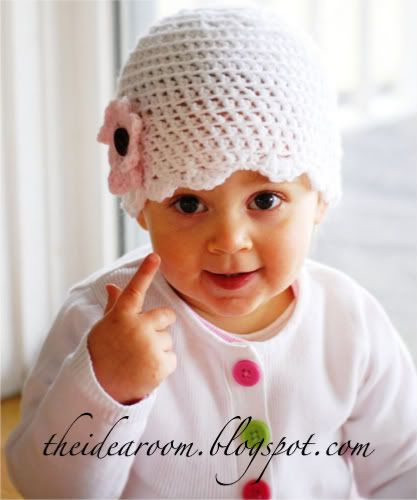 My mother-in-law taught me how to crochet a granny square quilt a few years ago and I have not crocheted since. My sister Laurie found a cute and fairly easy pattern on the internet that has a tutorial video to go along with it. She learned how to make this hat and then taught me. I had to reference and re-learn many of the stitches, but was able to do so very easily due to the internet. I am placing the tutorial video below.
The written pattern can be found here http://crochet-mania.blogspot.com/2008/04/blog-post_09.html . Teresa also gives some instructions on how to change the pattern size for different ages in the comments below her patterns. So that might help some of you on your size questions.
As for making the pink flower, use this pattern:
Rnd 1: Ch 5, join into a ring w/sl st in 1st ch.
Rnd 2: Ch 3 (counts as first dc), work 9dc in ring, join to top of ch w/sl st — 10 sts.
Rnd 3: **Ch 2, work 3dc in next st, ch 2 sl st in next st** five times. Fasten off.
The web-site I have used to learn stitches can be found here.
Good Luck…but beware, they are addicting. I would love to see some of your finished results!
JOIN OUR NEWSLETTER
Would you like more Recipes, DIY, Printables and Organization Ideas?
---
Subscribing to the newsletter will enable us to periodically send you creative content exclusively for Idea Room subscribers.
*View our Privacy Policy here.