What pies are you going to be eating this Thanksgiving Holiday? My family and I will be eating our favorite apple pie…my Grandma's recipe! This is by far my FAVORITE pie ever. I LOVE this pie! So I thought I would share it with you as this is pie season.

**I know most of you may already know how to make pie crust and have your own ways of doing it and your own favorite recipes. I learned how to make pie crust from my grandma and my mom and thought that there might be some of you who have never made pie crust before. So I decided to share with you how we do it.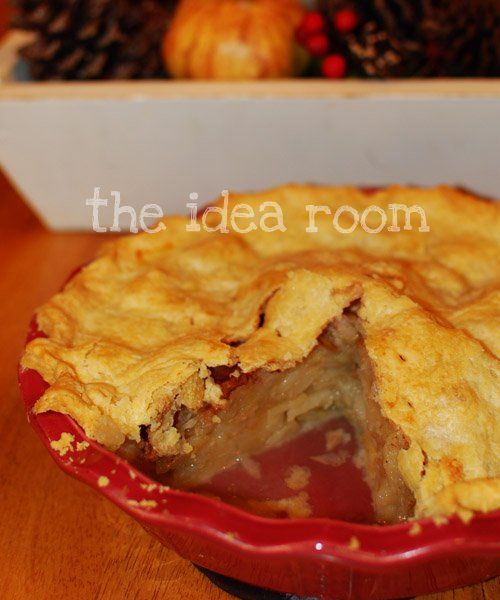 Pie Dough Recipe:
(makes 4 pie crusts or 2 apple pies)
2 1/2 cups flour
1 cup shortening (Butter Flavored Crisco)
1 tsp salt
Mix the above three ingredients together until you have a crumbly mixture. I like to use a pastry cutter.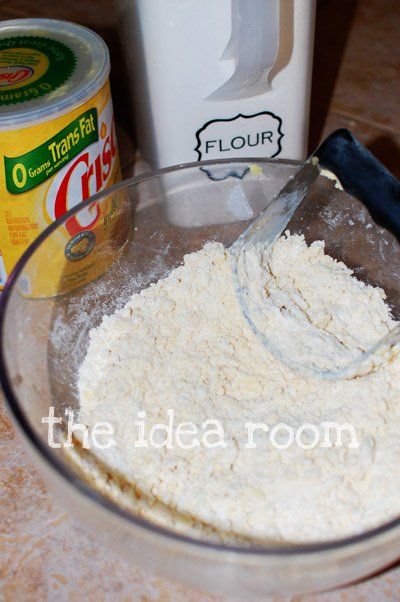 Want To Make Your Holiday Planning EASY And ORGANIZED?
Check Out Our CHRISTMAS ESSENTIALS
Then add the following:
1 T vinegar
1 egg (beat with a fork before adding to dough mixture)
1/2 cup cold water
Mix the dough together so that it is just combined. Do not overmix, this will ensure a nice, flaky crust.
Take your dough and separate it into 4 equal sized balls. Set 3 aside. Roll out pie dough into a round pie crust. I like to roll it out onto a sheet of wax or parchment paper with some sprinkled flour. If you have trouble with the pie dough sticking to your roller, dust it with more flour. **You can also add another sheet of wax paper on top of the dough and roll out your crust between the layers of wax paper.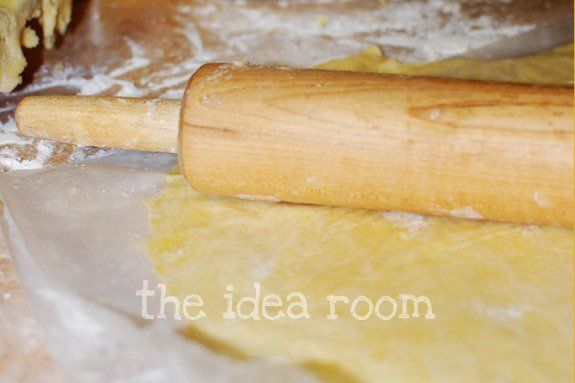 Fill your pie plate (10 inch) with your crust and make sure to lift the edges of the crust so that it sits all the way down in the pie plate and along the edges. Let the excess pie dough hang over the edge of your plate.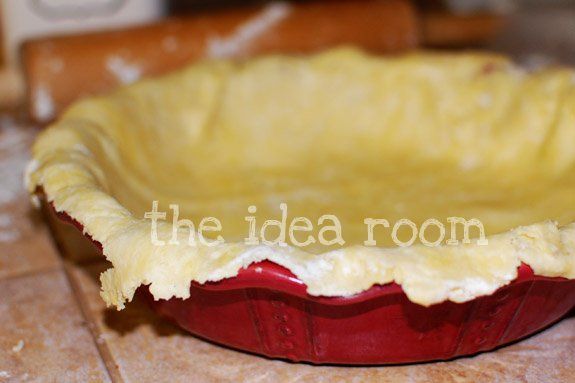 Apple Pie Filling:
4-5 Granny Smith or Johnathon apples (1 pie); 8-9 apples (2 pies)
1/2 cup to 3/4 cup Sugar (1 pie)
Cinnamon
about 3 tsp Butter(1 pie)
Wash and peel your apples and slice them in half.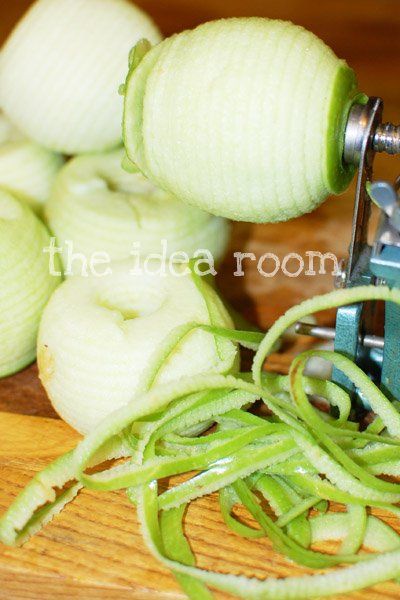 Fill your dish so that it is heaping with apples. Then sprinkle your 1/2 cup of sugar over the apples. Sprinkle with a generous amount of cinnamon. Add 2 tsp of butter. I just cut 3 little squares off the butter and put it on top of the apples.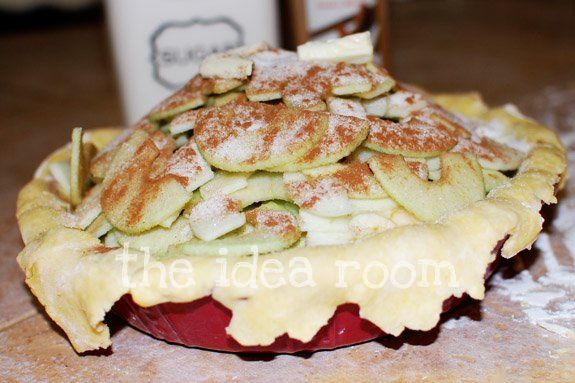 Roll out the top layer of crust. Cut some vent holes into the crust with a sharp knife.
Then take your fingers and dip them in water. Run your wet fingers on the top of the edge of your pie crust. This will seal shut the two edges of your pie crust so you do not have juices that spill out of your pie.
Place the top crust on your pie and press the edges of the pie crust together all around the pie.
Take a sharp knife and cut off the excess pie crust by running it along the edge of your pie plate.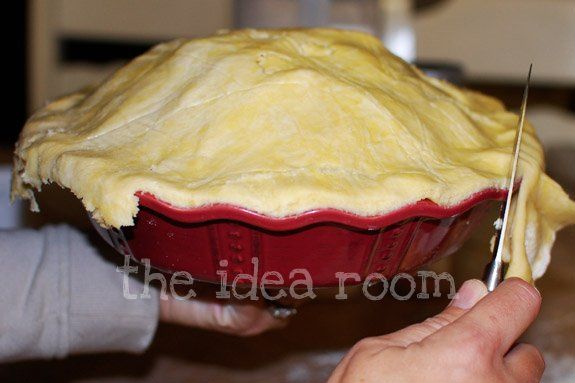 Take your fingers and pich in the edges of the crust. There are many ways to do this. This is how I usually do mine.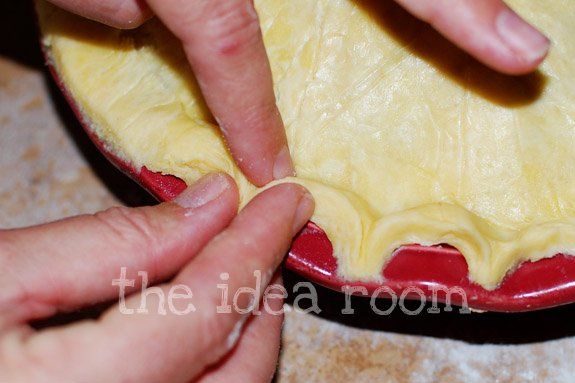 Dip your clean fingers in a little milk and rub the milk all over the top crust. This will help your pie to get a nice brown color while baking. Sprinkle a little granulated sugar over the top crust as well.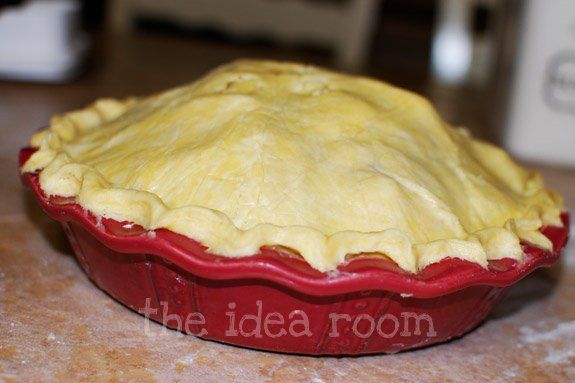 Bake in the oven that has been pre-heated to 400 degrees F for 15 minutes. When the timer goes off, reset the oven to 350 degrees and bake for another 45 minutes.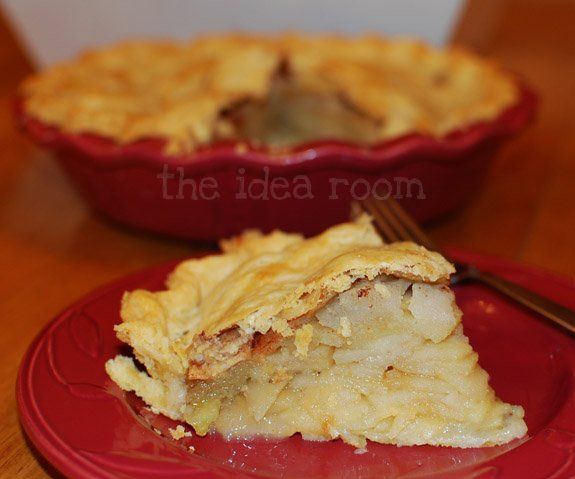 Yum! What about you? What are your favorite pie recipes? I am bringing some apple pies to our Thanksgiving Feast but I wanted to try a new recipe and bring something different. So if you have a great pie recipe that you would like to share, go ahead and link it up. I would love to see what your favorite pie recipes are!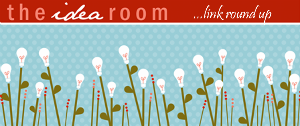 &lta href="http://www.theidearoom.net"><<img src="http://i285.photobucket.com/albums/ll45/huntleygang/idearoom/idearoomlinkup-1.png"/&gt&lt/a&gt
*Please remember to include my button (or a text link) below your post! Thank You!
★Amy
JOIN OUR NEWSLETTER
Would you like more Recipes, DIY, Printables and Organization Ideas?
---
Subscribing to the newsletter will enable us to periodically send you creative content exclusively for Idea Room subscribers.
*View our Privacy Policy here.