We took the kids to the Pumpkin Patch this past weekend and let each of them pick out their own pumpkins. The kids look forward to this every year. After running through the hay maze and the other various activities, we finally manage to get them out in the patch to pick a pumpkin.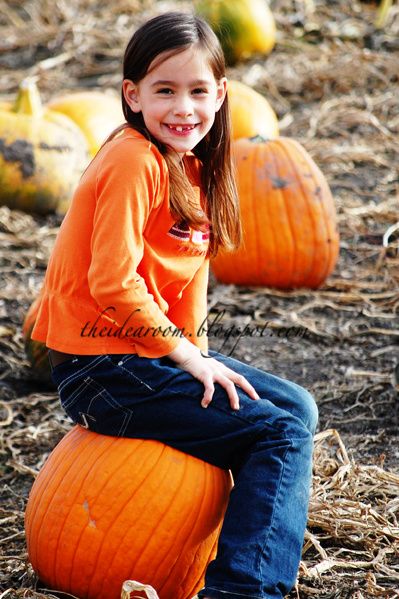 While we were there we were given some great tips on carving Jack-O-Lanterns. We were told that one of the best things you can use to carve your pumpkin, large or small, is a keyhole saw. You can purchase one at any hardware store for just a few dollars. But…they are sharp, so be really careful.
I was really happy to hear this. Knives are a little dangerous and are hard to use when cutting something other than a straight line. We have also used some of the carving knifes that come with a pumpkin carving kit, but we have broken several. So this was a welcome suggestion. The man even let our older kids use the saw to demonstrate how easy it really was. Totally easy! Even through really thick pumpkins.
We were also told to cut a hole in the bottom of the pumpkin, instead in the top around the stem. Duh! Then all you have to do is put the candle in a mason jar lid, light it and then place the pumkin over the candle.
This also solves the problem for a pumpkin standing up and not tipping to one side or the other. No more burning myself or trying ridiculous things to light the candle while it is inside the pumpkin!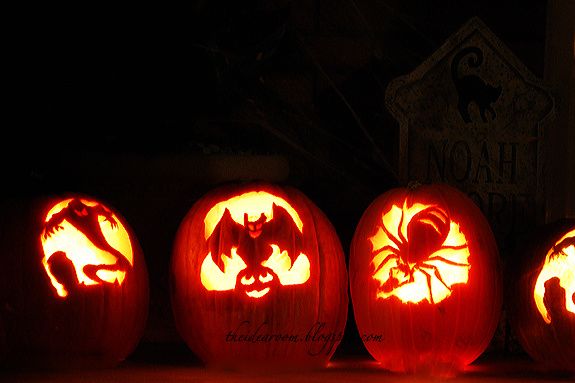 And finally, I have another tip for taking a picture of your Jack-O-Lanterns this Halloween. Turn off your flash and set your camera on a tripod or some books so that it is at the right height. Then focus the camera. Simply push your button and let the camera take a picture without holding the camera. This will ensure crisp lines in your image.
**Edit–Someone asked where we got the patterns for carving our pumpkins. We found them in this book. We bought ours at Target a couple of years ago and have used them each year. We are just very careful and save the patterns. It also comes with a set of carving tools that we have managed to break most of. This cost us around $4-$5 if I remember correctly.
JOIN OUR NEWSLETTER
Would you like more Recipes, DIY, Printables and Organization Ideas?
---
Subscribing to the newsletter will enable us to periodically send you creative content exclusively for Idea Room subscribers.
*View our Privacy Policy here.