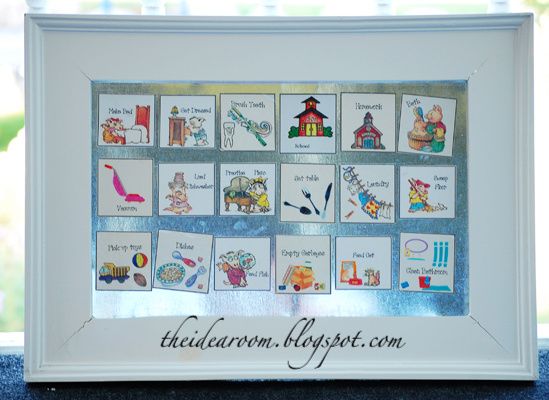 I have had a few of you ask about how we manage chores here. I have made a chore chart for the kids using pictures I took from a Richard Scary book about Travel (can't remember the title) that had already been ripped by one of my kids when they went through a book/magazine ripping phase. I cut the pictures out and scanned them into the computer and then made squares and included the chore name. I also used some stickers and clip-art pictures from the internet. After getting them all ready, I printed them out, laminated them and then put magnets on the back.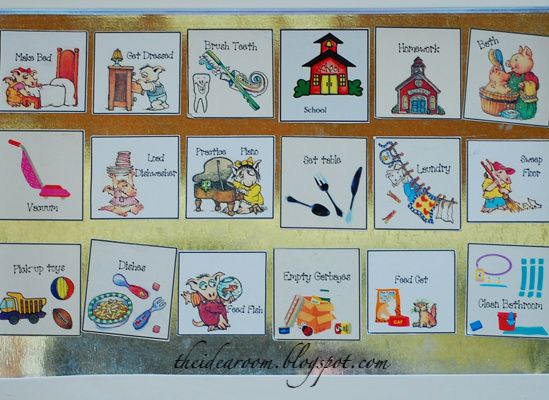 Then I made some more glass marble magnets with the initials of each child. Those are their chores for the week. Then on Sunday, my kids rotate their weekly chores. This is the part I have a hard time remembering, but the kids enjoying the chore of changing who does what, so they get to take turns with who gets to move the magnets. One less thing for me to worry about. We rotate by age. So one magnet is always replaced by the child who is immediately younger than the other. The chores on the top row are expected for each child.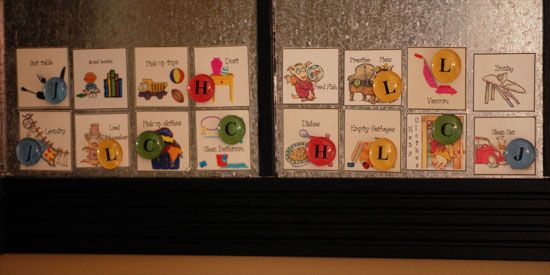 I actually display these on our organizing bulletin board that is in our laundry room, but the light in that room is not great and when I took a picture with the flash, you could not see some of the detail. So these are just a few of chore cards we have to give you an idea of how we do it. I have tried charts and wheels, but this has seemed to work the best and is the most flexible. We have been using it for a few years now!
**And as a side note for those of you new to The Idea Room, I mentioned earlier that we don't pay our kids for our regular chores or pay them an allowance. We have set up a Home Store and Reward System. I do pay the kids for doing extra chores so they can have a way to earn some money to be able to buy them a little something if they want to.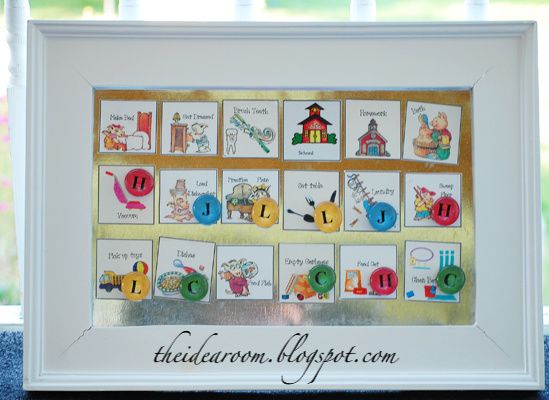 JOIN OUR NEWSLETTER
Would you like more Recipes, DIY, Printables and Organization Ideas?
---
Subscribing to the newsletter will enable us to periodically send you creative content exclusively for Idea Room subscribers.
*View our Privacy Policy here.