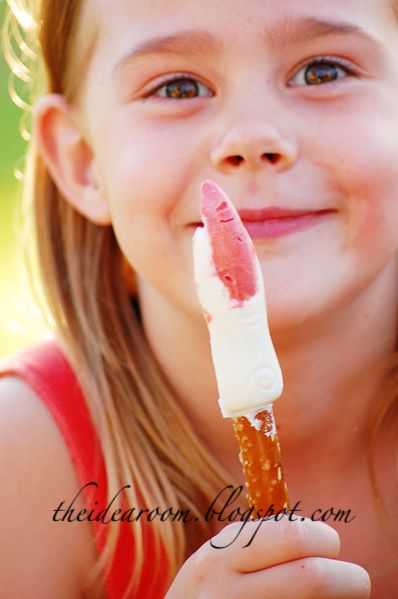 Make some YUMMY edible finger cookies or witch's fingers as they are referred to at our house,. I made these first ones using a cheap ($1.29) mold I found at JoAnn's. They were really easy.
I just used some white chocolate chips that I melted in the microwave. Melt them in a microwaveable bowl in 20 second intervals, stirring each time you remove from the microwave. I then colored some of the melted chocolate red and left the rest white. I used pretzel rods and placed them in the molds. Let cool in the refrigerator for about 20 minutes.
If you don't have a mold or do not want to buy one then use this alternative. Take your pretzel rods and break them in half. Using melted chocolate chips (or candy melts, almond bark) color some red like above. Dip the rod in the red chocolate and lay on a cookie sheet that is covered with a layer of wax paper. Let them cool in fridge for 20 minutes. After they are hardened, melt some more chocolate chips and leave white. Dip the red rods into the white and leave about a 1/2 inch of red at the top of the white so that it looks like bloody flesh (gross…I know). While the chocolate is still warm take slivered almonds and place at the top of the rod for the fingernails. I did some plain, and some I previously painted red with food coloring to simulate red nail polish. I like them both ways. Place in refrigerator and let cool for another 20 minutes. (Sorry about the picture. It is hard to see the details on this. I took this picture last year).
I have also made these witch finger cookies from Martha Stewart. She calls them Lady Finger cookies. I could not find the picture I took of mine last year so I borrowed the one from Martha's website. They turn out really fun although mine were a little flatter than Martha's picture. Click here for the recipe.
And last but not least, have you tried to take a picture of your kids and their jack-o-lanterns? Turn out all the lights and add a candle so that you can see you child's face and the pumpkin at the same time. Turn your flash off and shoot away!
JOIN OUR NEWSLETTER
Would you like more Recipes, DIY, Printables and Organization Ideas?
---
Subscribing to the newsletter will enable us to periodically send you creative content exclusively for Idea Room subscribers.
*View our Privacy Policy here.