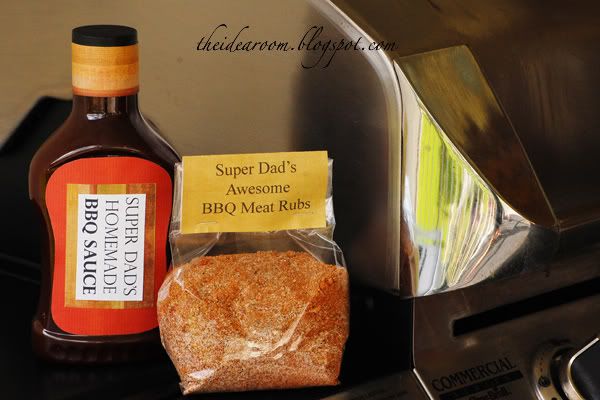 I have procratinated figuring out what to give my hubby for Father's Day this year because things have been a bit crazy around here. We already picked out a new suit for his gift this year because he could no longer wear his other one due to a large hole he had worn on the seat of his pants.
But I wanted the kids to be able to give him a gift so he had something to open on his special day. I made him some homemade BBQ sauce using one of our favorite recipes and a homemade meat rub to go along with it. I put some of the sauce into an old store bought BBQ sauce bottle and packaged up the BBQ rub. I bought some meat and have all the ingredients for a delicious barbeque ready to go for our Sunday dinner. Here are the recipes if you are interested. Also, sharing some more Father's Day Gift Ideas.
Homemade Pork Meat Rub:
1 1/4 cups white sugar
1 1/4 cups brown sugar
1/2 cup salt
1/4 cup freshly ground black pepper
1/4 cup paprika
Directions:
In a medium bowl, mix together white and brown sugars, salt, pepper, and paprika. Rub onto pork 10 minutes prior to grilling. Store any leftover rub in a sealed container.
The Homemade BBQ sauce recipe is from our neighbors who I grew up next to. It is so yummy. Or use your own homemade BBQ sauce or find one on the internet. There are a lot out there.
Homemade BBQ Sauce:
1/2 cup water
1/2 cup vinegar
1/2 cup margarine
1 lb pkg. brown sugar
1 tsp. Worcestershire sauce
1 tsp. salt
32 oz bottle ketchup
Then I found this fun idea at kmckaydesigns.com. Since my hubby has a few favorite snacks, I decided the kids could help me make this cute snack case for him to take and keep at work.
It is made using a six pack of IBC Cream Soda and some scrap book paper. I found the directions and templates for everything you need to make them here.
I am really tempted to make these for my guy too. I seriously can not get over how talented Bakerella is. These look so yummy.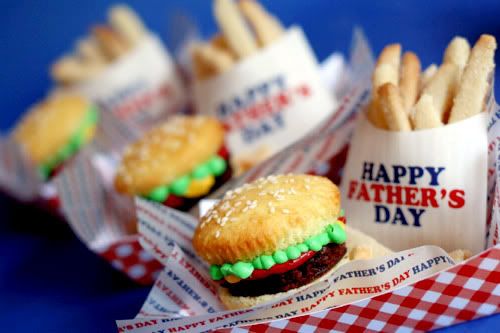 Dad Rocks Paperweight from Crafts by Amanda
What fun things are you making for the Father's in your life?
JOIN OUR NEWSLETTER
Would you like more Recipes, DIY, Printables and Organization Ideas?
---
Subscribing to the newsletter will enable us to periodically send you creative content exclusively for Idea Room subscribers.
*View our Privacy Policy here.