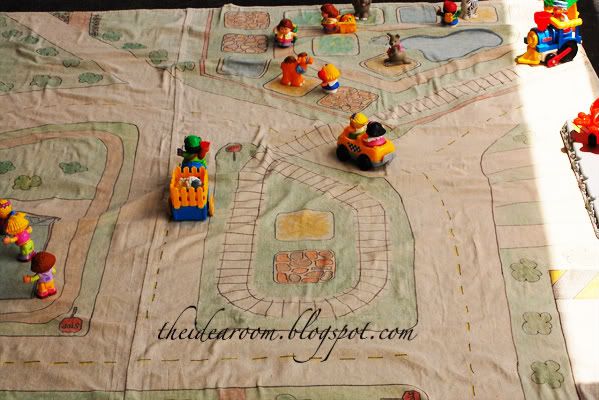 Do you have a lot of Little People play sets at your house? We do! A few years ago we made an entire city to incorporate all of our Little People play sets. I just bought a canvas painter's tarp from Home Depot. The heavier weight tarps are better than lighter weight tarps so that it doesn't bunch up as easily when the kids move around on it. I can't remember what I paid for it but if I remember right it was around $4-$5.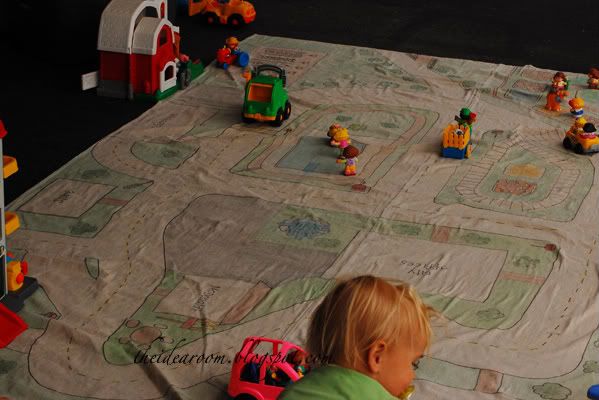 Then my son and I planned out the city. We just drew on our canvas with pencil lightly the roads, parking lots, the airport, a zoo, a city park with a fountain and a swimming pool, etc. My son thought we needed a McDonald's, because every neighborhood has got to have one of those right?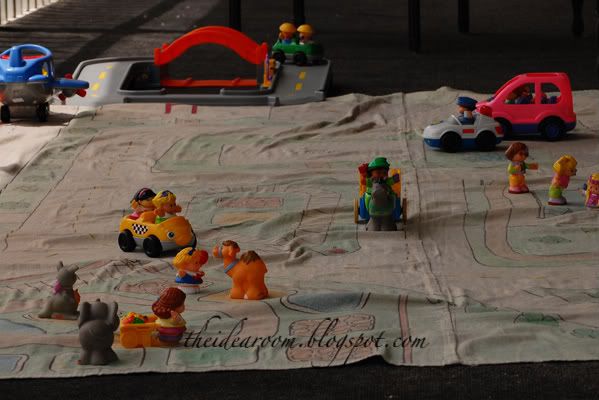 When we had it all drawn out to our liking, we traced the pencil lines with a permanent Sharpie marker. Then we simply took crayons and colored in the grass, roads and etc.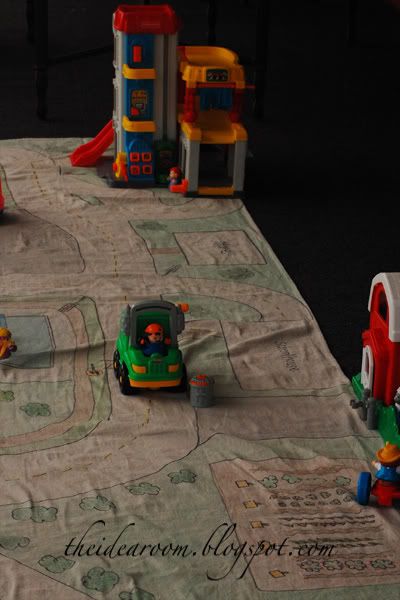 This is something that is so simple and fun to do with your kids, especially if they are a little older. Whenever we pull it out, the kids actually sit and play for a few hours. It has been fun to see them act out their little scenarios and sometimes its seem eerily familiar when their Little People are out "running arounds" around the city.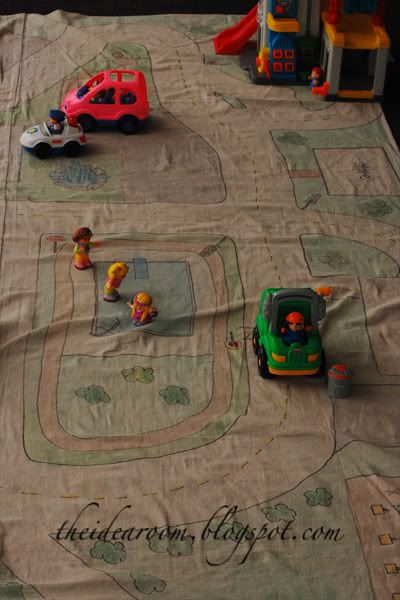 *Sorry about the lighting. I realize the mat is kind of hard to see. It has been dark and gloomy here.
**This post will be my last for a few days. I am heading "out-of-town" on a little trip. I am a Camp Counselor for kids with Muscular Dystropy and it is time for Summer Camp. Basically, we stay at a hotel for a week and just play. I got involved in this Summer Camp in 1992 and have gone almost every year since. I had to miss a few years here and there due to nursing babies or being large with child. But this year I get to go! My mother-in-law is a saint and always offers to tend my kids for the whole week! Isn't she the best? So I will be back next week with some pictures, a giveaway, and a new tutorial.
JOIN OUR NEWSLETTER
Would you like more Recipes, DIY, Printables and Organization Ideas?
---
Subscribing to the newsletter will enable us to periodically send you creative content exclusively for Idea Room subscribers.
*View our Privacy Policy here.