This Giveaway is now CLOSED!
I am back from a nice and relaxing weekend. Thanks for the Anniversary wishes! We grew a bit over the weekend! This giveaway is to celebrate our 300 Follower mark which we reached about 10 days ago…and well this just means that our 400 giveaway will be right around the corner!
Now, I know the Follower gadget is really just a popularity contest. I am under no illusions that being a Follower has any real benefit behind it except for the blog owner. I like it because I am able to get a glimpse at just who is lurking here in the shadows. So, I would like to actually let my Followers know how much I appreciate them. I am going to start having random drawings from my Followers and hopefully make it worth your while by sending you some fun prizes!
I will also be giving away one of these keychains to those who choose to enter the giveaway by leaving a comment. This time in your comment, instead of lathering me with your praises, just let me know what your favorite blog post/idea has been from The Idea Room, and/or what you would like to see more of on this blog.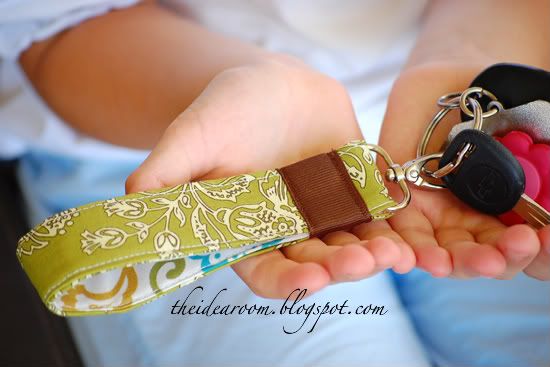 This Giveaway will end on Sunday, August 23, 2009 at Midnight. You will be able to pick your material colors. I will announce the winner of the key chain on Monday, August 24, 2009. I will also announce the winner of the Follower drawing as well. The Follower will have a choice of winning a key chain or something that I will be keeping a surprise until the winners are announced. Good Luck and thanks for playing along!
**I have also received some requests from people wondering if I would make and sell them one of these keychains. These people are admittedly non-sewers. I am wondering if there are others out there who would also be interested. I have added a poll on the left sidebar to see if it is something that you would like added to The Idea Room Store. Or maybe there are other things you would like to have an option to buy. Let me know what you think!

JOIN OUR NEWSLETTER
Would you like more Recipes, DIY, Printables and Organization Ideas?
---
Subscribing to the newsletter will enable us to periodically send you creative content exclusively for Idea Room subscribers.
*View our Privacy Policy here.