Hi, I'm Amy and I love to build things and share plans at Hertoolbelt! I am excited to be here for the Holiday Series and share how to build a scary Halloween Direction Sign. This Halloween sign is pretty easy to make and easily customized to the look you're going for.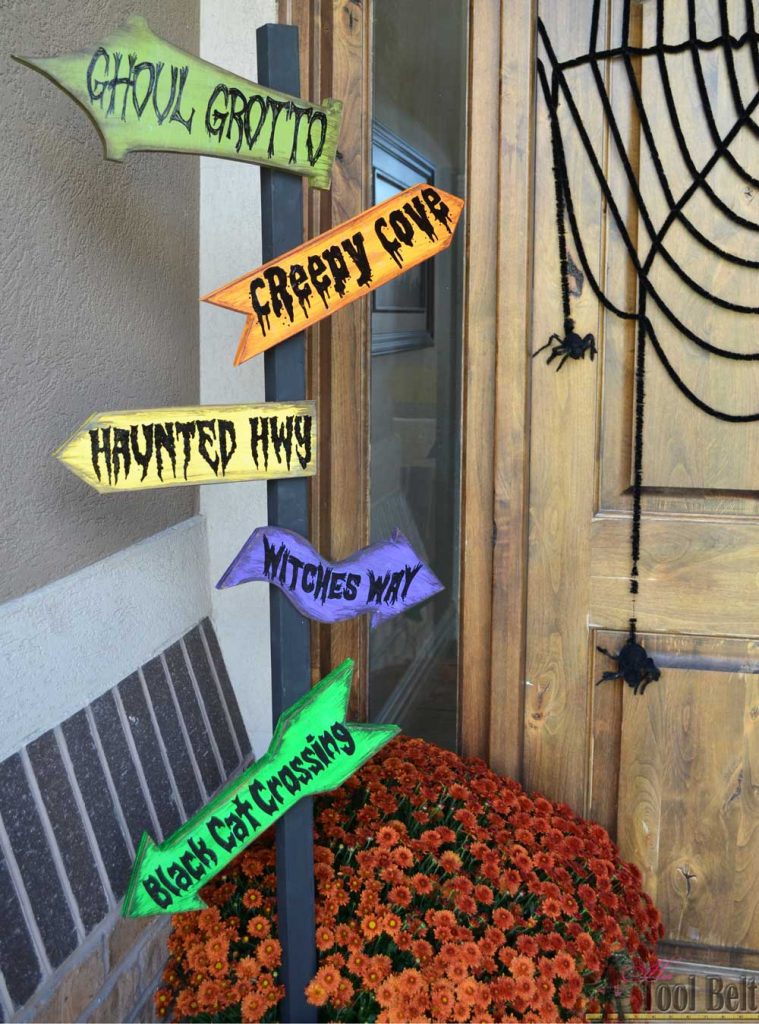 Materials
1 – 2″ x 2″ x 8′ board – post
1 – 1″ x 2″ x 8′ board – legs
scrap wood or 1 – 5/8″ x 5 1/2″ x 6′ cedar fence picket – arrows
8 – 1 1/4″ screws
10 or more 1 1/4″ brad nails or screws
paint
stain – optional
sandpaper – optional
paper – optional
chalk – optional
Step 1
Cut the 2″ x 2″ board to 60″ long or to the post height that you want. Cut the 1″ x 2″ board into 4 legs that are 9″ long. (You can make the legs longer if you need more stability – extra windy area.)
Attach the legs to the post
Pre-drill countersink holes about 3/4″ from an end of a leg.
Place a leg flush with the bottom of the post and flush to one side.
Use 1 1/4″ screws to attach the leg to the post
Repeat for each leg.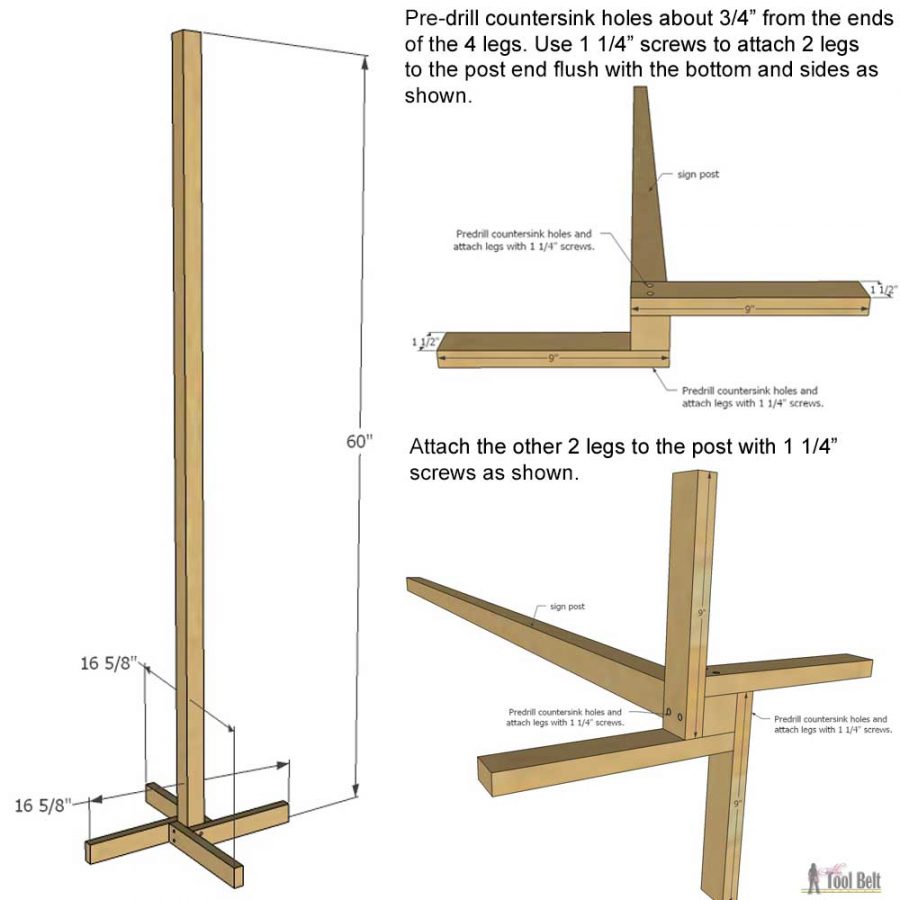 Paint or stain the post as desired, I used Deco Art Chalky Finish in Carbon.
Step 2
Make the sign arrows. These arrows are a great way to use up scrap wood, if you have any. You can draw out any arrow shapes that you like. I made a template for the arrows. that you can download and print.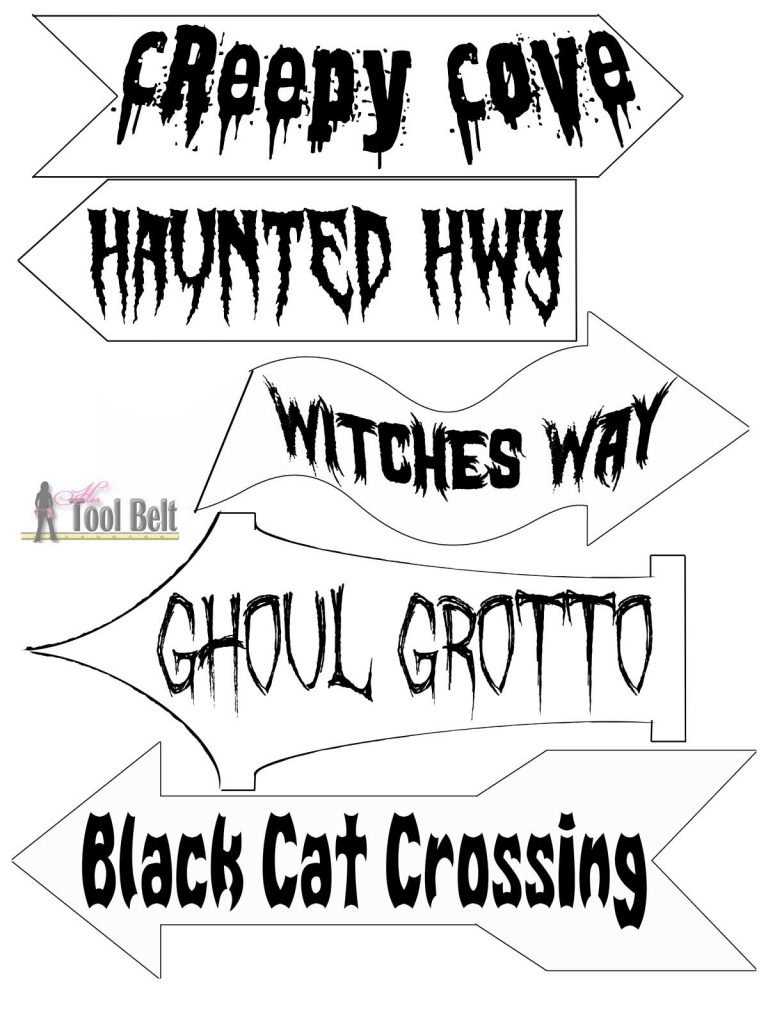 (Fonts for the lettering: Creepy Cove – Lavender Witness, Haunted Hwy – Swamp Witch, Witches Way – Mostly Ghostly, Ghoul Grotto – October Crow, Black Cat Crossing – Bat Men__G)
I printed out the templates and traced them onto my scrap wood pieces. Use a jig saw, scroll saw or band saw to cut out the letters. Sand the arrows as needed.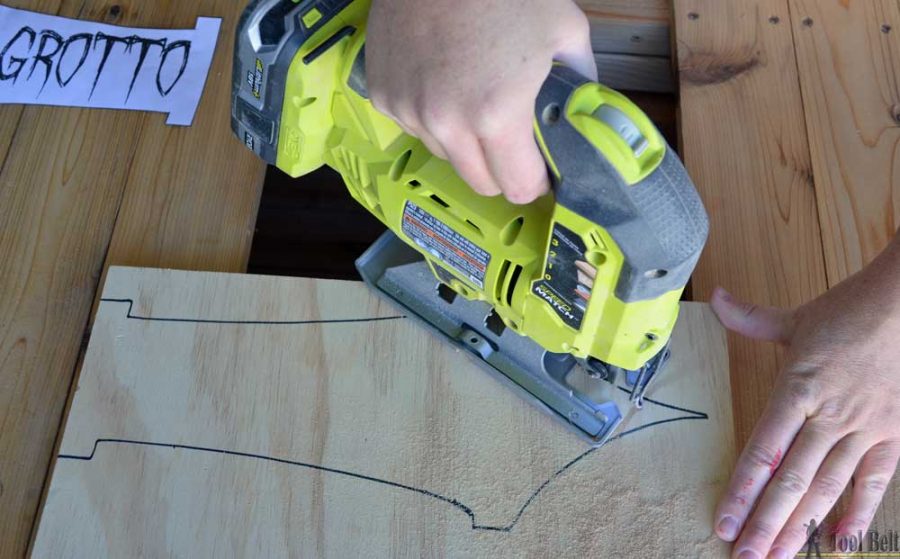 Paint the arrows whatever colors that you like. I used paint left over from other projects.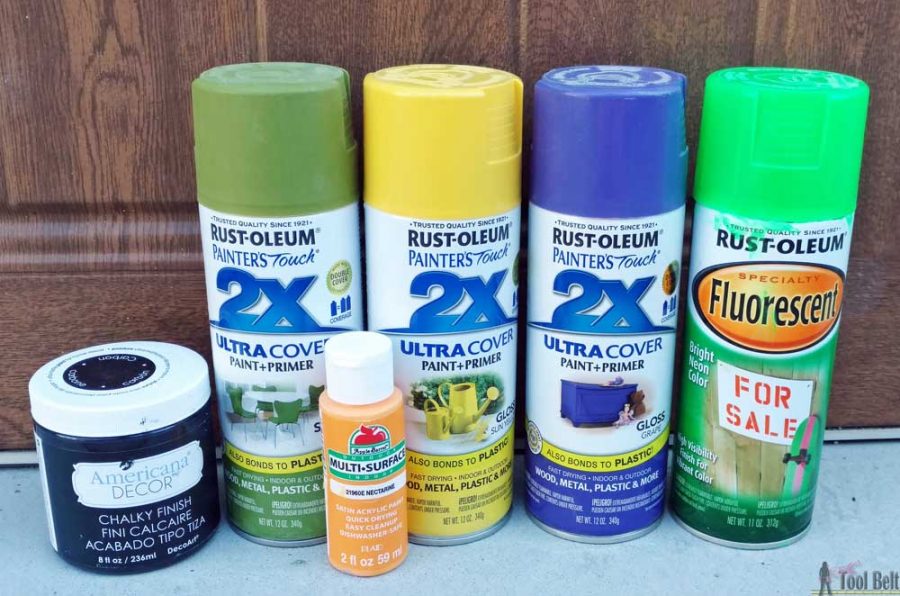 Once the paint fully dried, I used a sander to rough up the edges and get the distressed look.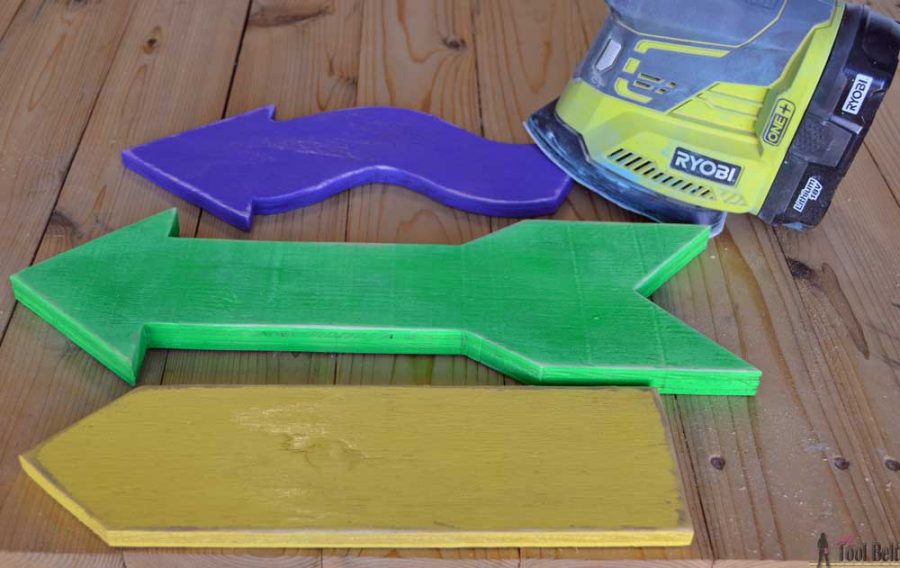 I used a really dark stain (Van Dyke Brown) to antique the edges with a paper towel, any dark stain or antiquing glaze will work. Antique as much or as little as you like.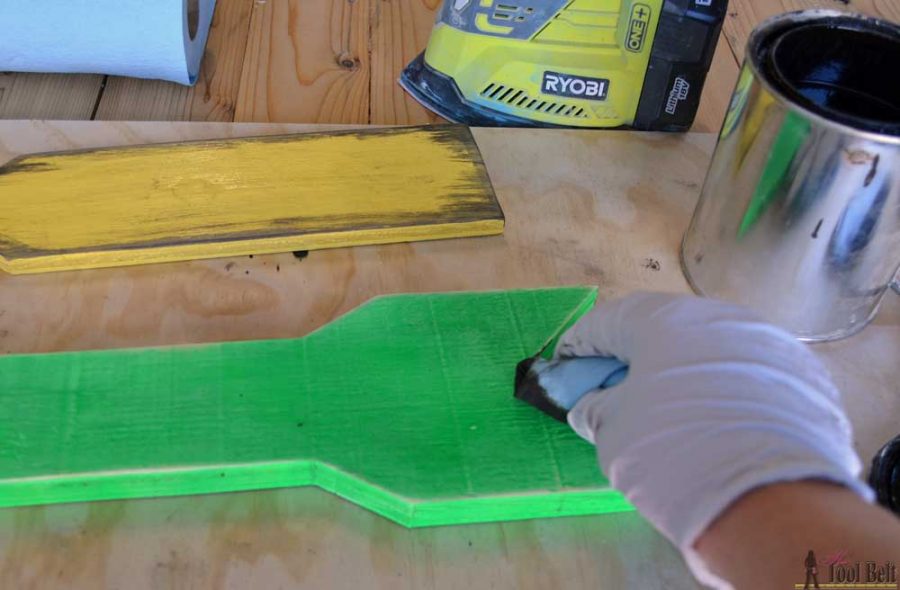 For the sign lettering, I have to use a template because my handwriting is horrible and I don't have a vinyl lettering cutter. A really easy way to transfer the lettering to the sign is with chalk. Rub chalk on the back of your template, then trace the letters with a pen or pencil. This will leave a fine outline on the arrow.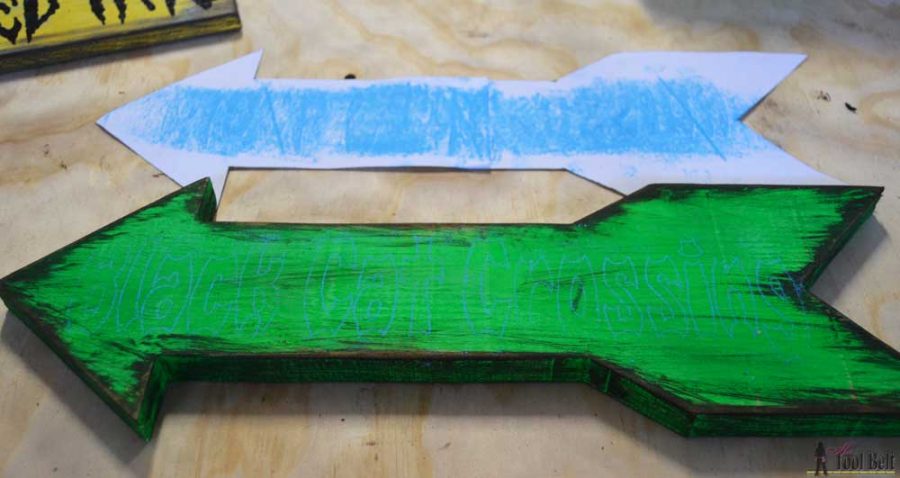 Use paint or a marker to fill in the tracing. A Sharpie paint marker works really slick.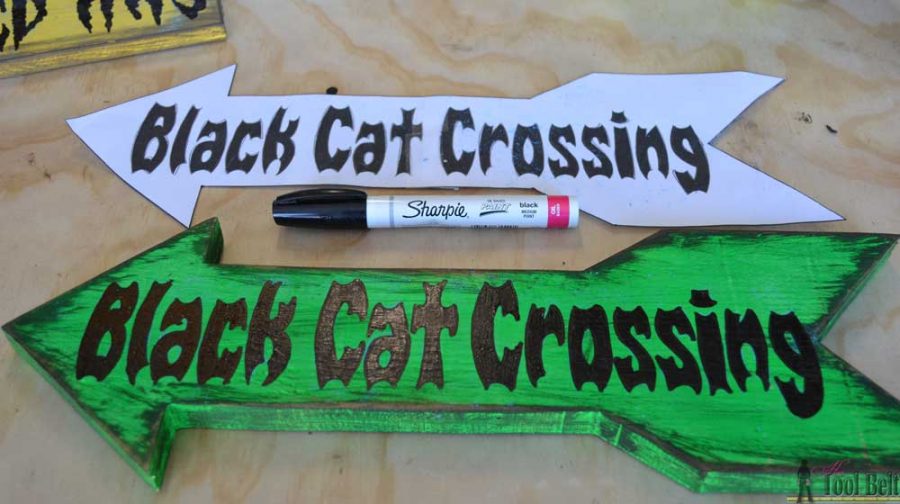 Step 3
Space the arrow signs out along the post as you like, and attach the signs to the post with a brad nailer or screws.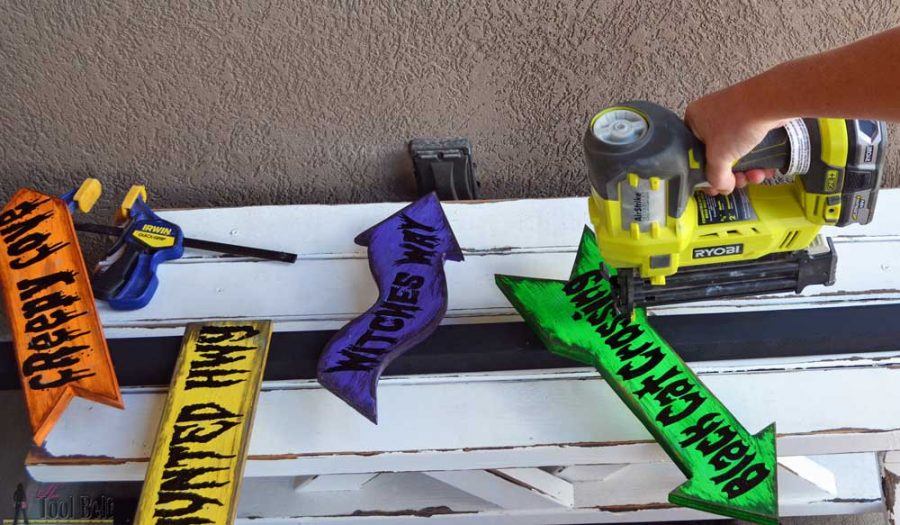 Now the Halloween Direction Sign is done!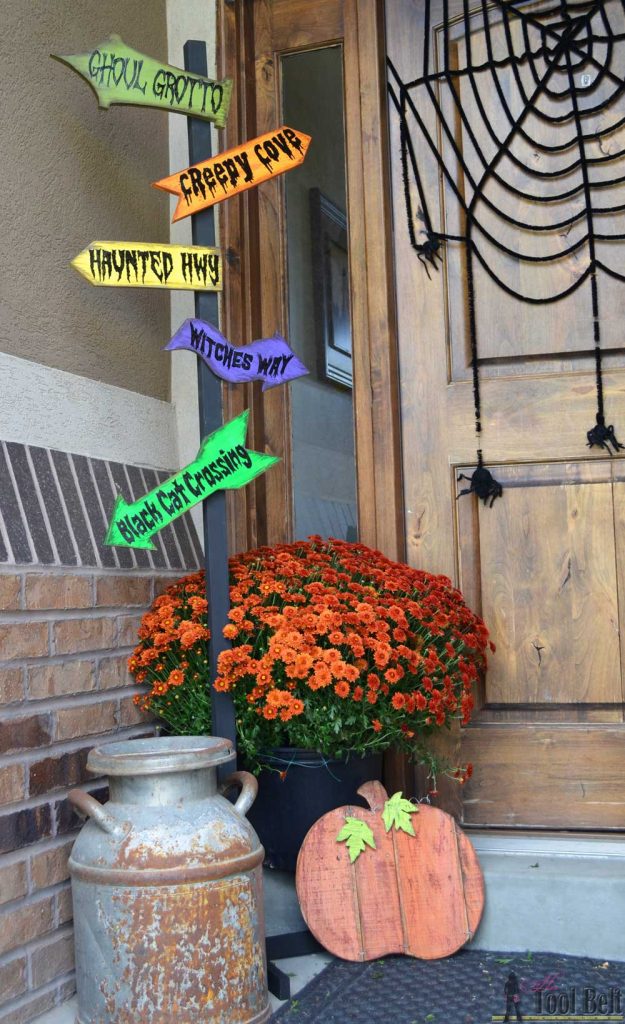 Make sure to check out lots of other free woodworking plans.
JOIN OUR NEWSLETTER
Would you like more Recipes, DIY, Printables and Organization Ideas?
---
Subscribing to the newsletter will enable us to periodically send you creative content exclusively for Idea Room subscribers.
*View our Privacy Policy here.