I really do appreciate all your kind comments. They are what inspire me to keep this going! So THANK YOU! I do try to answer them all and your emails too! Thanks for all your great support. It means a lot! And now as promised…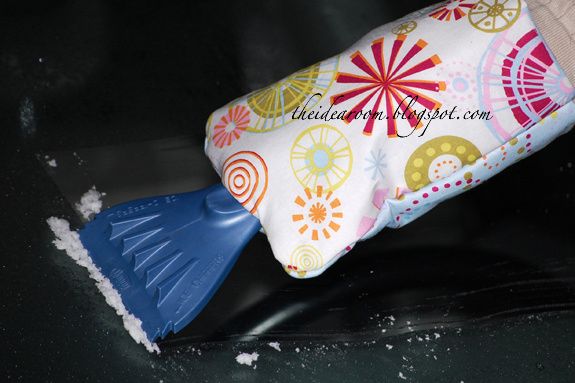 I realize that not all of you are living with frigid temperatures, snow and ice right now, but we are. Believe it or not, I really do love snow and snow storms! I just don't like when I have to scrape it or ice off the car in the frigid outdoor air temperatures. And since I am not very good about using gloves, I decided to make my ice scraper a little more frozen-finger friendly. So, I made a hand mitt for my scraper to keep my hand nice and toasty while de-icing my windshield.
Here is a tutorial and a free downloadable pattern!
You will need 2 coordinating fabrics, quilt batting, and an icescraper. (I used a small one, but this should work for the longer handled scrapers with the ice scraper and the brushes too).
I made mine so that there are two different material patterns on each side. I took two coordinating fabrics and cut 2 pattern peices out of each peice of fabric. Click here to download the pattern. You should have a total of four peices (2 of each type of fabric). Then cut out 2 peices of thin quilt batting using the same pattern.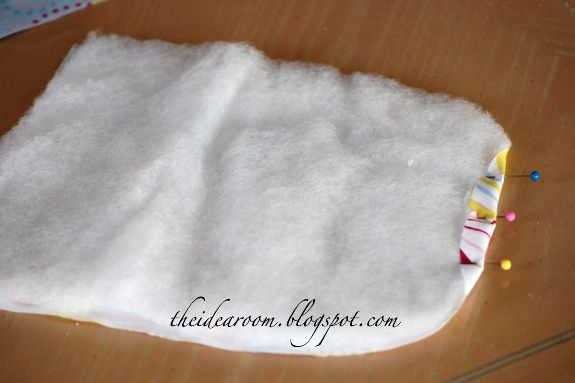 *Take one peice of fabric and one peice of batting. Place the material with the right side down on your table and put the layer of batting on top.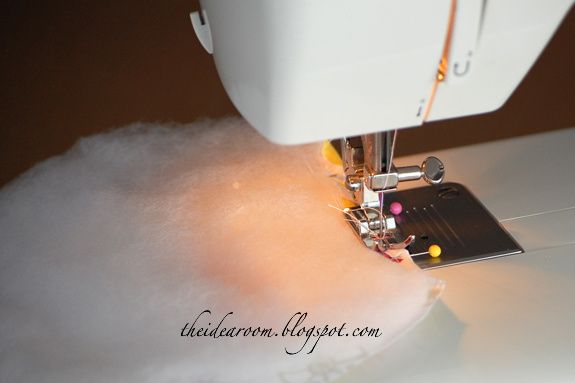 Fold down the middle rounded edge about a 1/4 of an inch and pin. This will not go all the way across the rounded edge (see picture). Sew right along the folded edge and then set aside.
Take the other peice of material (with the same pattern) and fold the edge of the rounded end of the material (so that the wrong sides of the fabric are touching) and sew it as you did the previous peice of material.
Take your two peices of sewn material and pin them together so that the right sides of the material are together and your batting layer is on top. Sew around the entire edge with a 5/8″ seam. However, be sure to leave an opening large enough for you to be able to turn the material inside out.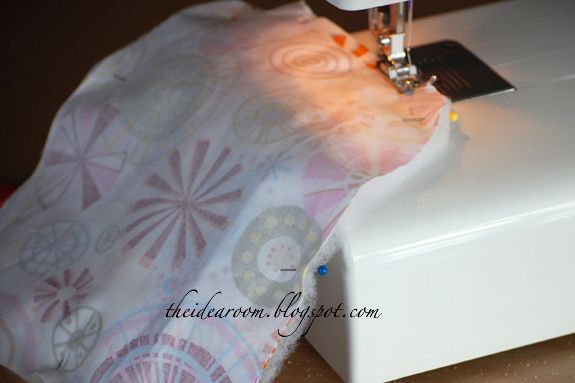 Turn inside out through the hole you have left in the bottom of the U*. After the material is turned inside out, tuck in the open unsewn edges, pin and then sew the opening shut. You can either do this by hand or just with your sewing machine.
Now repeat the above instructions (from * to *) for your other two peices of coordinating fabric and batting.
When both are finished, pin them together. Now sew around your pinned peices using a 5/8″ seam in a U shape. DO NOT SEW ALONG THE FLAT EDGES. THIS IS THE OPENING FOR YOU HAND. Remember to leave an opening large enough to fit the handle of your icescraper between the two peices along the rounded bottom of the U shape.
Turn inside out and you should be all finished! Insert your icescraper handle.
Not only will this keep your fingers toasty warm while de-icing your windows, you will look fashionable doing it :D!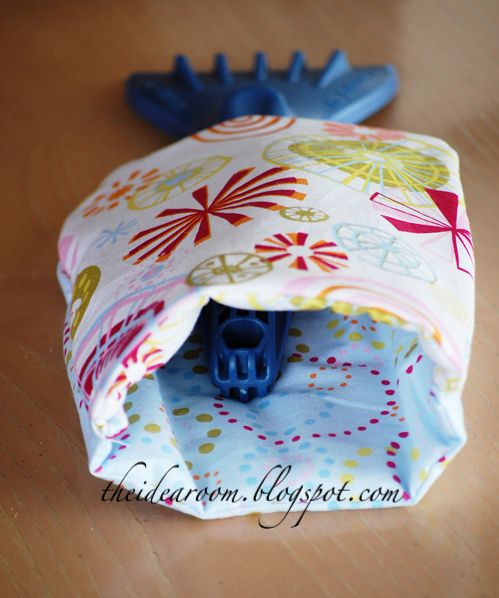 **Ice Scraper purchased at Wal-Mart. Material purchased at Hobby Lobby.

JOIN OUR NEWSLETTER
Would you like more Recipes, DIY, Printables and Organization Ideas?
---
Subscribing to the newsletter will enable us to periodically send you creative content exclusively for Idea Room subscribers.
*View our Privacy Policy here.