Today I want to share with you the first thing I made with my Silhouette.
I have been wanting to make a little herb garden so we could incorporate more fresh herbs in our recipes…and because I think they look really cute as kitchen decor. In a recent trip to our local Thrift Store, I found the perfect pots for some herbs. The individual pots even had a tiny hole in the bottom of each pot, but I was not crazy about the holly pattern.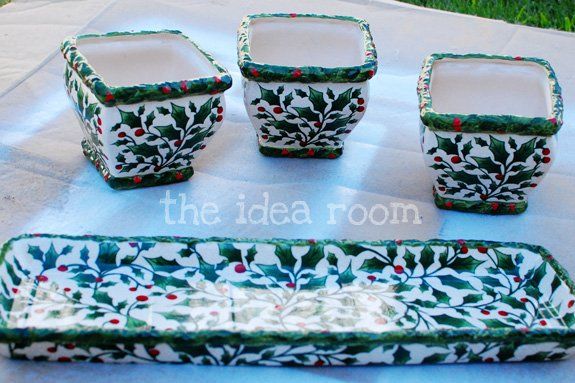 I paid $1.50 for the set and was so excited to get home and spray paint this baby. I took a little sand paper to it to smooth some of the edges of the holly print and then spray painted them with my favorite white Krylon spray paint. I was going to plant seeds, but found some plants at my local nursery who was selling their herbs for 50% off. So I paid a total of $3 for fully grown herbs…SCORE!
Then I simply followed the step-by-step instructions on the Silhouette website and designed the words to use on each pot. Then I printed out the words on the black vinyl Silhouette provided with my Silhouette machine. It couldn't have been easier.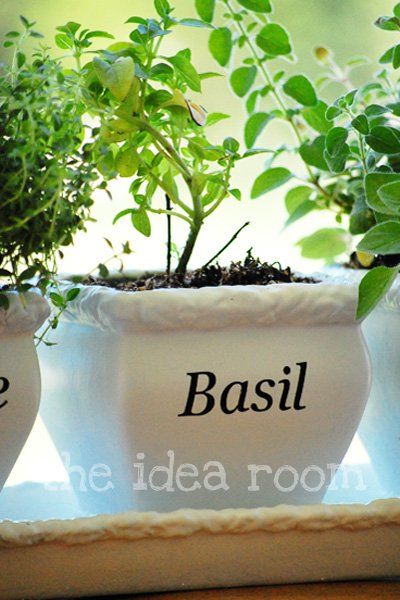 Now, I have the perfect spot in my sunny kitchen window for my new indoor herb garden. I have to make the window sill a bit deeper to allow my herbs to sit in the window sill (as my window were designed in 1979…LOL), but I have a plan and will share that with you when it makes it's way to the top of my "to-do" list :)!
The funny thing is that my husband was SUPER excited about this project. He makes a mean Spaghetti Sauce and can't wait to make some using fresh herbs! See what a smart lady I am…that is one less meal that I have to make!
★Amy
JOIN OUR NEWSLETTER
Would you like more Recipes, DIY, Printables and Organization Ideas?
---
Subscribing to the newsletter will enable us to periodically send you creative content exclusively for Idea Room subscribers.
*View our Privacy Policy here.