I made this cute nightgown from a pillowcase! I have seen this idea all over the net for a while now and found a tutorial that was pretty easy and had sleeves. The tutorial I used can be found here.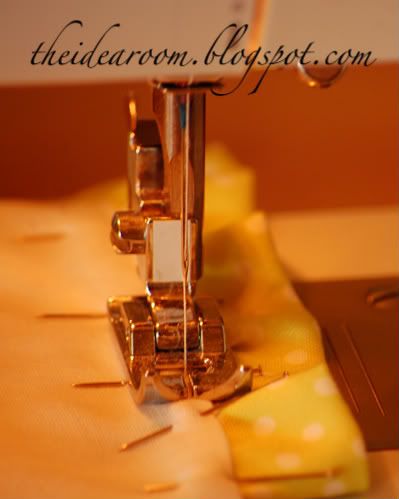 I used a pillow case we had received as a wedding gift almost 15 years ago. It was not our "style" and so it sat in a closet, long forgotten. During some spring cleaning I happened across them again and realized they would be perfect for this nightgown I had been wanting to make. (If you are reading this and realize that you are the giver of this wedding gift…um…we love them. Even if it took us 15 years to appreciate them! HaHa!)
I followed the above mentioned tutorial except made my sleeves bigger. I cut off the folded end of the pillowcase, 3 inches to make the wider sleeves).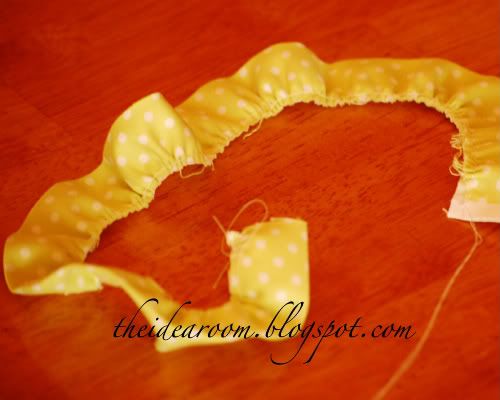 Instead of using a ribbon to pretty up the sleeve, I used some green and white polka dot material I had. I cut a long strip that was about 24 inches long and 2 1/2 inches wide. Then I folded the strip with the WRONG sides together and ironed. Then like the tutorial, I sewed along the two open sides (not the fold) close to the edge. Pulling one of the strings, carefully, I gathered the material. Then I made sure to even out the material so that it fit into the 3 inch strip I cut off of the pillowcase and sewed them together. When your sleeves are sewn, finish the dress part of the gown and then fit dress on child and maeasure exactly where you would like the sleeves to sit over the shoulders and pin into place, before sewing.
I finished the nightgown by following the rest of the tutorial. Then, I added a little "Yo-Yo" to add an embelishment and some flare.
To make a yoyo, cut out a circle of fabric whatever size you want. My circle was 3 inches in diameter. I used a spool of ribbon for my pattern. I folded over the edge about 1/4 of an inch and hand sewed it down. The farther apart your stitches are the smaller your hole in the middle of the yoyo will be.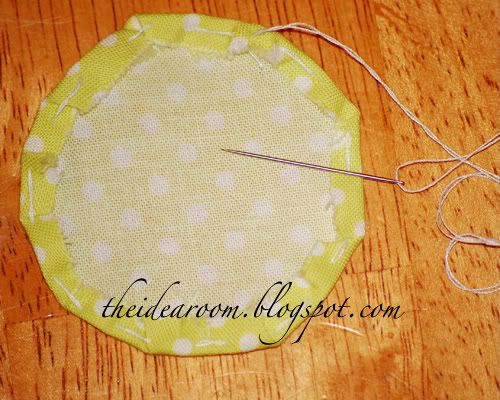 Then when you have finished sewing, do not tie off the end. Leave a length of string and pull on your thread so that it bunches up into a small tight circle.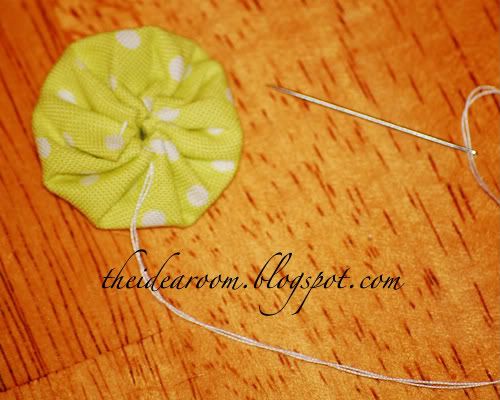 Then use the long thread to stitch it onto the center of your nightgown (or wherever you would like it to go). I also added a white button on top of the yoyo to hide the small opening in the center. Now you have a fun, summery nightgown for your little girl or grandchild, or a fun gift for someone special!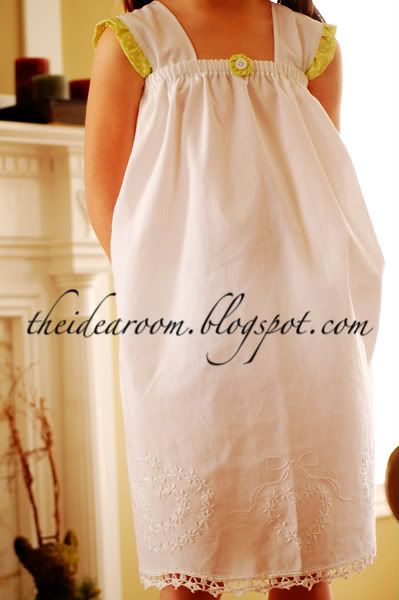 I will be taking a little break to spend some time Spring Breaking with the family. I will be back next week with some fun new tutorials. I have been sewing up a storm!
JOIN OUR NEWSLETTER
Would you like more Recipes, DIY, Printables and Organization Ideas?
---
Subscribing to the newsletter will enable us to periodically send you creative content exclusively for Idea Room subscribers.
*View our Privacy Policy here.