This Giveaway is Now Closed!
Wow! That Confessions post was kind of fun. We mom's shouldn't be so hard on ourselves OR each other. Most of the time we do a great job, but there are just some days when you have to pick yourself up and know that tommorrow you can do it better! Thanks for sharing along with me!
Now…I am excited to introduce you to a fun site you will want to check daily…
PeachyCheap is an online store that offers great scrapbooking supplies. The fun thing about PeachyCheap is that they are not like other scrapbook stores. PeachyCheap offers deals 50-85% off daily on great scrapbooking products. They offer one deal per day, so you need to act fast or you will miss out. Once they are gone, they are gone. And remember, EVERY day, they post a NEW "PeachyCheap" deal so be sure to add them to your favorites list.
Well, Brooke from PeachyCheap has generously provided The Idea Room readers with a fabulous giveaway!
The giveaway includes: the Create-a-Calendar 12 x 12; an acrylic Stamp from FancyPants; 12 x 12 Holiday felt from FancyPants; an Urban Lily Life book journal; Basic Grey ribbon; American Crafts Mini-Marks Rub-on book; Chatterbox Purse-Book; and Making Memories flowers.
All together these products are worth over $100.00.
To enter the giveaway, you must first be a follower of The Idea Room (or subscribe through email or my RSS feed). Then simply head over to PeachyCheap and check out their deal for the day. Then come back here and leave a comment telling us what scrapbook supplies you would love to see on PeachyCheap at their awesome discounted prices. One comment per person please! Be sure to also leave me a way to get in contact with you. This giveaway will close on Saturday night, January 30, 2009 at 11:59 PT.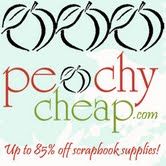 JOIN OUR NEWSLETTER
Would you like more Recipes, DIY, Printables and Organization Ideas?
---
Subscribing to the newsletter will enable us to periodically send you creative content exclusively for Idea Room subscribers.
*View our Privacy Policy here.