I have to tell ya…I LOVE this post! Donuts AND snowmen! These pictures make me happy! I really like snowmen! Do you remember these other posts I did with snowmen?

1. Snow Man Tutorial
2. Snow Man Oven Mitt tutorial
3. Marshmallow Snowmen
4. Decorative "Snow Ball" Men
Snowmen just make me happy!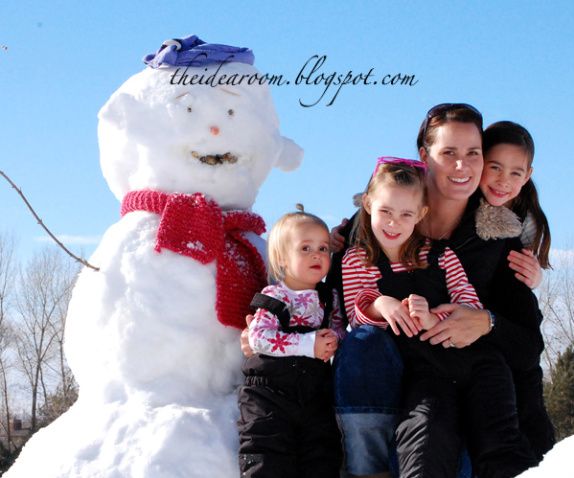 (January 2010)
Anyways…Today I would like to share with you how to make these adorable powdered donut snowmen. Now I realize that making snowmen out of donuts is nothing new, but I wanted to make them something that you could actually give to someone as a small gift for the kids' friends, or for an elementary classroom activity, scout treats, etc. Here is what I did.
First I took a piece of cardboard measuring 2.5 inches square. Then I cut a piece of scrapbook paper the same size and glued it onto the cardboard. Then I took the tip of my scissors and put a small hole in the center of the cardboard.
Then I took a sucker stick and cut one end of the stick off so that it measured about 3.25 inches. I dipped one end of the stick into glue and then stuck it into the hole I made in the center of the cardboard.
Then I simply placed three Hostess powdered "donettes" (the small ones) so that the stick is in the middle of each donut.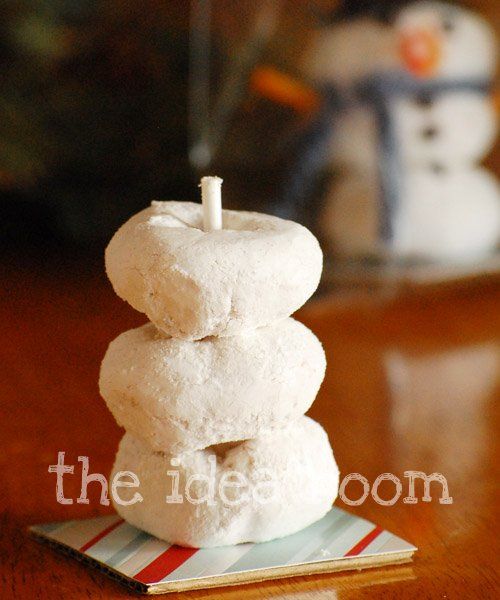 Then I took a piece of thick yarn measuring about 10 inches in length and wrapped it between the top and middle donut for the scarf.
I used a piece of candy corn for the nose (which I had leftover from some oreo turkeys we made for Thanksgiving. (I also just noticed some in the candy bins at Target in case you have trouble finding them). For the eyes and buttons I used mini chocolate chips. But, I didn't like how dull the eyes and buttons were, so to each mini chocolate chip, I added a tiny drop of some black decorating icing in a tube that I had on hand. Much better!
Then for his arms I simply took a single pretzel stick and broke it in half using one half for each arm.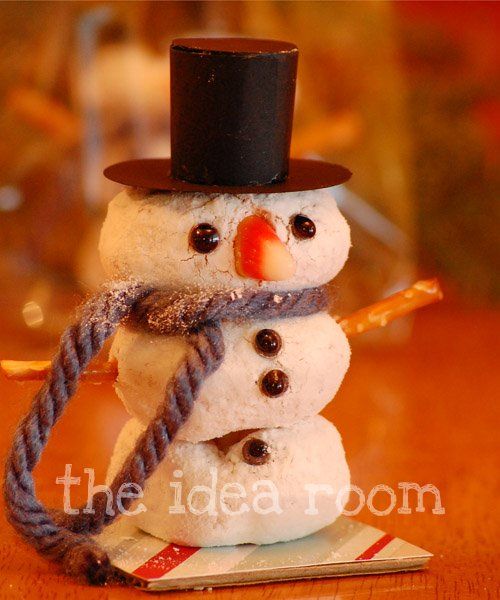 To make his hat, I cut a 2 inch circle for the brim of the hat and a 1 inch circle for the top of the hat. The hat itself was made by taking a strip of black paper that measured 4.5 inches by 1.25 inches and rolling it into a tube.
Roll it so that the 1 inch circle will fit nicely onto the top. Glue it into a roll. Glue the top of the hat on. Then take your scissors and make a hole in the 2 inch circle for the sucker stick to go through and then glue it onto the base of the hat. Now simply slip the hat onto the stick. It should stay in place nicely.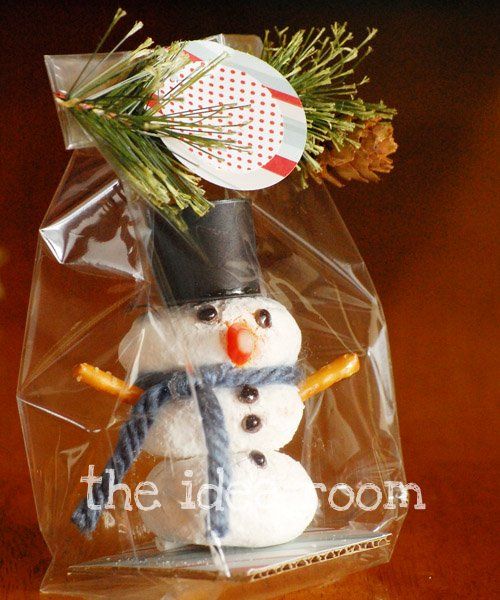 Pretty easy…and so cute! We ate them :)! But wouldn't they be fun to share with a friend?
Linking up here: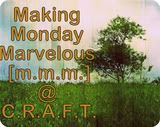 ★Amy
JOIN OUR NEWSLETTER
Would you like more Recipes, DIY, Printables and Organization Ideas?
---
Subscribing to the newsletter will enable us to periodically send you creative content exclusively for Idea Room subscribers.
*View our Privacy Policy here.