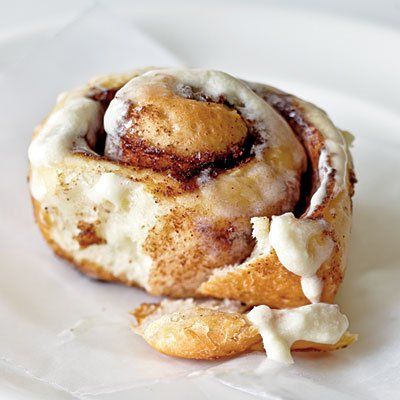 image from CookingLight
I hope you aren't sick of pumpkin recipes yet…I for one, love the flavor of pumpkin and these pumpkin cinnamon rolls did not dissapoint. I found this recipe from over at TasteOfHome.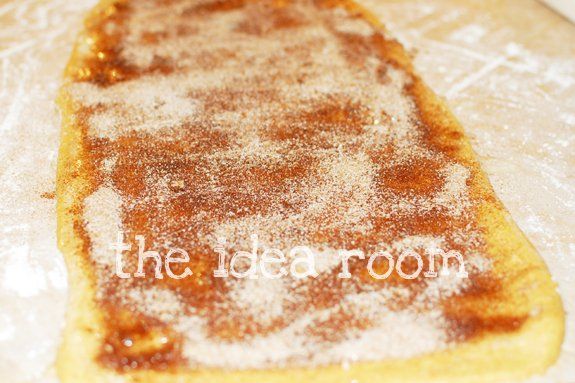 Ingredients:
2 tablespoons active dry yeast
1/2 cup warm water (110° to 115°)
4 eggs
1 cup shortening
1 cup canned pumpkin
1 cup warm milk (110° to 115°)
1/2 cup sugar
1/2 cup packed brown sugar
1/3 cup instant vanilla pudding mix
1/3 cup instant butterscotch pudding mix
1 teaspoon salt
7 to 8 cups all-purpose flour
Filling:
1/4 cup butter, melted
1 cup packed brown sugar
2 teaspoons ground cinnamon
Icing:
3 tablespoons water
2 tablespoons butter, softened
1 teaspoon ground cinnamon
2 cups confectioners' sugar
1-1/2 teaspoons vanilla Extract
Directions:
In a large bowl, dissolve yeast in warm water. Add the eggs, shortening, pumpkin, milk, sugars, pudding mixes, salt and 6 cups flour. Beat until smooth. Stir in enough remaining flour to form a soft dough (dough will be sticky).
Turn onto a floured surface; knead until smooth and elastic, about 6-8 minutes. Place in a greased bowl, turning once to grease top. Cover and let rise in a warm place until doubled, about 1 hour.
Punch dough down; divide in half. Roll each portion into a 12-in. x 8-in. rectangle; brush with butter. Combine brown sugar and cinnamon; sprinkle over dough to within 1/2 in. of edges.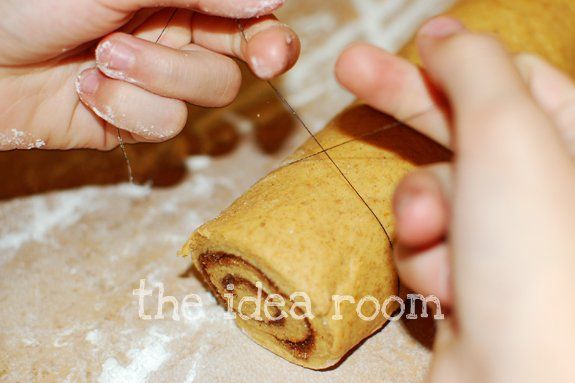 Roll up jelly-roll style, starting with a long side; pinch seams to seal. Cut each into 12 slices.
We cut our cinnamon rolls using a piece of thread, a technique passed down from my Grandma's family. It cuts cleanly and easily. Just slide the thread under the rolled dough and then cross-over at the top and pull all the way down through the dough pinching off each cinnamon roll.
Place cut side down in two greased 13-in. x 9-in. baking pans. Cover and let rise until doubled, about 30 minutes.
Bake at 350° for 22-28 minutes or until golden brown. In a small bowl, combine the water, butter and cinnamon. Add confectioners' sugar and vanilla; beat until smooth. Spread over buns. Serve warm. Yield: 2 dozen.
**Edit–For night before prep: Prepare the rolls up to the point where you roll and place in the pan. Then, cover in plastic wrap and refrigerate overnight. In the morning, remove the pan from the fridge and proceed with the instructions where you left off. Rising time may be slightly longer than noted in the recipe due to the dough being cold vs. room temperature.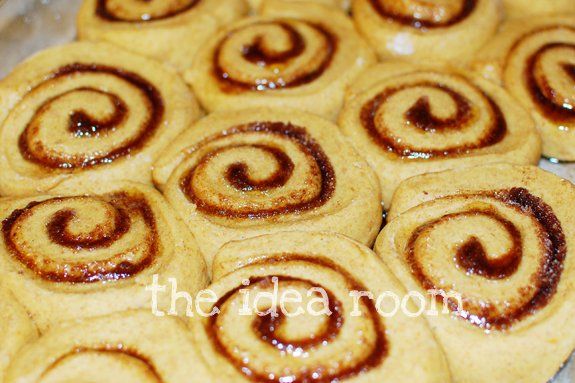 I realized I never took any pictures of the finished rolls after we iced them. We must have gobbled them up too quickly :)! For a printable version of the recipe go here.
★Amy
JOIN OUR NEWSLETTER
Would you like more Recipes, DIY, Printables and Organization Ideas?
---
Subscribing to the newsletter will enable us to periodically send you creative content exclusively for Idea Room subscribers.
*View our Privacy Policy here.