Today I want to share these Reindeer Treats with you…
These will make some yummy Christmas treats that would be fun for a family party, classroom treat, or small gift.  They would also be a fun Christmas cookie to take to a Christmas cookie exchange.
These were pretty easy to make. We tooks some Nutter Butter Cookies and separated the top and bottom cookies to reveal the peanut butter filling inside. Then we added a little more creamy peanut butter and stuck a new popsicle stick in the peanut butter.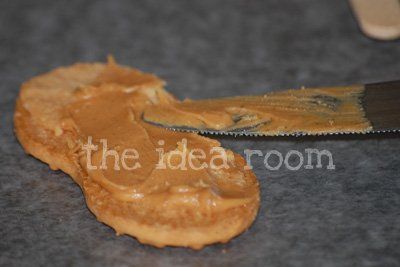 Then we put the tops back on. We did this to several and then lined a cookie sheet with some wax paper to placed the reindeer pops on after we dip them in chocolate.
After dipping the cookies in chocolate we laid them onto the wax paper. Then before the chocolate hardens add your reindeer faces. We used white chocolate chips for the eyes and a dot of black icing for the pupil (if you want the eyes to sit flat, cut the pointy tip off the chocolate chip with kitchen scissors or a knife). We used red M&M's for the nose and added some sprinkles to the cheeks. Then we used broken pretzels for the antlers.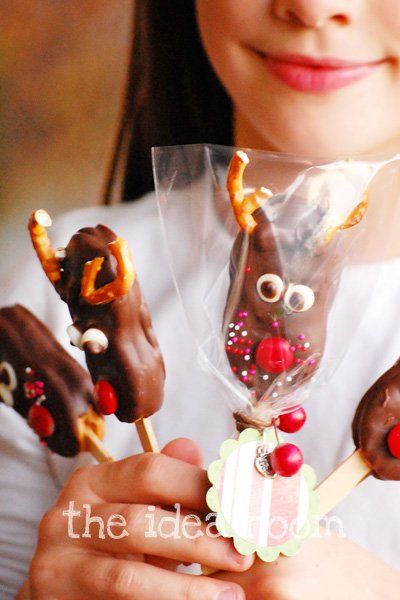 The antlers can be a bit tricky to get to stick. We found the easiest way to get them to stay put was to place the end of one of the antlers (pretzel) on top of the head and then cover the end with melted chocolate. Repeat this for the other antler. Then we placed the reindeer into the freezer so they would harden. Make sure to lay your cookie sheet flat.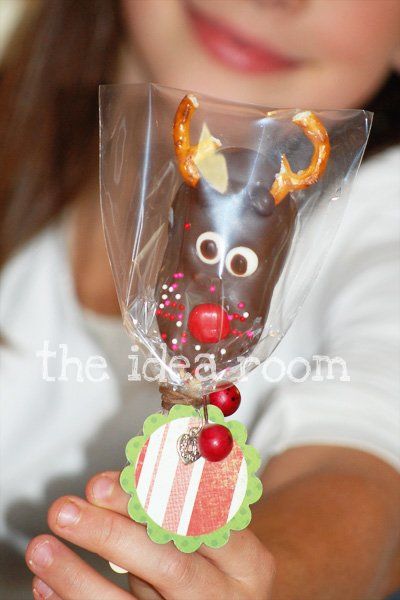 Once they have hardened, you will be able to wrap them up cute and give them away…or eat them! And since I love Peanut Butter and Chocolate…these were pretty tasty!
JOIN OUR NEWSLETTER
Would you like more Recipes, DIY, Printables and Organization Ideas?
---
Subscribing to the newsletter will enable us to periodically send you creative content exclusively for Idea Room subscribers.
*View our Privacy Policy here.