I was able to get to my Sears Outlet Store (located at 366 E. University Parkway in Orem, Utah) again recently and I am always excited to see the great new deals they have. They are starting to get a lot of great stuff just in time for the holidays. As usual I was greeted and welcomed by the friendly staff…Hi Jesse, Chris and Thomas! Here are a few of the things that caught my eye and attention right away…

Cordless Drill



Compact Digital Video Recorder

Tool Box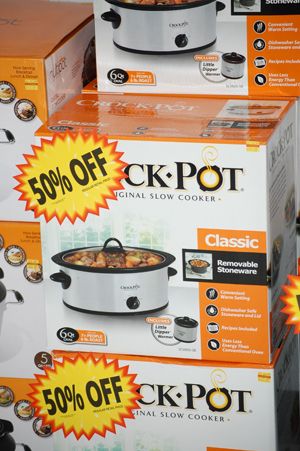 Crock Pot
With the upcoming Holidays, I couldn't help but think that a lot of the items here would make great gifts. I like giving someone a gift and having them think I spent a lot more on it than I really did…Hehe…is that bad?
Well, not only was I at my Sears Outlet Store to check out the latest and greatest, but I was also there to find another item to review. The challenge this month? Find the best deal for $150 (retail value) or under…I know…pretty rough!
Did I mention that I happened to bring my husband along? Well, I did…we actually met at his office and then we grabbed a quick lunch and then headed to the Sears Outlet store.
I only mention this because him being there largely influenced my choice of review item. You see, there was this table saw right in the front of the store that immediately grabbed his attention…
And so…we are the proud new owners of this little lovely…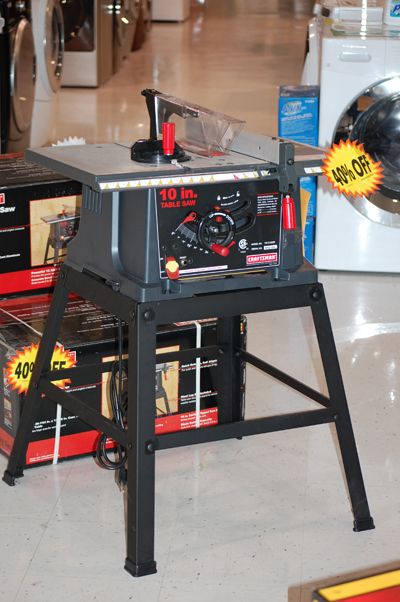 A Craftsman 10 inch Table Saw. It is normally $150 retail and at Sears it was 40% off of retail price. So it was $90.00. That is a great deal!
My husband was grinning like a cheshire cat. I played up my part well and he thinks that I was "letting" him choose the item. But in reality, I was really happy with the choice. I have plans for that table saw. He "gets" to use the saw to BUILD great projects for ME and my many home remodeling projects that are whirling around in my little head!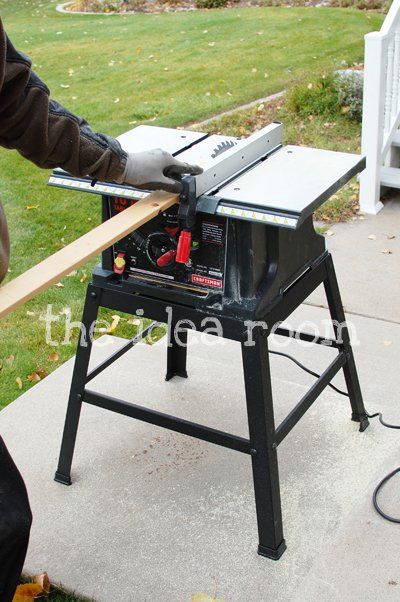 We got the table saw home and were able to get it all set up, ready to go. Then, we fired it up and whipped me up a little wood tray for a project I plan on sharing here with you soon. My husband was really excited at how quickly and easily he was able to cut the wood. He asked if I needed anything else cut while he was at it! My husband actually worked in a cabinet making shop when he was younger and really enjoys working with his hands…he was like a kid in a candy shop.
If you have any men on your holiday shopping list that is hard to shop for, Sears Outlet has a lot of great tools and "man-friendly" (I made that up :) gift ideas at great prices.
So why not check out your local Sears Outlet for yourself? Go here to find a store near you. And, if you don't have a store that is close by, no worries, you can purchase items online from Sears Outlet too.
And remember to include Sears Outlet Stores in your Thanksgiving Day shopping as they will be open from 7am-Noon and of course they will be offering some great deals for Black Friday when stores will be open 5am-9pm. And of course online at Sears Outlet for Cyber Monday.
Check out these other great items that have been reviewed from some of the other Sears Outlet Power Moms.
Dawn–Mommy PR
Andrea–Mommy PR
Clueless Mama–Guessing All the Way
Elizabeth–A Nut In A Nutshell
Angela–MommyPR
Army Wife 101
_____________________
**Disclaimer:
I was not paid in any form of cash for this posting.
I did receive product or services to keep for my testing purposes.
The views and opinions expressed in this blog are purely my own and any product claim, statistic, quote or other representation about a product or service should be verified by the above mentioned store, PR,or product designer.
The product itself did not persuade my personal beliefs or views. I was under no obligation to write a positive review .
★Amy
JOIN OUR NEWSLETTER
Would you like more Recipes, DIY, Printables and Organization Ideas?
---
Subscribing to the newsletter will enable us to periodically send you creative content exclusively for Idea Room subscribers.
*View our Privacy Policy here.