Many of you know that we just recently remodeled and decorated my daughter's room. It has been finished for a couple of months now, but there are still a few finishing touches and details I have been working on.

I was contacted by Cindy, the owner of MatSpeaks, who wanted to know if I was interested in testing out one of her cute personalized picture frame mats. Ummmm…Yes Please!
She had quite a few fun mats that I was interested in, but since I have been working on my daughter's room, I picked one for her that fit perfectly where I needed to add some color.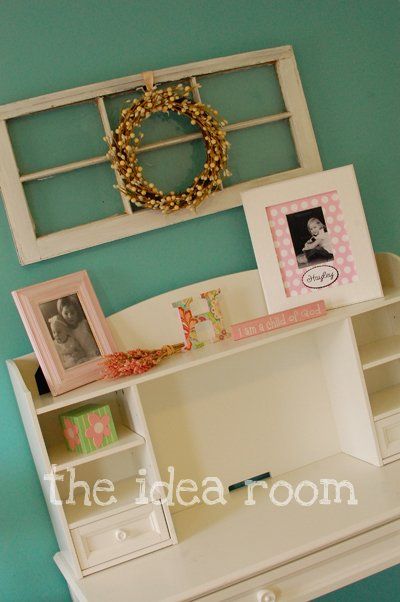 Pretty fun huh? I love that the polka dots match my daughters fun and colorful personality.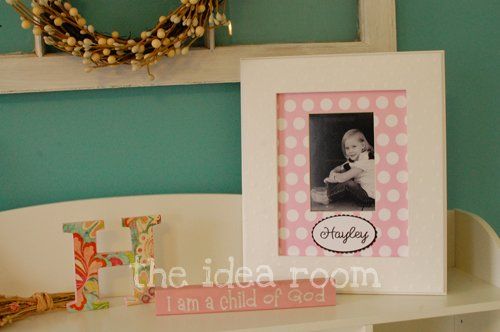 If you are looking for a fun and personalized gift for someone this Holiday season, these could be the perfect solution. Cindy is offering a 15% discount to anyone who orders a mat from her and uses the code "idearoom". So head on over to MatSpeaks and check out her fun site.
Thanks MatSpeaks!
**Edit–I had someone ask about the light polka dots on the white picture frame (if you look closely in the top pic you can see them). I simply took a regular frame and dip the eraser end of a pencil into white paint and put polka dots on the frame. Then I let them dry COMPLETELY. Then I painted the whole picture frame with white paint over the dots. I LOVE the overall effect.
★Amy
JOIN OUR NEWSLETTER
Would you like more Recipes, DIY, Printables and Organization Ideas?
---
Subscribing to the newsletter will enable us to periodically send you creative content exclusively for Idea Room subscribers.
*View our Privacy Policy here.