**Wow! I struck a nerve with that last post. Apparently a lot of us have dealt with this issue in our homes. I am so glad you guys responded and gave us some good advice. I agreed with a lot of you. It was starting to be a power struggle and I could see that it was becoming a battle of wills, which is not good. I like the idea of getting him more involved in the preparation and planning. My other kids all love to help me make dinner and are always helping out in some way. But as I thought about it, I realized this child does not like helping with dinner as much. So I plan to get him to help out without him knowing it is my "plan". I think that will do a lot for him being interested and helping us find dinner choices he can enjoy. I was a picky eater and did not like people telling me what to eat and like and I can imagine he feels the exact same way. It is good to take a step back and see something from a different perspective which is hard when you are the mom and so involved. So thanks for all the great ideas! I am excited to get some of your ideas implemented in the coming week! I'll let you know how it goes!
Now…here is something my child had no problem gobbling right up! These brownies definitely make you want to come back for 'some more'! I got this recipe from the Food Network! They are really rich and ooey gooey good. I however, am not a big lover of marshmallows, so instead of using whole large marshmallows, I used marshmallows that were cut in half.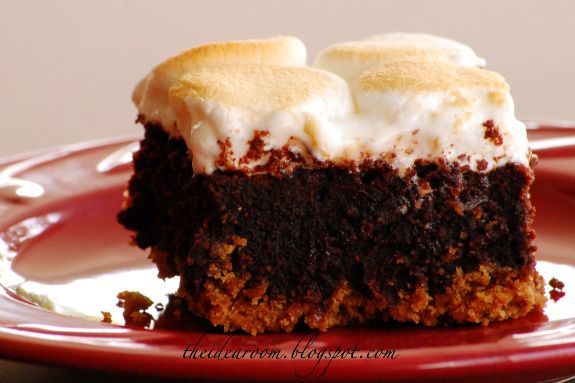 Ingredients
Crust:
6 tablespoons unsalted butter, melted
1 1/2 cups crushed graham cracker crumbs
2 tablespoons sugar
Pinch fine salt
Brownie:
8 tablespoons (1 stick) unsalted butter
4 ounces unsweetened chocolate, chopped
1 cup packed light brown sugar
3/4 cup white sugar
1 1/2 teaspoons pure vanilla extract
1/2 teaspoon fine salt
4 large cold eggs
1 cup all-purpose flour
Topping:
4 cups large marshmallows
Directions
Position a rack in the lower third of the oven and heat oven to 325 degrees F. Line an 8 by-8-inch square baking pan with foil so it hangs over the edges by about 1 inch.
For the crust: Lightly butter the foil with some of the melted butter. Stir the rest of the butter together with the crumbs, sugar, and salt in a medium bowl. Press the crumb mixture evenly over the bottom of the pan. Bake until golden brown, about 20 minutes.
Meanwhile, make the brownie. Put the butter and chocolate in a medium microwave safe bowl. Melt in the microwave on 75 percent power for 2 minutes. Stir, and microwave again until completely melted, about 2 minutes more. Alternatively, put the butter and chocolate in a heatproof bowl. Bring a saucepan filled with 1 inch or so of water to a very slow simmer; set the bowl on the pan without touching the water. Stir occasionally until melted. Stir the light brown and white sugars, vanilla and salt into the melted chocolate. Add the eggs and beat vigorously to make a thick and glossy batter. Add the flour and stir until just incorporated.
Pour batter into the prepared pan. Bake until the top is crispy and a toothpick inserted into the middle comes out mostly clean, with a few crumbs, about 40 to 45 minutes.
Remove from the oven and carefully position a rack about 6 inches from the broiler and preheat on low. Layer marshmallows across the top and toast under the broiler until golden, (keep an eye on it, it can go quick), about 2 minutes. Cool on a rack, gently removing the brownies from the pan using the aluminum flaps. Carefully separate any marshmallow from the foil and fold away. Cut into 12 (2-inch) squares.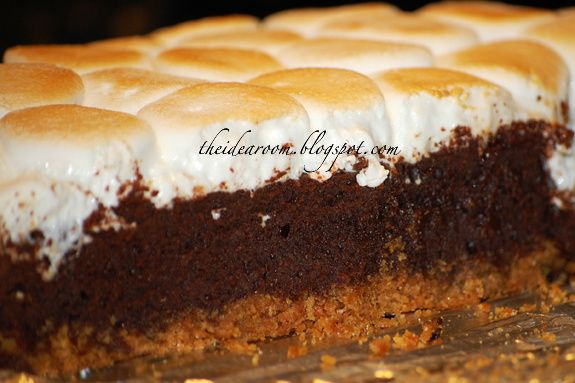 Copyright 2007 Television Food Network, G.P. All rights reserved
1. Chocolate!
2. Baking on a cool, crisp afternoon
3. Good Advice
JOIN OUR NEWSLETTER
Would you like more Recipes, DIY, Printables and Organization Ideas?
---
Subscribing to the newsletter will enable us to periodically send you creative content exclusively for Idea Room subscribers.
*View our Privacy Policy here.