**For those of you who can't find mini candy canes and want to make the heart suckers, my sister reminded me that some stores sell the mini starburst candy canes that come in a lot of colors. Those would be really cute as well!
Remember my oven mitt tutorial? Well, I have another oven mitt that you can make. But this one is a snowman! I know many of you, especially in the North East, are getting blasted with winter weather still. So why not make some cute oven mitts while you are trapped inside with nothing better to do. Then use them to pull some warm baked goods out of the hot oven.
These are made just like the my other oven mitts. I have provided you with a downloadable pattern here.
Cut 2 peices of your main fabric (mine was white with white polka-dots) using the whole outside line of the snowman pattern. Then cut two peices of Insul-Bright using the same pattern.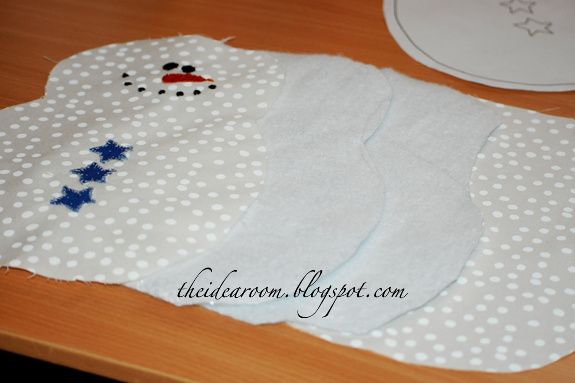 Then using the snowman pattern, trace the face with pencil lightly onto one of the peices of your main fabric. I hand embroidered the face using embroidery floss…black for the eyes and mouth and orange for his carrot nose.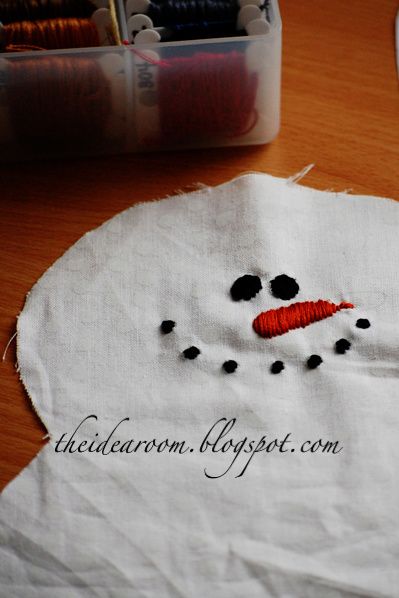 When you have finished his face, trace the star buttons onto your coordinating fabric. Cut out the stars and then hand sew them onto your snowman.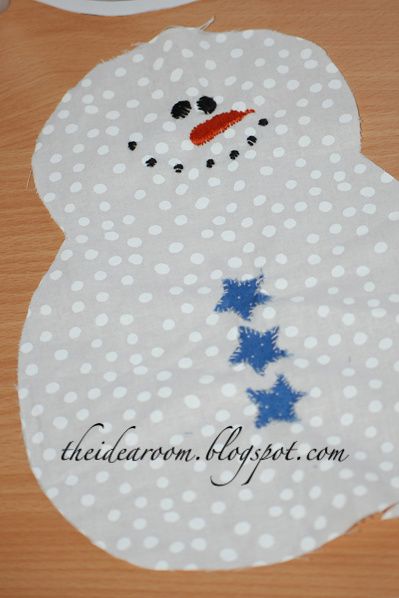 Take your snowman and Insul-Bright and stack them on top of one another so that the bottom fabric's right side is facing down. Then place the Insul-Bright layers in the middle and then top with the snowman with the right side facing up. Pin together all the layers and sew around the entire snowman with a 5/8 inch seam.
Now take your coordinating fabric and fold it in half. Place the fold on one line going across your snowman pattern for the finger pocket. Trace around the pattern onto your material and then cut your coordinating fabric.
Repeat for the other finger (thumb) pocket. Cut 1 peice of batting for each pocket. Place your folded pockets so that (including the coordinating fabric with the batting inside) and pin onto the back of your snowman. Do this for the top and bottom pockets.
Sew around each pocket, using a 5/8 inch seam allowance.
Now take your bias tape and sew it onto the edge all around the snowman.
**Tip–I used to be scared of bias tape. I was always missing it on the backside until I figured out a little trick that works for me. I do not pin the tape down except for the very first section. I sew the very beginning and then just hold the bias tape in my right hand and use my left hand to hold the oven mitt. I just place the bias tape on the mitt as I go and just work slowly and hold it in place by making sure it is folded evenly on the top and bottom as I work. I slowly feed it through my hand and work my way around the oven mitt. Go slowly and it should go on much smoother for you!
That's it! If you don't want to make this into an oven mitt, it can be used to place hot dishes on so you don't ruin your counter or kitchen table. Isn't he so cute? White may not have been the best idea. I have already had to wash them twice since making them.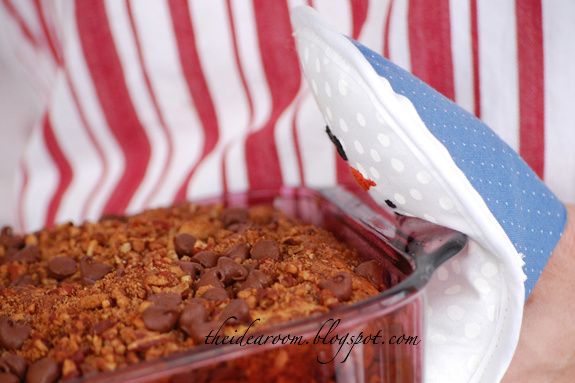 Does that cake look yummy? It is one of my husband's favorite. We call it Sandy's Cake. I don't even know who Sandy is…but it sure is good. Here is the recipe or click here for a printable version.
2 squares margarine
1 cup sugar
2 bananas
2 eggs
1 tsp. vanilla
2 tsp. baking powder
2 tsp. soda
1 dash salt
3 cups flour
1 pint sour cream (2 cups)
Blend margarine, sugar, bananas, eggs and vanilla. Add remaining ingredients. In another bowl make the filling.
Filling:
1/3 cup brown sugar
1 Tbs. cinnamon
1 cup chopped walnuts
1 cup chocolate chips
Layer batter and filling twice in a 9X13 dish. Bake 350 degrees for 45 minutes.
JOIN OUR NEWSLETTER
Would you like more Recipes, DIY, Printables and Organization Ideas?
---
Subscribing to the newsletter will enable us to periodically send you creative content exclusively for Idea Room subscribers.
*View our Privacy Policy here.