**Warning…This post contains some photos that may be graphic to some viewers.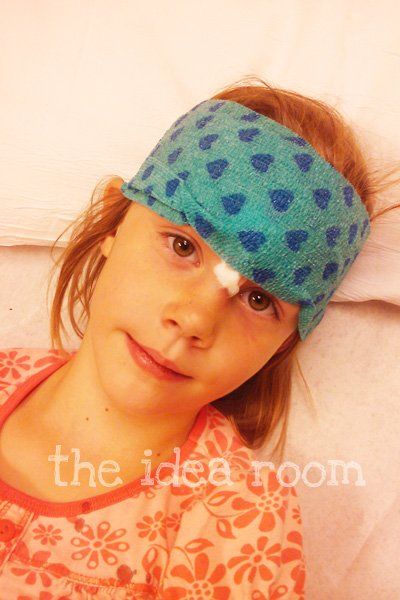 Well, we had an eventful evening last night. The kids and I went to my eldest daughter's soccer game. The oldest boy took the younger two girls to play on the playground while I watched the soccer game with my other son. (The Hubs was out of town…of course)!
The game was almost over and I heard a child crying and saw a mother carrying her along the sidelines. And thought…oh, that lady's child must have gotten hurt. Then I looked closer and realized she was carrying MY daughter! Just as I noticed, someone across the field pointed to me and I ran over (across the soccer field…while the game was going) because I could see blood…a LOT of it. The lady said…"she is NOT okay!" Well, that made me really nervous. Her head was really bleeding and I could tell that the cut was large and deep. There was no question we needed stitches.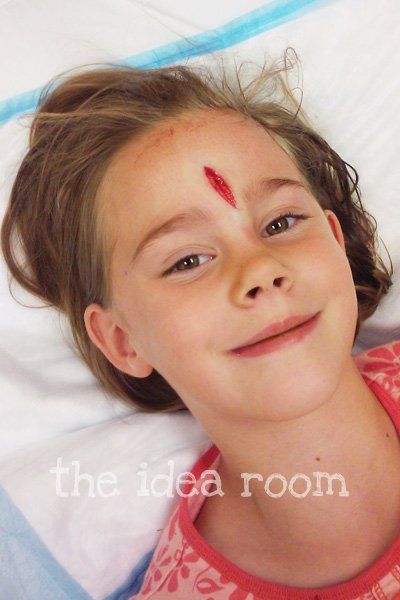 Luckily my friend was at the game (our daughters are on the same team). She came running over and told me not to worry. She would gather all our chairs and blanket and her and her husband would bring them and MY 4 KIDS home and get them in bed while I took my daughter to the hospital. Thanks goodness for good friends!
The lady carrying my daughter was covered in blood, and now I was. My daughter was starting to act a bit loopy and said she was tired. That made me nervous and I thought she might be going into shock. Luckily InstaCare was only 5 minutes away so I headed there rather than to the hospital which would have been a 20 minute drive. I wanted to get her vitals checked as I wasn't sure how hard she had hit her head.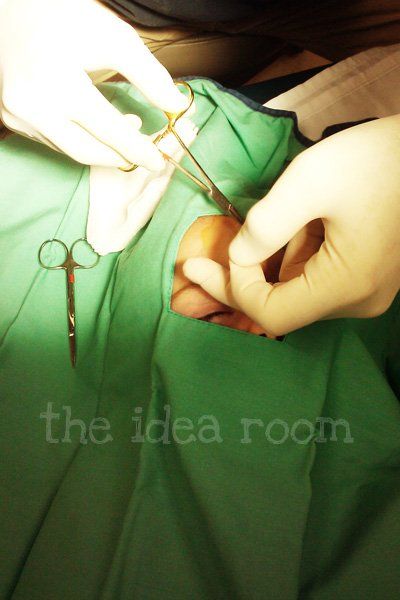 We got to InstaCare and they immediately took her back and checked her vitals. By this time she was acting like herself again and seemed to remember everything that had happened. That was a good sign. Then they filled her gash with a numbing medicine. That was when I really got a good look at it. YIKES! I could see her bone. It is about 2.5 to 3 cm in length. My poor baby! All I could think about was the lovely scar she would have now…boo!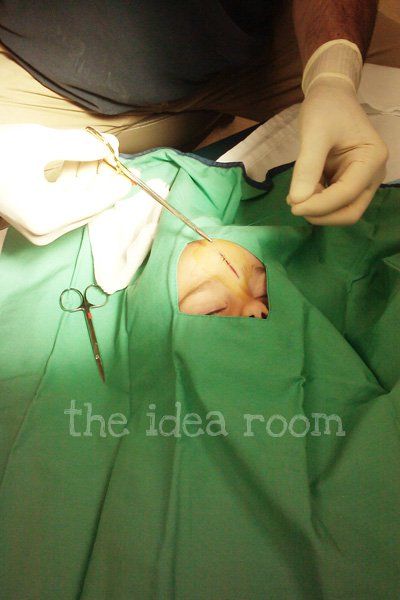 Then while we waited, I cleaned her up with a washcloth and took some pictures of her. She called her dad on the phone and he told her stories while she waited for the medicine to numb her forehead. Then they stitched her up. Luckily the medicine worked and she didn't need a numbing shot. She was a trooper and so very brave. She just laid perfectly still while they were stitiching her. I thought she had fallen asleep.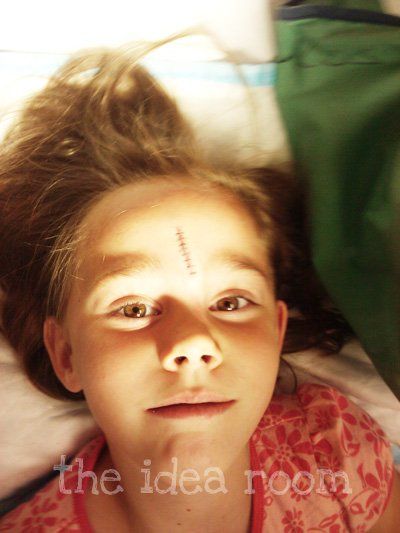 The doctor did a great job and stitched it so cleanly and smooth and I am hoping the scarring will be very minimal!
In talking to my daughter, (to find out how it happened) she said that she and her friend were playing in the wood chips and decide to go down the slide. They both took off running to get on the slide and my daughter ran right into the play telephone (it is a round metal tube that has two ends one each side of the playground and works like a telephone amplifying the sounds so you can hear one another on each end). The metal is rounded and smooth, but she must have just hit her head squarely on the edge of the tube.
Does anyone know how to treat a scar so it heals well with minimal visibility??
Glad she is okay. Being a mom has some scary moments. I know this is very small considering some of the things you other mothers may deal with or be dealing with when it comes to your children! Being a mom is a tough job sometimes. It's tough having your heart so connected to these little people!
**pictures taken with cell phone.
**Update 3/6/2011
I have had several of you inquire as to how my daughter's scar is healing.  I really appreciate your concern and all of your support and encouraging words.  One thing I love about this blogging community is seeing everyone support and encourage each other…Thank You!  Here is her update:
This is a picture of my daughter and her new stitches the morning after the accident.  She had a pretty good sized goose egg and was a bit swollen for a couple of days.
We went back to the scene of the crime exactly a week later for another soccer game and got a picture of her with the park "telephone".  This is what she ran into the side of that split her forehead open.  She has clearly forgiven it!
Here she is 3 months after.  It has faded quite a bit and she still was wearing a band aid everyday to keep it out of the sun.  We also rubbed it with Vitamin E and Mederma 2-3x daily.
Here she is on Valentine's Day this year.  It is really looking great and I believe it will continue to fade.  We plan to keep it out of the sun for the rest of the summer as well and use sunscreen and more band-aids if needed.
*Update: May 6, 2015
JOIN OUR NEWSLETTER
Would you like more Recipes, DIY, Printables and Organization Ideas?
---
Subscribing to the newsletter will enable us to periodically send you creative content exclusively for Idea Room subscribers.
*View our Privacy Policy here.