*Be sure to enter the PeachyCheap scrapbook supplies giveaway here.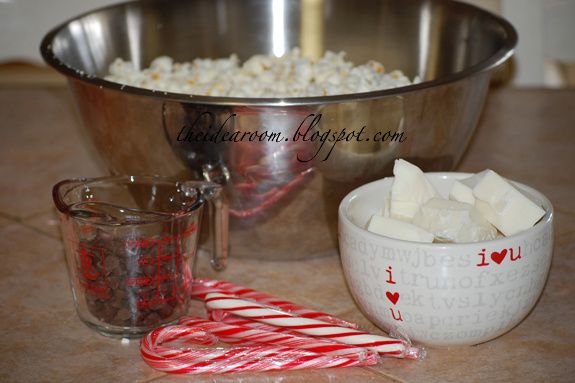 Okay…so I apologize to those of you who have made New Year's Resolutions to eat healthier! I just can't help myself! I saw this recipe from Our Best Bites that I just had to try. Have I mentioned how much I love Chocolate and Peppermint together? This popcorn was SO good. Luckily I gave most of it away to a few ladies in my neighborhood, so I didn't eat the whole batch myself :)!
Simply pop 10-12 cups of popcorn and sprinkle with a little salt. Crush candy canes very finely until you have enough for 1.5 cups and set aside. Melt 8 ounces of white chocolate chips or Almond Bark. After it is melted stir into the chocolate 1 to 1.5 tsp of Peppermint Extract. The chocolate may get a little lumpy. No worries. Pour chocolate over the popcorn and stir until it is evenly distributed. Sprinkle the crushed candy canes over the popcorn and stir until it is all mixed again. Pour the popcorn out onto a layer of wax paper. While it is drying, melt some regular chocolate chips and drizzle over the popcorn. Let harden before serving.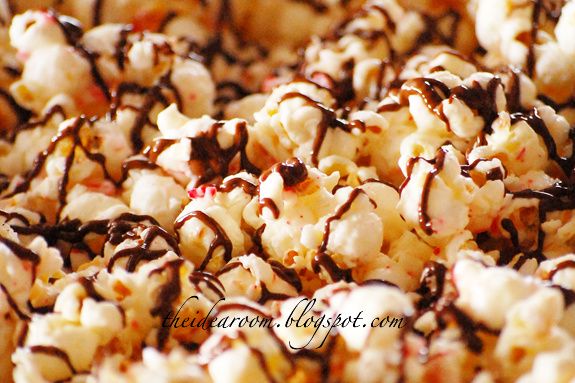 I plan on making another batch of this to give out to some friends and the grandparents for Valentine's Day.
JOIN OUR NEWSLETTER
Would you like more Recipes, DIY, Printables and Organization Ideas?
---
Subscribing to the newsletter will enable us to periodically send you creative content exclusively for Idea Room subscribers.
*View our Privacy Policy here.