Serve up a fun and crazy April Fools Day Dinner with this Crazy Cafe Menu. Guests will order cartoon characters which are a secret code to your menu items. Then enjoy your crazy mixed up dinner eating your dessert before dinner with your hands! Kids love it!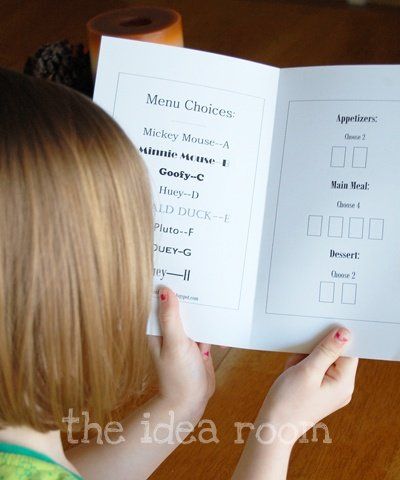 APRIL FOOLS DAY
April Fools Day is coming up and we try to do things a little differently that day at our house. In the past, we have made dinner time a little "crazier" than normal by letting the kids pick what they would like to order for dinner from The Crazy Cafe menu.
DINNER MENU
But this menu is not like other menus. Your kids will be choosing Disney characters rather than an actual food item. They will not know what Disney character goes with an actual food choice.
Before giving the kids their menu items, decide what you would like to serve for the meal. You will need the following items:
Fork
Spoon
Napkin
Main Meal
Side Dish
Roll/Side Dish
Drink
Dessert
Choose whatever items will work best for your family, but you need a total of 8 items.
Then assign each item to go with the Disney characters. For example:
Mickey Mouse = Fork
Minnie Mouse = Dessert
Huey = Main Meal
Duey = Roll
Luey = Drink
Donald Duck = Side Dish
Pluto = Napkin
Goofy = Spoon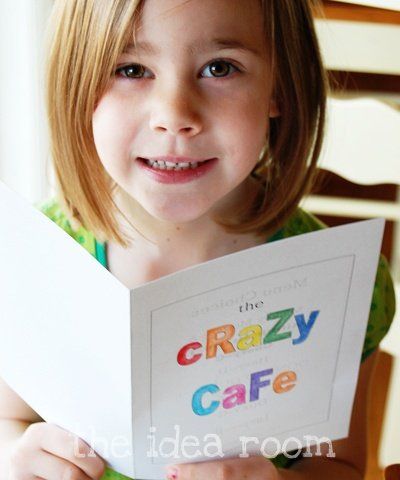 Then when it is time for dinner, get your meal all ready, but do not set the table. Sit your kids down and hand them the menu's and explain to them that you (and Dad) are going to be their waitress (waiter) for the evening. Give each child their own menu, which you can download here. Have each child fill out their orders directly on the menu or you can take them as a real waitress would.
Each child will need to order 2 items as the Appetizer, 4 items for their Main Course and then 2 Dessert items (being sure that they order all 8 different items only one time each. Does that make sense?
Each child's dinner will vary depending on what they order. So if one child orders Pluto and a Minnie Mouse for their appetizer, you will bring them a napkin and dessert, and so on for the other two courses.
The fun thing about this meal is that everything will be mixed up. They may not have a utensil to eat with or a drink until the next course, but that is all part of the fun. The kids will be able to eat with their fingers or have dessert before their dinner. What kid wouldn't love that? Everyone will also have a great time seeing what the others are eating (or not eating yet) as well.
So add a little craziness to dinner time this April Fool's Day, your kids and you will enjoy every minute of it.
**Click here to download The Crazy Cafe menu.
JOIN OUR NEWSLETTER
Would you like more Recipes, DIY, Printables and Organization Ideas?
---
Subscribing to the newsletter will enable us to periodically send you creative content exclusively for Idea Room subscribers.
*View our Privacy Policy here.