Hey guys!  I have been busy on a little remodel project and some bigger home décor items that I am just finishing up.  I can't wait to share them with you.  But I have also whipped up a couple more fun Halloween Oreo Pops.  The first one that I would like to share are these Halloween Bat Oreo Pops.
Here are the supplies you will need to make them.
Wilton Candy Melts (Midnight Black) or chocolate
Double Stuff Oreos (I need to buy some stock in that company)
Black Construction Paper
Popsicle Sticks
Red and White Sprinkles
White Heart Sprinkles
Stick the popsicle sticks in between the two cookie layers of the Oreos and set them aside on some wax paper.  Melt your candy melts in the microwave in 20 second intervals until it is melted to a smooth and creamy consistency. Now "dip" the Oreos into the candy. Now I don't actually dip them but rather take a spoon and smooth it onto the front of the Oreos.  Then smooth the candy melt around the sides and onto the back of the Oreo. Be sure to do around the stick very well as this will be sure to hold them together when they have hardened.
Take some construction paper and cut out some bat wings. Stick one on each side of your bat. Take two red sprinkles and make some bat eyes. Then line up some white sprinkles for the mouth. To make the fangs I took some Heart shaped sprinkles I had left over from valentine's day and cut them in half to make the fangs. You could also use a long cylindrical sprinkle for the fangs if you don't have any hearts. Pop them into the freezer for 20 minutes and they should be ready to share.
Pretty easy and makes for fun and unique Halloween party treats for the kids classroom or their friends!
Need some other ideas for Oreos on a stick?  Check out these past ideas…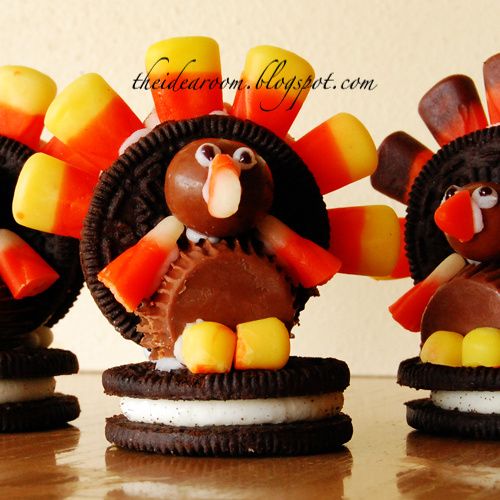 Minnie and Mickey Mouse Oreo Pops
  Easter Bunny and Duck Oreo Pops
JOIN OUR NEWSLETTER
Would you like more Recipes, DIY, Printables and Organization Ideas?
---
Subscribing to the newsletter will enable us to periodically send you creative content exclusively for Idea Room subscribers.
*View our Privacy Policy here.