Not a lot of creating has been happening over here lately. I have been CRAZY, busy the past couple of weeks. I have some obligations that are taking my time and attention lately.
I have also been hitting the gym frequently (and way too early) for a race my siblings and I signed up to do together in April…yikes! So bear with me a bit here. Things should calm down in a couple of weeks! If you have sent me an email or commented and have not heard from me…I am getting to them, but have gotten really behind! Thanks for all your kind words and support. It has been fun to get to "know" so many of you and learn more of who you crazy followers really are!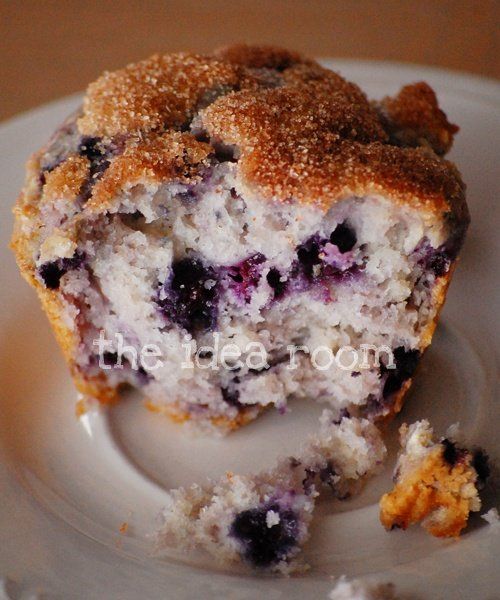 These were so yummy! My husband took a bunch to work and did not share them with his co-workers. Now he has requested another batch. Here is the recipe! **New–Click here for a printable version of the recipe.
2 cups unbleached all-purpose flour
1 tablespoon baking powder
1/2 teaspoon salt
2 large eggs
1 cup sugar
4 tablespoons unsalted butter melted
1 1/4 cups sour cream (10 ounces)
1 1/2 cups frozen blueberries (wild)
1. Adjust oven rack to middle position and heat oven to 350 degrees. Grease muffin tin.
2. Whisk flour, baking powder, and salt in medium bowl until combined. Whisk egg in second medium bowl until well-combined and light-colored, about 20 seconds. Add sugar and whisk vigorously until thick and homogenous, about 30 seconds; add melted butter in 2 or 3 additions, whisking to combine after each addition. Add sour cream in 2 additions, whisking just to combine.
3. Add frozen berries to dry ingredients and gently toss just to combine. Add sour cream mixture and fold with rubber spatula until batter comes together and berries are evenly distributed, 25 to 30 seconds. (Small spots of flour may remain and batter will be thick. Do not overmix.)
4. Use ice cream scoop or large spoon to drop batter into greased muffin tin. Bake until light golden brown and insert toothpick into the center of muffin comes out clean, 25 to 30 minutes, rotating pan from front to back halfway through baking time. Invert muffins onto wire rack, stand muffins upright, and cool 5 minutes. Serve as is or with the cinnamon sugar topping below.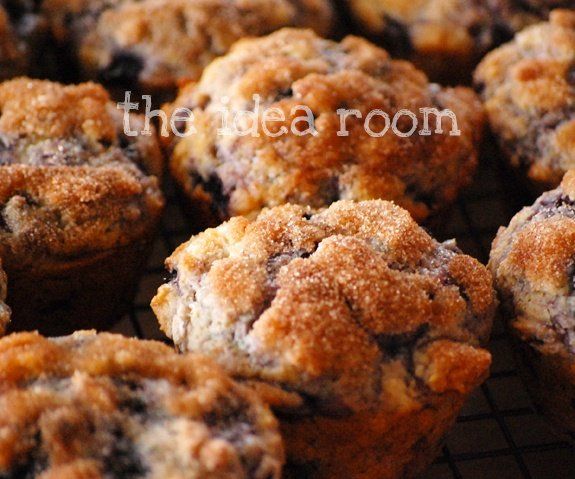 Cinnamon Sugar Topping:
While muffins are cooling, mix 1/2 cup sugar and 1/2 teaspoon ground cinnamon in small bowl and melt 4 tablespoons butter in small saucepan. After baked muffins have cooled 5 minutes, and working one at a time, dip top of each muffin in melted butter and then cinnamon sugar. Set muffins upright on wire rack.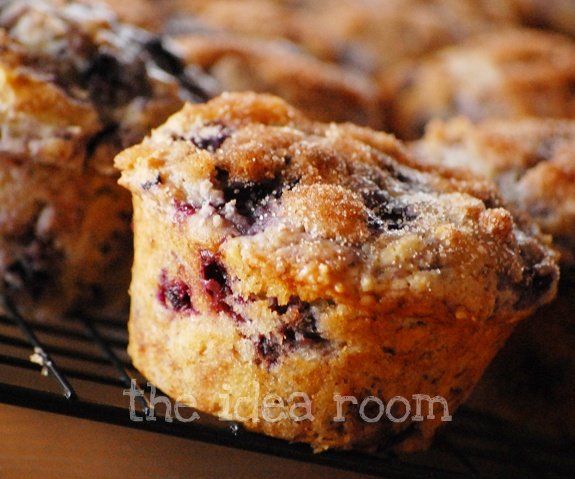 JOIN OUR NEWSLETTER
Would you like more Recipes, DIY, Printables and Organization Ideas?
---
Subscribing to the newsletter will enable us to periodically send you creative content exclusively for Idea Room subscribers.
*View our Privacy Policy here.