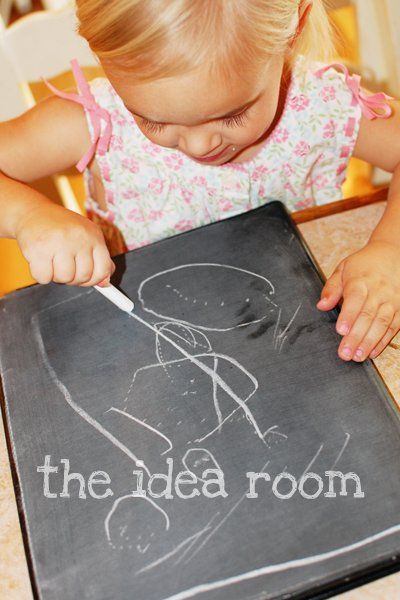 I realize that the chalk board paint has been overdone a bit, but since I had some leftover chalk board paint from this project, I had to use it up and test out a couple of ideas I had in my head.
For those of you wondering how well this homemade chalk board paint works on a flat surface, I tested it out on an old notebook we had lying around collecting dust (literally) that had a logo on it from my husband's old employers. We weren't using it and it needed a new purpose.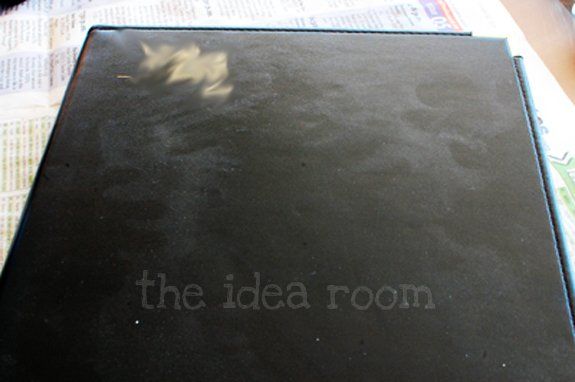 So I just painted right over the old work logo and painted the whole front surface with 3 layers of chalkboard paint. It painted on so nice and smoothly. Then I ran a peice of chalk over the entire surface to activate it so that the chalk would erase nicely (this is an important tip for prepping your newly painted surface with chalk board paint).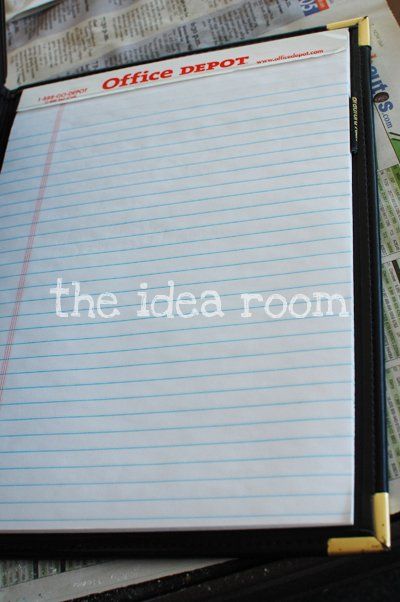 It actually works great! The kids have already *taken turns sharing* the portable chalkboard. I can already see how fun this would be to take in the car on long trips, while waiting in a restaurant or to a doctor's visit to help entertain your little one.
Then while my mind was pondering all things chalk board paint I thought back to an idea I had seen a long while back about being able to label your guests cups at a party. I thought…let's give it a try. So I painted, with my finger, a small square patch of chalk board paint onto a paper cup. It took 2 layers of paint.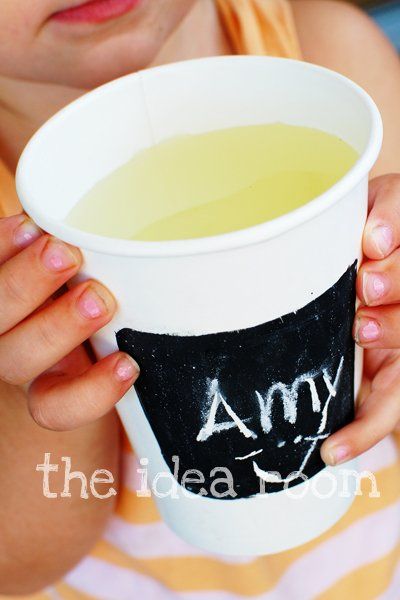 Then after rubbing a piece of chalk over the paint and wiping off, I simply wrote my name on the cup with the chalk. It worked great! Now your guests can keep their cups labeled to quickly keep track of them.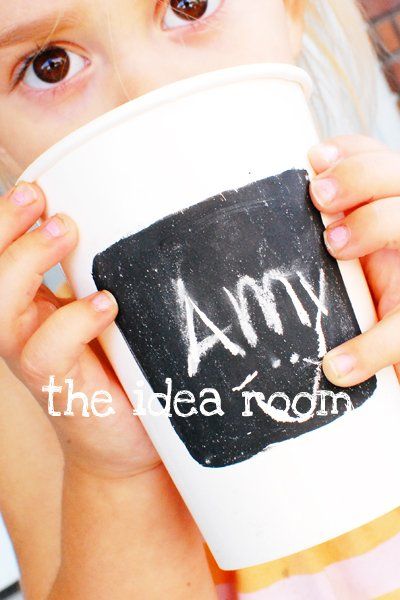 ___________________
On a side note…the ladies over at HowDoesShe are at it again! They have created 3 amazing sister sites to help share all of the great ideas out there in the blogosphere. "I Share…U Share!"
They have created sites for 3 different areas:
iSharePrintables
iShareCrafts
iShareFunFood
Today is the big day for the launch of these 3 amazing sites. I had been asked to help them do a test run of their new sites along with many other bloggers. I have to tell that I think their new sites are brilliant.
So be sure to head on over and check them out!
★Amy
JOIN OUR NEWSLETTER
Would you like more Recipes, DIY, Printables and Organization Ideas?
---
Subscribing to the newsletter will enable us to periodically send you creative content exclusively for Idea Room subscribers.
*View our Privacy Policy here.