Looking for a Chalkboard Paint Recipe? Look no further! Today I am sharing How to Make Chalkboard Paint with this simple paint recipe. You can use it to make Chalkboard Paint in any color or sheen you want without the expensive price tag.
CHALKBOARD PAINT
I recently saw some Chalkboard Rocks from Pottery Barn that you can write on with chalk and thought…"I can make those!" So I did!
I had been wanting to paint something with chalk board paint (which has been all the rage on the craft blogs the past several months) so I set out to find a good Chalkboard Paint Recipe. If you want to make some chalkboard paint, keep reading and I will share how to make chalkboard paint so you can make some too!
HOW TO MAKE CHALKBOARD PAINT
If you haven't noticed, Chalkboard Paint is pretty expensive. This recipe is super easy and only requires two ingredients…paint (of any color or type) and some Non-Sanded Tile Grout. I found mine at Home Depot for $4 and some change (can't remember exactly). But you can find the grout at any home improvement store.
CHALKBOARD PAINT INGREDIENTS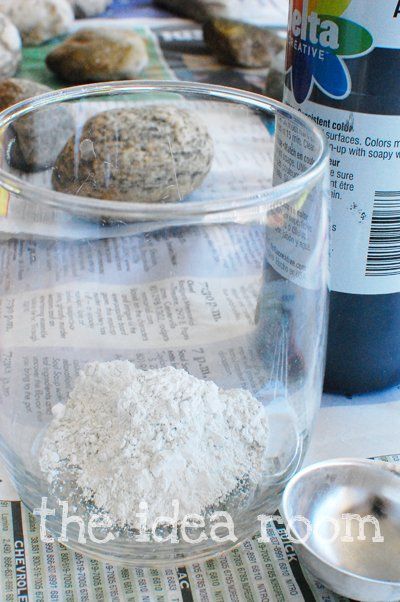 CHALKBOARD PAINT IDEAS
CHALKBOARD PAINT RECIPE
This Chalkboard Paint Recipe is so simple and easy to use. It will work for any type of paint you want to use.
Materials:
1 cup of paint (any sheen)
2 TBSP non-sanded grout
Instructions
Mix together the paint and the non-sanded grout.

Add the non-sanded grout slowly while mixing to help prevent big clots of grout.

If you have clumps you can use an old beater to mix it more thoroughly or a hand whisk.  You may want to run the grout through an old flour sifter if your grout starts out with clumps.

Paint your surface with the paint using the original instructions on the original paint you are using.

Let dry for 12 hours before adding a second coat of the Chalkboard Paint or writing on with chalk.

Before writing with chalk on the chalkboard paint, run a piece of chalk on its side, gently along the surface to break in the chalkboard paint and prepare your chalkboard surface.

Erase the chalk and your chalkboard surface should be ready to go!
CHALKBOARD PAINT IN ANY COLOR OR SHEEN
You can use any paint. Paint for plastics or acrylic paint or house paint. You can also use any color of paint. How fun is that? There are so many possibilities and price is now no longer a factor! You could paint a whole room in chalk board paint! Your kids would think you were da bomb!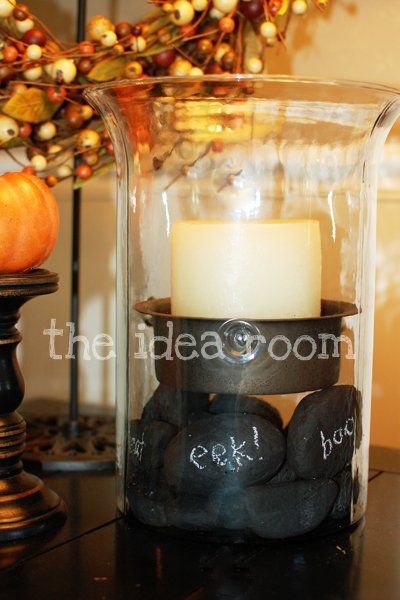 I really love the look of these black chalk board rocks. The room I have them in currently has a lot of black accents and so they fit in perfectly with the decor. Now I can keep them year round and just change what I write on them with chalk!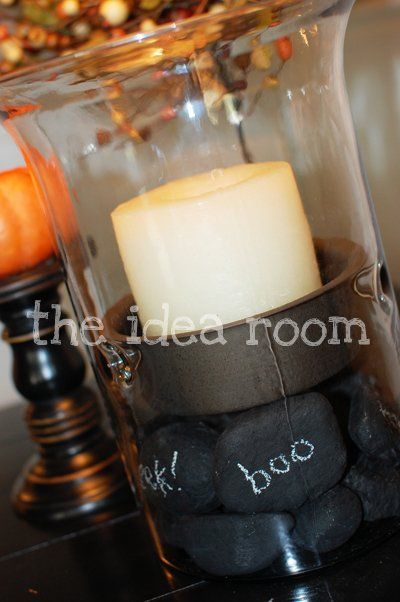 What would you like to use your chalk board paint for? Oh and if any of my nearby friends need some non-sanded grout…come and get some…I have a bit to spare :)! I do have a tile project I have been wanting to get to though, that is if I can get the hub's approval!
JOIN OUR NEWSLETTER
Would you like more Recipes, DIY, Printables and Organization Ideas?
---
Subscribing to the newsletter will enable us to periodically send you creative content exclusively for Idea Room subscribers.
*View our Privacy Policy here.