We made some DE.LI.CIOUS chocolate chip cookie dough cupcakes for my friends birthday the other day. They turned out amazingly good. My husband and kids love chocolate chip cookie dough and cookie dough ice cream. So what could be better than cupcakes with chocolate chip cookie dough inside of them? My family got to enjoy the leftovers.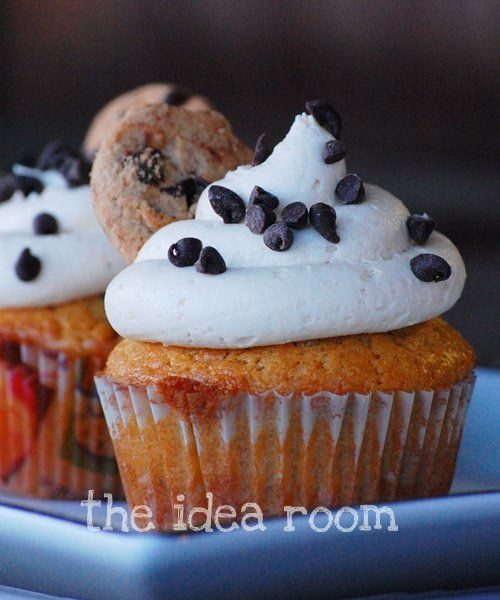 We found the recipe here at Annie's Eats.
For those of you worried about eating cookie dough containing raw eggs…no need to worry. This cookie dough is egg-less, but still tastes just like cookie dough. Brilliant! Go ahead and whip some up for your dessert! But don't eat more than one as they are NOT low-fat!
I think I will use the recipe for the egg-less cookie dough filling in some homemade vanilla ice cream this summer! By the way…I am eating treats again…within reason of course!
**Edit**
I had a few emails concerning the frosting recipe I used. I used the one from Annie's Eats but mine did look different than hers. I really whipped mine so that it was nice and fluffy. I applied it using a pastry bag with a large tip and just swirled it onto the cupcakes. The small cookies I stuck in the frosting were mini-Chips Ahoy cookies by Nabisco.
For the frosting:
3 sticks unsalted butter, at room temperature (Yikes! That is some butter :)
¾ cup light brown sugar, packed
3½ cups confectioners' sugar
1 cup all-purpose flour
¾ tsp. salt
3 tbsp. milk
2½ tsp. vanilla extract
JOIN OUR NEWSLETTER
Would you like more Recipes, DIY, Printables and Organization Ideas?
---
Subscribing to the newsletter will enable us to periodically send you creative content exclusively for Idea Room subscribers.
*View our Privacy Policy here.