There have been numerous studies that suggest sitting down together as a family at dinner time is very beneficial and helps to strengthen families. There are several resources like here and here that give specific benefits that result from eating together as a family.
This is something that I absolutely believe to be true. I really try to make sure that my family sits down and enjoy our meals together. Some days this is harder than others. But it is important to make this a number one priority.
Your meals do not need to be 3 course or really fancy. Sometimes we just eat something really simple, or on really busy days, I throw something in the crock pot and let it cook all day so all I have to do is set the table at dinner time. Even ordering take-out and sitting together at the table can count as a family dinner. It doesn't matter what, but that you are eating together.
We try to have dinner on the table at the same time each day. This works pretty well most nights. Sometimes we have to make adjustments due to a sport or school activity. The improtant thing is consistency.
We also have some dinner table rules where no distractions are allowed. For example…No answering the phone, watching TV or texting, reading, etc. Then we eat AND talk! We used to have each child take turns sharing with us what happened to them during the day, but then we started getting some of the same answers every night (do you know what I mean? :)!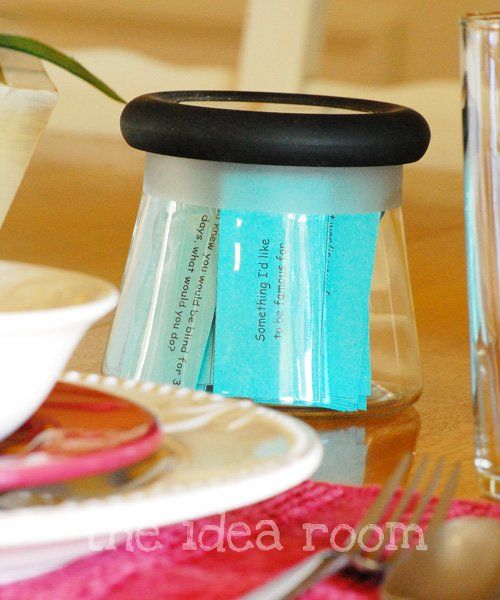 Then for Christmas, my friend gave us a set of prepared questions for dinnertime duscussions. We keep them in a jar by the dinner table. Now, each night we take turns pulling out a question and talking about it. It has been so much fun. We have really expanded the things we talk about and are learning new things about each other we otherwise would not have learned.
Some examples of the questions we have already answered are:
What would you spend $100 dollars on today if you could?
What was your last dream that you remember?
What animal would you be and why?
What superhero power do you wish you could have and why?
What was your favorite present ever?
What icecream flavor would you invent?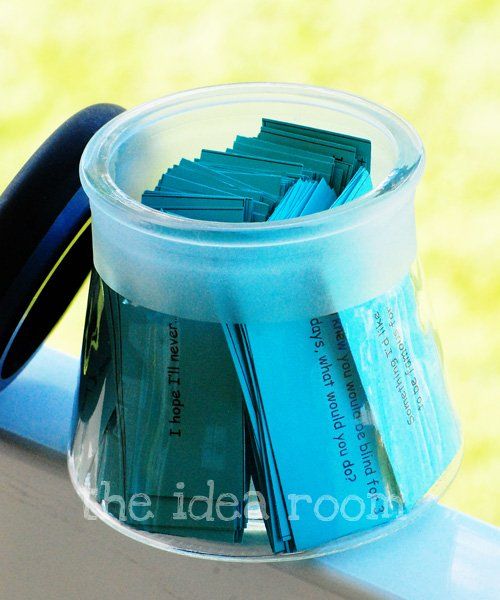 The possiblilities are endless. All you need to do is come up with a list of questions and then be amazed at all the fun things you will get to learn about each other. Sometimes we can sit and talk about something for quite a while before anyone asks to be excused from the table. It really doesn't matter what the questions are…the point is to get you talking and listening to one another. Sometimes we answer more than one question and sometimes one question will spark a big discussion that lasts the whole time we are eating. It has been fun and relaxing and has taken some of the pressure off of some of our past dinnertime struggles.
Go ahead and give it a try. I really think this will be something you LOVE doing as a family.
JOIN OUR NEWSLETTER
Would you like more Recipes, DIY, Printables and Organization Ideas?
---
Subscribing to the newsletter will enable us to periodically send you creative content exclusively for Idea Room subscribers.
*View our Privacy Policy here.