Tis the season for baking…and CINNAMON! I LOVE Cinnamon. I also love eating breakfast foods for dinner. So the other night we whipped up some yummy Cinnamon Roll Pancakes for dinner. Ummmm….Hello! This should not be legal. It was practically like eating a big cinnamon roll for dinner. Probably not a great habit to get into, but they were a hit with all! I also ended up using wheat flour…does that cancel out the bad?
Cinnamon Roll Pancakes:
1 cup unbleached all-purpose flour
1 teaspoon baking powder
1/2 teaspoon baking soda
1/2 teaspoon salt
1 1/2 cups buttermilk
2 tablespoons butter
1 egg, lightly beaten
1 tablespoon honey
Cinnamon swirl:
2 tablespoons melted butter
(Instead of butter we used a little milk to thin it out)
1/4 cup brown sugar
1 teaspoon cinnamon
1 tablespoon flour
1. Mix all the ingredients together to make the pancakes and set aside. Preheat your pan or skillet and lightly grease it.
2. Make the Cinnamon Swirl mixture and place it into a a small bottle with a squirt nozzle (the name is escaping me…I used one)or a small baggie with a snip in the corner.
3. Spread your batter into small pancakes on the griddle. Immediately add the cinnamon swirls.
4. Cook the pancakes until small bubbles form on the topside of the pancake and do not fill back in with batter.
5. Flip over the pancakes with a turner and cook for another 30 seconds to a minute.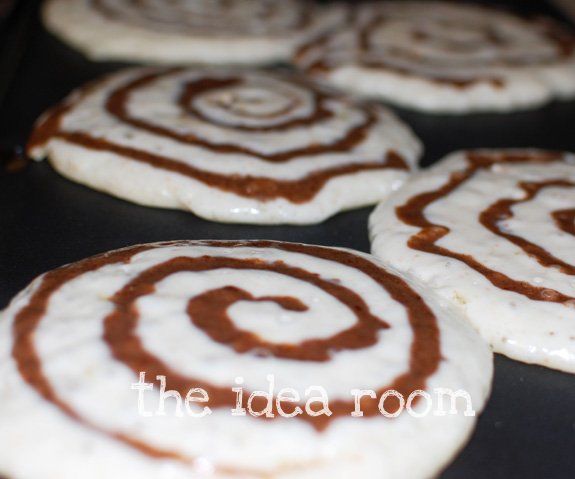 Buttermilk Syrup:
4 tablespoons butter
1/4 cup sugar
1 cup buttermilk
1 teaspoon pure vanilla extract
1/2 teaspoon baking soda
1. In a medium sauce pan, combine butter, sugar, and buttermilk. Set over medium heat and bring to a boil. Reduce heat to low and allow too simmer for 10 minutes, stirring occasionally. Take off heat and stir in vanilla and baking soda. Stir and the mixture will become thick and bubbly.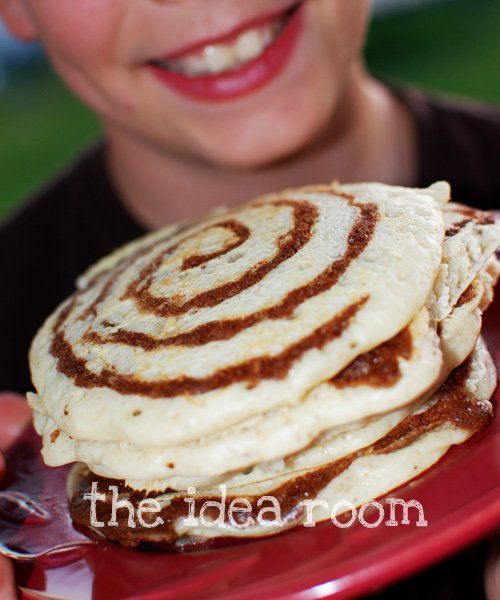 Go ahead and try them. I was given this recipe by a good friend and she has never steered me wrong…Thanks Michelle! And of course if you give them a try I would love to hear how you like them!
Stay Updated!
Would you like more recipes, printables, DIY/Decor, and organization ideas?
---
Sign up for updates and get a free copy or our Sugar Scrubs eBook!