Do you have any left-over pumpkins from Halloween that didn't make it into a Jack-O-Lantern? Or are the local grocery stores or fruit stands selling pumpkins at a big discount? Why not make your family a fun dinner in a pumpkin!
This was our 2nd annual dinner out of a pumpkin. For some reason, the kids get a big kick out of this dinner. Believe it or not, there were no complaints at the dinner table this time around :)!
There are several recipes that you can use in your pumpkin including soups and meatloafs. Here is our recipe:
1 pound ground turkey
1 medium onion, chopped
1 cup chopped celery or water chestnuts
1 cup fresh mushrooms, chopped
1 1/2 cup cooked rice
1 can cream of mushroom soup
1/4 cup milk
2 tablespoons soy sauce
2 tablespoons brown sugar
1 medium pumpkin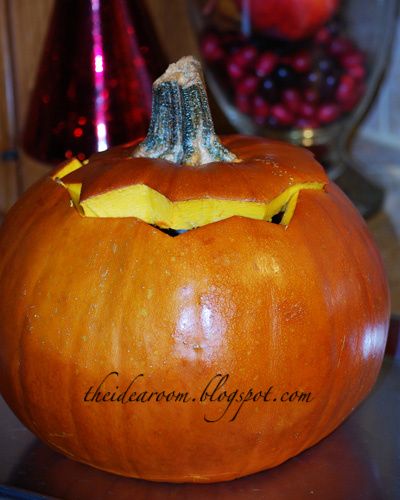 Want To Make Your Holiday Planning EASY And ORGANIZED?
Check Out Our CHRISTMAS ESSENTIALS
Cut off the top of a pumpkin and clean the insides out. Brown your meat in a large skillet with the onions and celery (water chestnuts). While the meat mixture is browning cook your rice according to it's package directions. In large bowl mix meat mixture, rice, soup, soy sauce and brown sugar. Spoon into pumpkin and replace the lid. Set the pumpkin on a cookie sheet to capture any spills. Bake in the oven at 350 degrees for an hour or until pumpkin insides are soft. Leave the lid on the pumpkin while it is baking to hold in the heat.
Usually, I let the kids draw a face on the pumpkin. Another fun idea would be to get several small sugar pumpkins and clean out one for each person (or let your kids clean out their own). Then fill each pumpkin with a single serving size. Then each person could eat out of their own pumpkin. But perhaps the best part of this idea is that you can actually eat the "meat" of the pumpkin for your vegetable side dish!
1. a warm home
2. a modern stove
3. kids that love to clean out pumpkins
JOIN OUR NEWSLETTER
Would you like more Recipes, DIY, Printables and Organization Ideas?
---
Subscribing to the newsletter will enable us to periodically send you creative content exclusively for Idea Room subscribers.
*View our Privacy Policy here.