**If you haven't entered the giveaway for the RecessionistaPary handbag, be sure to click here and enter!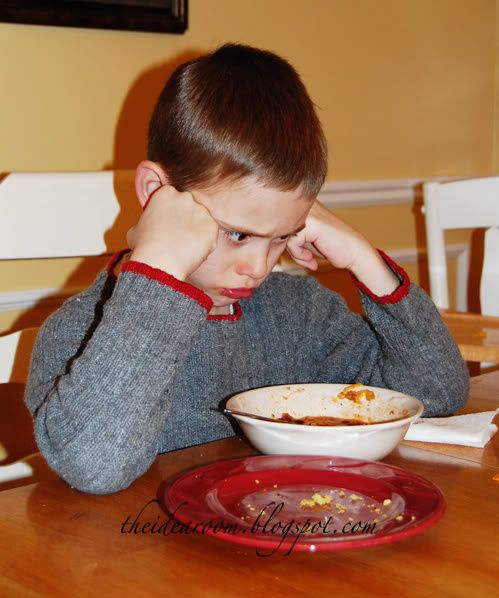 Seriously! Does any one else get similar reactions to their hours of handiwork in the kitchen? One of my children, who shall remain unnamed (but not unpictured) is the usual culprit at our house. He has always been picky, but for some reason, in the last couple of months, he has become really stubborn about eating. We have struggled about what to do to get him to eat without complaint or force.
Everyone eats what is on the table over here. There are no special meals made for those who do not like what is being served. Which is sort of ironic (my mom is laughing right now) because I was the pickiest eater when I was little. I lived on Peanut Butter and Jelly sandwiches! But my kids don't need to know about that, cause that was totally different :)!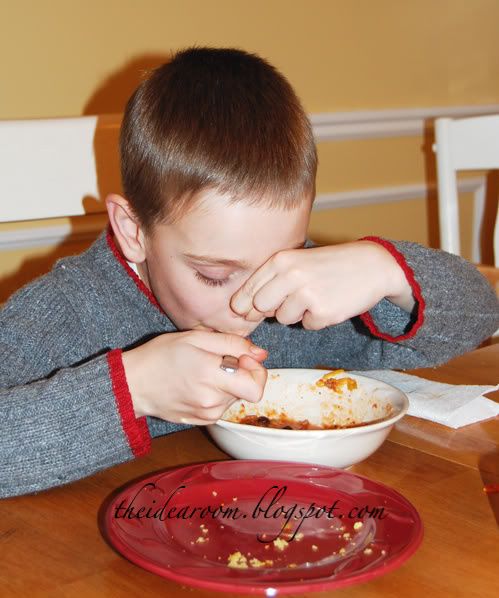 We require him to take at least 5 bites now. But then even those 5 bites would take forever to eat sometimes. And he would still be sitting there complaining while the rest of us were cleaning up the kitchen and the doing the dishes. I didn't think it was fair for him to "convieniently" get out of helping with the dishes too.
So now if he complains about dinner I just quietly get up and set the kitchen timer for 10 minutes. He knows this means he now has 10 minutes to eat his 5 bites without complaint. The kitchen will be closed after dinner and he may go to bed hungry. This has been working a ton better and has made meal time much happier for the rest of us. He has even eaten something all gone after claiming it was "disgusting".
My question to you is…How do you deal with the picky eater at your house?
P.S. Since it is the month of "Thanksgiving" I will add three things I am thankful for at the end of each post during the month of November!
1. the blessing and ability to provide food and nourishment for our children
2. strong and independent personalities
3. eating dinner together as a family

JOIN OUR NEWSLETTER
Would you like more Recipes, DIY, Printables and Organization Ideas?
---
Subscribing to the newsletter will enable us to periodically send you creative content exclusively for Idea Room subscribers.
*View our Privacy Policy here.