**If you haven't entered the giveaway for the RecessionistaPary handbag, be sure to click here and enter!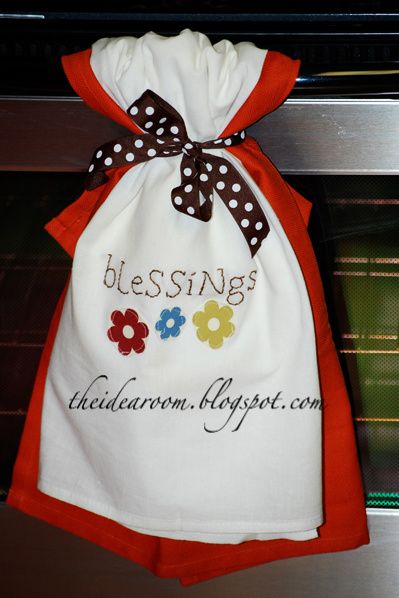 Make a festive hand embroidered dish towel to celebrate the season…every season. Do you remember these handtowels I made for some friends last Christmas? Well,I just made a Thanksgiving version for my kitchen.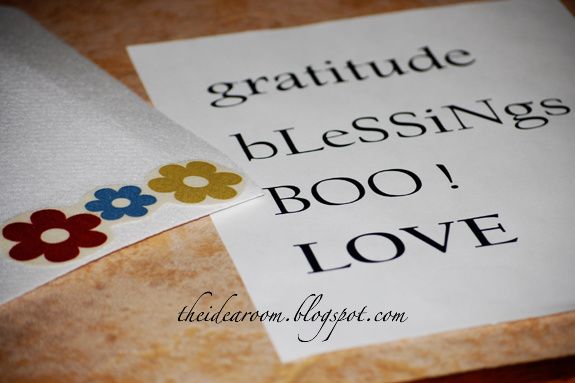 I typed out the word blessing and then traced it onto the bottom half (in the middle) of a flour sac hand towel with a pencil. I found mine at Ben Franklin for $1.50. I have also seen them at Wal-Mart, etc. I then cut out some material (the same material I used for my oven hand mitts) and applied the flowers as an applique to the towel under the word I had penciled on the towel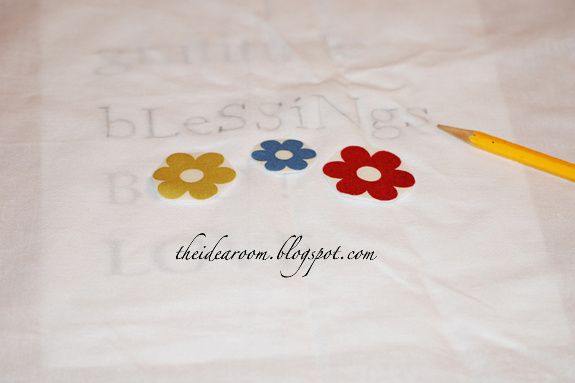 Then I placed an embroidery hoop around the letters and embroidered the word using a backstitch. I wanted the word to be thick, so I used 4 strands of the embroidery floss.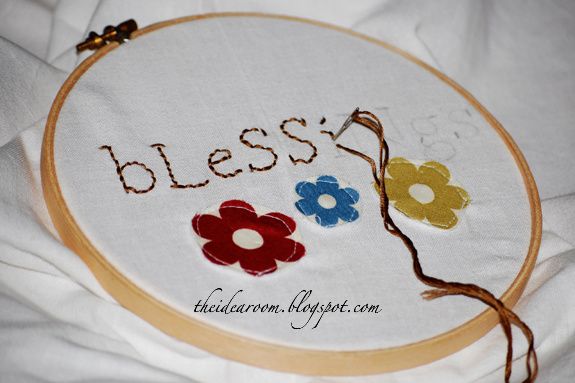 The fun thing would be to have one for every holiday and season. I had planned on making one for Halloween with the word Boo, but never got around to it. Since the flour sac towels are so large, I think I will just turn the towel around and add the Boo to the other side. Then you could use the same hand towel for both seasons. Just turn the towel to the right side for the season. These could not be simpler to make.
I have this hanging on the handle of my oven door and have tied a ribbon around it, I don't have to hang it back up anytime the kids get near the towel (if you know what I mean). When the kids dry their hands on it, it actually stays in place!
If you are interested, I have posted the pattern I used along with patterns for Boo!, LOVE, and Gratitude. Click here for the downloadable version.
JOIN OUR NEWSLETTER
Would you like more Recipes, DIY, Printables and Organization Ideas?
---
Subscribing to the newsletter will enable us to periodically send you creative content exclusively for Idea Room subscribers.
*View our Privacy Policy here.