Need some cute bags for your Trick-or-Treater and all their loot? I whipped up some really easy bags for my goblins using some eco-friendly reusable tote bags that you can get at your local grocery stores for an inexpensive price. I actually used bags that we already had. I had gotten them from Target and these specific ones are reusable lunch bags. They come in a bundle of three for about $5 if I remember correctly.



**Click here for Frankenstein Trick-or-Treat Bag pattern download!

All I did was draw out an image of Frankenstein and a Skeleton and then trace it onto some colored felt. Then after cutting out each shape, I glued them onto the bags with hot glue. It really couldn't be any simpler. If you use a reusable bag that has a logo on it, just try to figure out a way to creatively cover the logo with your felt decoration.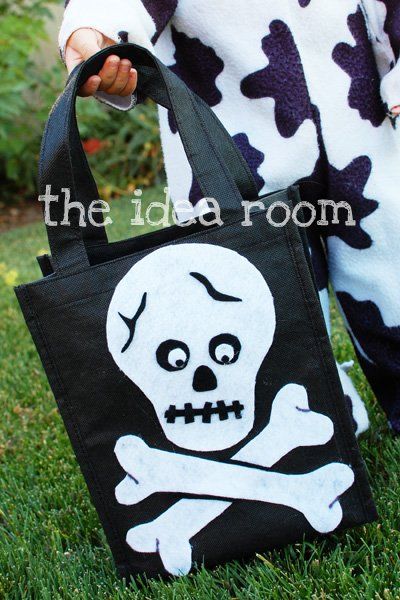 **Click here for Skeleton Trick-or-Treat Bag pattern download!

The kinds of bags you can make are endless. Some other characters you could make really easily would be a cat, bat, pumpkin, ghost, monster, or mummy! Get creative. Another thing that helped me to come up with an idea of how to draw my character was to google images. Then if you see something you like you can freehand it with something to help inspire you.
So go ahead and make your own Trick-or-Treat bags. Feel free to use the free downloads I have provided, or create your own versions. As always I would love to see your photos if you end up making one yourselves!

JOIN OUR NEWSLETTER
Would you like more Recipes, DIY, Printables and Organization Ideas?
---
Subscribing to the newsletter will enable us to periodically send you creative content exclusively for Idea Room subscribers.
*View our Privacy Policy here.