Go ahead and make these easy heart suckers as a Valentine's treat, gift or rainy day treat. My kids love them. I have used a couple of different flavorings but once I tried LorAnn Oils, I will not use any other. They have a lot more flavor than the ones I had tried. I have seen it at grocery stores and craft stores and it comes in tons of yummy flavors. Some of our favorites are: cinnamon, rootbeer, orange, grape and green apple.
This recipe comes right out of a a small recipe book that comes with the oils.
2 cups sugar
2/3 cups light corn syrup
3/4 water
1 dram (bottle) LorAnn Gourmet Flavoring
3-4 drops food coloring
In large saucepan, mix together sugar, corn syrup and water. Stir over medium heat until sugar dissolves. Bring mixture to a boil without stirring. When syrup temperature reaches 260 degrees, add food coloring (2-4 drops). Do not stir; boiling will incorporate color into syrup. Remove from heat at 300 degrees or when drops of syrup form hard, brittle threads in cold water. After boiling action ceases, add flavoring and stir. Be careful with this part…fumes can be very strong (I recommend turning your face away from the pan). Immediately pour syrup into prepared sucker molds with sucker sticks.
Before starting, make sure you lightly grease a baking sheet and put the sucker sticks into the molds. My kids love to do this part.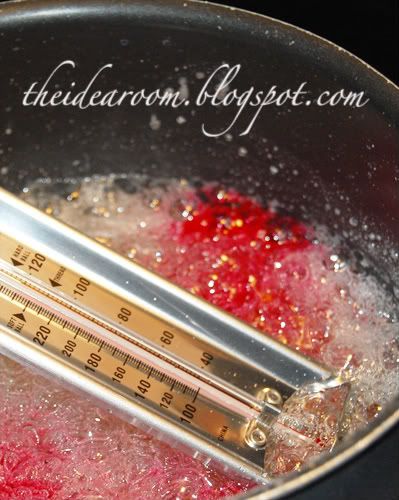 Pour liquid candy into the molds very carefully and fairly quickly as the syrup hardens easily. Be careful this is very HOT! My daughter took this picture. Pretty good huh? Let suckers cool completely before removing sucker molds.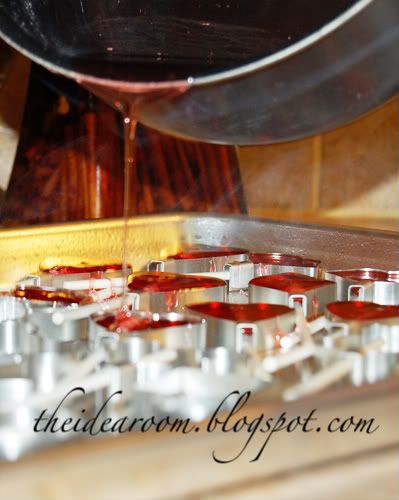 JOIN OUR NEWSLETTER
Would you like more Recipes, DIY, Printables and Organization Ideas?
---
Subscribing to the newsletter will enable us to periodically send you creative content exclusively for Idea Room subscribers.
*View our Privacy Policy here.