Now that your artist has a fun smock, your little artist is going to need some paint. Instead of spending your hard earned money on the expensive store bought versions, why not make your own? I found an easy recipe that can be made using simple household staples. Follow these simple steps:
1/4 cup flour
1 cup water
Pour flour into saucepan. Slowly add 1 cup water, stirring until mixture is smooth. Heat, stirring constantly until mixture thickens. Allow to cool, then measure 1/4 cup of the mixture into each of the small jars (baby food jars are perfect for this).
To each jar, add:
2 Tbsp. water
3 Tbsp. baby powder & food coloring OR powdered Tempera Paint
1/2 tsp. liquid clothes detergent (for glossy finish) OR 1/2 tsp. liquid starch (for matte finish)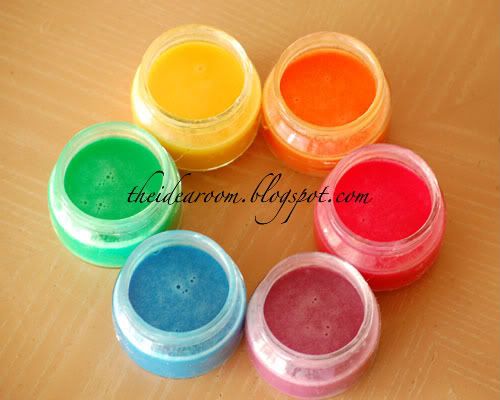 Now that you have paint, grab a large peice of cardboard and make your artist an easel to paint his/her masterpeices on.
I happened to have an old cardboard box from a water heater stored under the back porch. My husband has a problem throwing out cardboard and obsessively hoards it. This habit, for once, made me a very happy camper because I found a peice that was perfect for use as an artist's easel.
I cut it down in size so that it was just about as tall as my girls (4 ft. tall). Then I cut off one side so that it had only 3 sides. I took some clips that we "theoretically" use to keep our chip bags closed (the kids never seem to remember to put them back on after removal).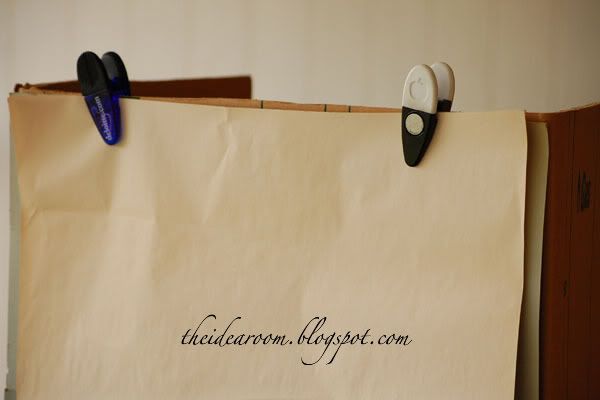 I used the clips to hold sheets of butcher paper at the top of the cardboard. Three kids can actually use the easel at the same time.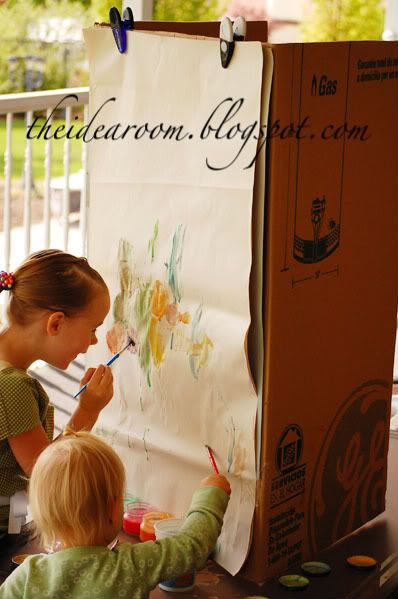 Since my kids are really messy painters, we paint outside. I just put the cardboard easel onto a table that can be washed off and then let the kids go to town. Even my baby painted a picture. I was not brave enough to let her have her own paint, but she did get a baby food jar filled with colored water and her very own paint brush. She thought it was great.


JOIN OUR NEWSLETTER
Would you like more Recipes, DIY, Printables and Organization Ideas?
---
Subscribing to the newsletter will enable us to periodically send you creative content exclusively for Idea Room subscribers.
*View our Privacy Policy here.