**Updated as of 7/3/09. Now you can download documents to make your kids their very own checkbook registers!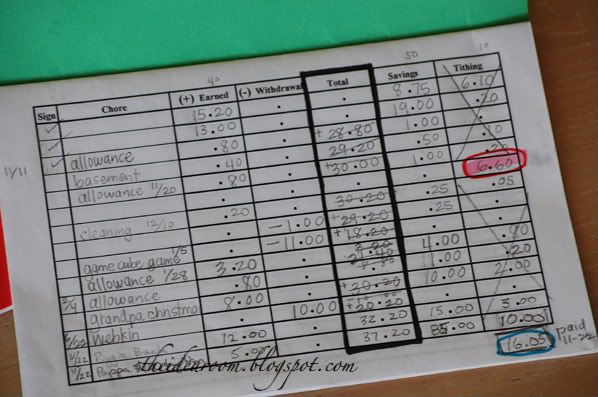 My husband and I have tried for a while to determine the best way to teach the basics of money to our children. Personally, we do not believe in giving our kids a weekly or monthly allowance. We want our kids to realize that when they are older, someone will not just hand them a sum of money each week for doing nothing. I want them to grasp the concept that if they want money, then THEY are going to have to EARN it!
So at our house the kids are each expected to do chores they are assigned to every day without pay. For example every day they are expected to have their rooms clean and their beds made and complete a couple of additional chores that need to be done that day. Although we do not pay them for this, we have a point reward system to motivate them and to reward them for their obedience.
Then we have compiled a list of other chores and jobs that they may do to allow them to earn their "allowance". Each job has a set price based on the difficulty and the type of chore they choose to complete. They are only paid when the job has been completed to mom and dad's standards.
Then we ran into the problem of having the proper amount of change on hand sometimes to pay them when they were finished. So we decided to give each of them a checkbook register to record their earnings every time they earned some money. We record what they did and the amount we have deposited into their "bank account".
Then if the kids want to spend some money from their bank account they get their checkbook registers out and make a withdrawl. Then we as the bank actually hand them the actual amount in cash. They are allowed to take that money with them too the store and spend it on what they choose to spend it on. I always let them pay for their purchase separately so they see how it feels to hand over their hard earned money for what they have chosen to buy.
We set 50 percent of their earnings for them to spend in any manner they please. We have seen some interesting differences in our children's spending habits. One of our children saves and hordes every penny and was able to buy himself a Wii when his parents would not. It took him over 1.5 years of a lot of hard work and saving to do so, but he felt a great sense of satisfaction when he was able to walk out of the store with it in his hand.
Then another one of our children made a withdrawal almost every time I went to the store and he would raid the dollar aisle at Target. His money burned a hole in his pocket. Then one day he discovered Webkinz. But he could never save enough money to buy himself one. Finally one day he declared that he was not going to spend any more money until he had enough for a Webkinz. On the day that he had finally saved up enough money, he was so excited. Unfortunately I could not make it to the store that day or the next. He was finally able to go to store and make his purchase, and he has enjoyed his Webkinz much longer than the other smaller items which were usually broken or lost shortly after buying.
We have also tried to teach the kids about saving a certain amount of their money in a long term bank account to be used later for college or for serving as a missionary for our church (at age 19). As their savings account grows, my hubby and I will periodically take the amount they have saved in this untouchable savings account and actually place that exact sum into a real live bank account we have set up for them at our actual bank. We have decided that 40 percent of all our kids earnings will go into this untouchable account.
Our checkbook registers have a section labeled "tithing", where the kids save 10 percent of their earnings to for charitable donations to our church. This may be something you may not need and can therefore add the 10 percent to some other area that may fit your family and/or change the amounts you save or allow them to spend.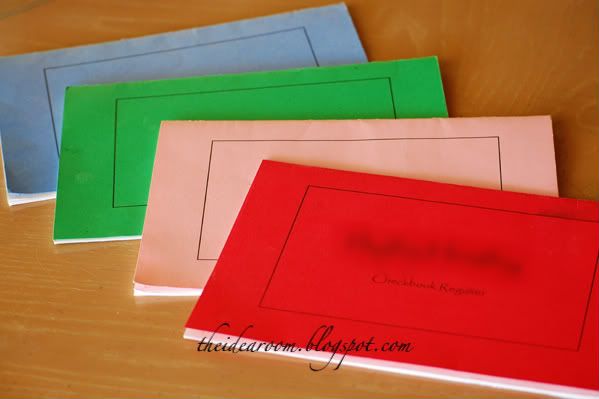 We have found that this breakout of percentages has worked well for our family. It has given our kids sufficient money to spend on things they have wanted and helped them realize how much the things they want cost. Maybe something like this will work for you and your family. It has sure made keeping track of our kids money a lot easier around here.
If you would like to download a copy to make your own checkbook registers, click here.
There are two files you will need to download. I think I have finally gotten all the kinks worked out. Some of you had no trouble downloading the files, but for those of you who did, I changed the files to a later version of Office (thanks to a reader's smart suggestion, thank you!), and so it should now work for the rest of you. If you still have trouble downloading them, email me and I can send you them.
You can then print them out for your use. You should need only one copy of the 2 paged document which includes the front page and the middle pages of the register. Then as needed you can print as many of page two (the middle pages) as needed.
JOIN OUR NEWSLETTER
Would you like more Recipes, DIY, Printables and Organization Ideas?
---
Subscribing to the newsletter will enable us to periodically send you creative content exclusively for Idea Room subscribers.
*View our Privacy Policy here.