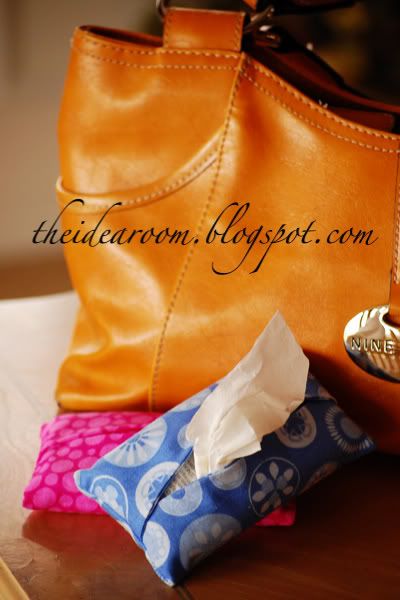 If you have little kids, then you know how imperative it becomes to be armed with an ever ready supply of Kleenex. So why not make that Kleenex carrier cute. These are SO simple and Fast. I knocked out my first one in 10 minutes. Seriously…they are that easy. If you are not a sewer, I guarantee this will be something you can handle.
I used this tutorial here to make mine from. These would make a quick and easy gift for a neighbor, friend or new momma. My husband requested one (in a more manly fashion) than the ones I had originally made. And of course my daughters suddenly NEEDED to carry their own Kleenex in their backpacks to school. Since they were so easy, my eldest daughter even helped me sew her very own cover.
Now, go ahead and whip up some of these easy covers. If your house is any thing like mine, those winter colds are still lingering and allergy season is just upon us!
If your nose has to be red, swollen and dripy, something should at least look cute. Why not your Kleenex case?

JOIN OUR NEWSLETTER
Would you like more Recipes, DIY, Printables and Organization Ideas?
---
Subscribing to the newsletter will enable us to periodically send you creative content exclusively for Idea Room subscribers.
*View our Privacy Policy here.