If you are a knitter, you might just want to knit one of these fun ear-flap hats for your little guy (or girl). I am always making hats for the girls and the boys were feeling a bit left out. My sister knitted up some hats for her boys that my boys loved. She showed me this pattern she had found. I loved them. So I made a couple. I was able to finish one, the other…well it is still sitting in my knitting bag finished but waiting to be stitched together. It is for my son who insists that 30 degrees is not cold enough for a coat. So my motivation for finishing that particular project has been low on my list. Anyways, if you like knitting, this was a fairly easy project, but was really a lot of fun for me to make! By the way, I did not add the tassles onto the ear flaps because my boys did not want them. They thought they added a little "sissiness" (their word, not mine) to the hats.
The picture above is of my nephew. My sister took this picture. The same sister who showed me these cute hats. My other sister made some as well. I do not have a picture of hers yet…hint, hint ;).
I used this pattern from Patons, the "Funky and Stripes and Checks Set" which you can purchase from JoAnn's online (I am not sure if they carry the pattern in their stores).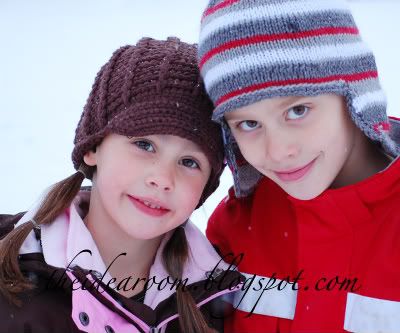 JOIN OUR NEWSLETTER
Would you like more Recipes, DIY, Printables and Organization Ideas?
---
Subscribing to the newsletter will enable us to periodically send you creative content exclusively for Idea Room subscribers.
*View our Privacy Policy here.