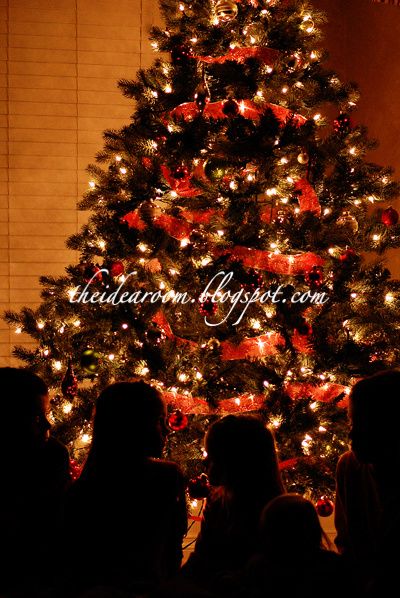 Oh Christmas Tree
Oh how we love
to sleep under thee!
Every year right before Christmas we pick a night and sleep under (or beside) the Christmas tree. We light a fire in our fireplace and grab our favorite snack and a cup of hot cocoa. We read a couple of Christmas stories and then lay down and TRY to get some sleep. Every one is pretty excited and silly. Amid the giggles and whispers are A LOT of unheard, "it's time to stop talking now" statements by either my husband or I. After everyone settles in, we listen to my absolute favorite Children's story, The Velveteen Rabbit, that we have on CD.
Here is a little sampling of the CD that I found on the internet.
Several years ago, one Christmas, my hubby suprised me with this amazing book on CD of The Velveteen Rabbit. The story is read by Meryl Streep and is accompanied by piano music from George Winston. I love it! It quickly became a family favorite and a tradition to listen to as we sleep under the tree.
Eventually everyone drifts off to sleep. Then the hubby and I (who pretend to be falling asleep with the kids) watch a movie together in the same room with the tree and the sleeping kids. Then when it is our bedtime, we join the kids under the tree. The next morning, we make a big yummy breakfast!
Do you have any fun Christmas tree traditions?
JOIN OUR NEWSLETTER
Would you like more Recipes, DIY, Printables and Organization Ideas?
---
Subscribing to the newsletter will enable us to periodically send you creative content exclusively for Idea Room subscribers.
*View our Privacy Policy here.