One of the reasons Fall is my favorite season is that I love soups. Soups of all kinds. Not only do I love soup, but I love eating soup with a good piece of bread. So what could be better than eating soup out of a bowl of bread?
I saw some pumpkin bread bowls in a store last fall and just attempted making some from scratch recently.
I used one of my kids favorite recipes for French Bread.
1/4 cup warm water
1 cup tepid water
1 teaspoon kosher salt
1 package yeast (2 1/4 tsp)
3 1/2 cups unbleached flour
1 beaten egg white
Pour the yeast in the 1/4 cup of warm water. Let it sit for a few minutes to activate the yeast. Once the top is foamy with bubbles, pour the yeast mixture into your mixing bowl. Also add the other cup of water and the salt. Mix this together. Add some drops of food coloring to color the water a nice orange color. I used liquid food coloring and put about 4 drops of red and 6 drops of yellow.
Next, attach the dough hook to the mixer. Add the flour a little bit at a time. Keep kneading the dough for another 2 minutes after all the flour is in. You'll see a soft, slightly sticky dough.
Spray a large bowl with oil. Place dough into the oiled bowl and cover with oiled plastic wrap. Place in a warm place and let rise for 1 hour. It should double in size.
Flour your surface and rolling pin. Punch down the dough and remove it from the bowl. Remove a small handful of dough and add some green food coloring to it. Knead the dough to mix the color as thoroughly as possible and set aside. Knead the rest of your orange dough. Separate into 5 small round balls (for kid sized bread bowls) or make 4 round balls for a larger bread bowl.
Set your round dough balls on a greased cookie sheet. Take the green dough and make 4 or 5 small stems by making little round balls. Place the stems on the top and middle of your orange dough balls. Cover it again with oiled plastic wrap and let it rise for another 45 minutes.
Preheat the oven to 425 degrees. When the dough is ready, beat the egg white and brush the top of the dough.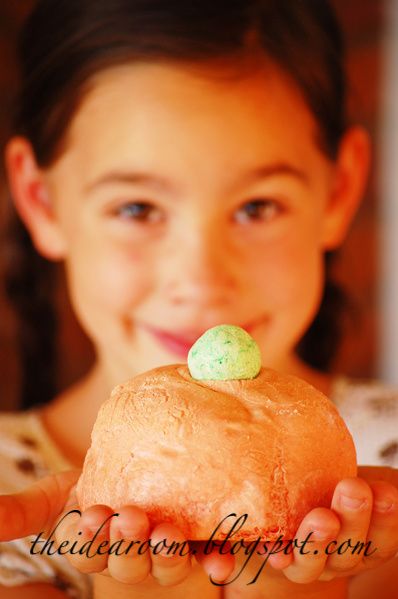 Bake for about 20 minutes, or until the top is golden brown. When you tap it, it should sound hollow. Allow it to cool before slicing. Slice the top of the pumpkin bowl off and hollow out the inside of the pumpkin to make a hole for your soup to sit in. Now, fill with your favorite soup!
**Updated–Click here for the printable version of the recipe and instructions! If you have Word 2007 and older, download the recipe with the (.docx) and anything older than 2007, download the recipe with (.doc).
JOIN OUR NEWSLETTER
Would you like more Recipes, DIY, Printables and Organization Ideas?
---
Subscribing to the newsletter will enable us to periodically send you creative content exclusively for Idea Room subscribers.
*View our Privacy Policy here.