Have you guys ever wanted to attend a blog conference?  I have attended a couple now and have really enjoyed them.
But I have to tell you that before I went I was not sure it was something that I wanted to do.  I am a fairly shy person especially when it comes to being in large groups of people I do not know.  I also don't  love stepping out of my comfort zone and going places with a lot of people I do not know.  Can any of you relate?  So I was really nervous to go to my first conference.  But you know what I learned…almost everyone else there was feeling the same to some degree.  But I was able to meet so many great new friends and make some great connections.  I also learned some really great things to help me with this blogging journey. 
Recently I was given an amazing opportunity…
I was asked to come and be a part of The Creative Connection's Social Media Team.  The Creative Connection Conference is the brain child of Jo Packham from Where Women Create.  The conference will be jammed packed with classes and speakers and there will also be a handmade market.  You will have to head on over to their site to see all the great goodness you will be able to participate in.
I am really excited about this new opportunity and am looking forward to making some new connections with amazing people and continuing to grow and learn. 
Curious as to who the keynote speakers are going to be…
And some amazing classes.  I had a really hard time trying to pick just one class per session.  There were so many I would have loved to have been able to take.
Well, The Creative Connection would love to giveaway a free pass to you and the friend of your choice.  How fun is that?

To  enter you will have to head on over to THE CREATIVE CONNECTION BLOG!!
Good Luck!  I would love to be able to meet some of my readers at this great conference!
Are there any of you who would be interested in coming and joining in the fun?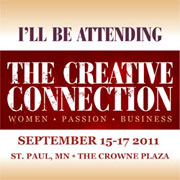 JOIN OUR NEWSLETTER
Would you like more Recipes, DIY, Printables and Organization Ideas?
---
Subscribing to the newsletter will enable us to periodically send you creative content exclusively for Idea Room subscribers.
*View our Privacy Policy here.