With summertime hot on our heels, cool tasty treats are a must. We recently made this super easy fresh fruit popsicle recipe. They.Are.Delicious!
I simply slice up some fresh fruit. We used kiwi, strawberries, raspberries, blueberries, marion berries and black berries. You could even use frozen fresh fruit. COSTCO has a great bag of frozen berries that we love over here.
I placed the fruit into a popsicle mold (about 1/3 full with fruit). More or less depending on your preference. I let the kids add the fruit they wanted in their own mold so they were just what they wanted.
Then I filled the rest of the popsicle mold with White Grape Juice. It has a mild, sweet taste and was clear so you could see the fruit inside the popsicle. The popsicles had a soft icy consistency and the fruit was not hard to eat and broke apart just like the rest of the soft ice. YUM!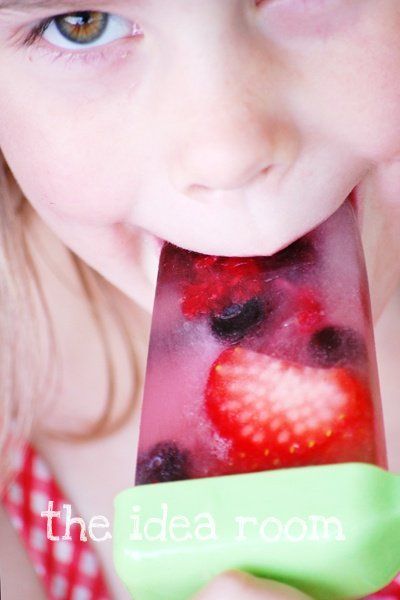 Considering the treats I usually share on here *ahem* these are quite healthy! Your waistlines will thank me for once! I will definitely make these again. I thought they were really classy and sophisticated. They would be fun for an shower or girls night out party.
For another fun summer popsicle you can make at home check out these Watermelon Popsicles.
**Since I know someone will wonder (or ask) I found the popsicle molds at Target two years ago.
JOIN OUR NEWSLETTER
Would you like more Recipes, DIY, Printables and Organization Ideas?
---
Subscribing to the newsletter will enable us to periodically send you creative content exclusively for Idea Room subscribers.
*View our Privacy Policy here.