So here are some more of my silhouettes I took the other night. I found a website that explains how to take great silhouettes better than I could here. Saves me some time!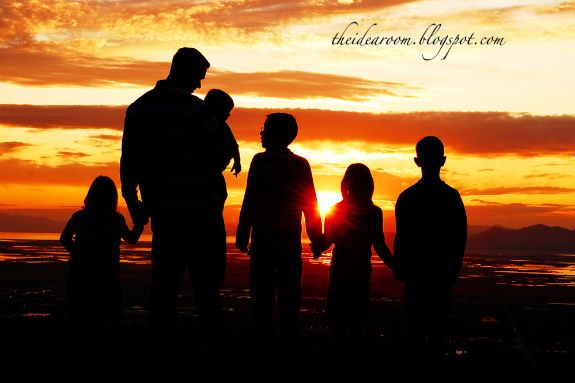 We found an area that allowed us to overlook the valley up on the top of a little hill (in someone's side yard…sorry bout that :)! We got there about 1/2 hour before the sun was supposed to set (check with your weatherman on the internet). The best shots were right as the sun was setting behind the cloud or on the horizon. To get the sun flares, I just moved around and placed it between the subjects arms, etc. to get the effect of the starburst. You will actually be able to see them when looking through your camera viewer. Just be very careful to not look directly at them. Blinding! I have heard you can do damage to your camera doing excessive amounts of sun flare photos. So just be careful to do it quickly.
I did not make any changes in Photoshop, except for a couple of photos where I jumped up the color just a bit to match what we had actually been viewing. Hope that helps. I am going to head back out now and get some of our whole family together. That is as soon as I can figure out how to use my camera's self timer! Won't these make some fun Christmas cards?
Want To Make Your Holiday Planning EASY And ORGANIZED?
Check Out Our CHRISTMAS ESSENTIALS
JOIN OUR NEWSLETTER
Would you like more Recipes, DIY, Printables and Organization Ideas?
---
Subscribing to the newsletter will enable us to periodically send you creative content exclusively for Idea Room subscribers.
*View our Privacy Policy here.