Be sure to take a minute and head on over to Simply Modern Mom where I am hosting a fun little giveaway today (1300 Followers…Wahoo)!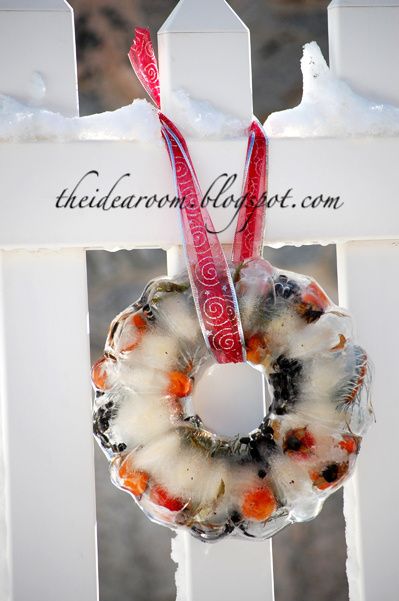 Make a festive ice wreath to add to your outdoor Christmas Decor. These are so simple to make and don't cost you anything. I just took a bundt pan (but any round pan with a hole in the middle will do. Then I gathered items from around my yard like rose hips, berries, pinecones, and pineneedles and placed them in the pan half filled with water.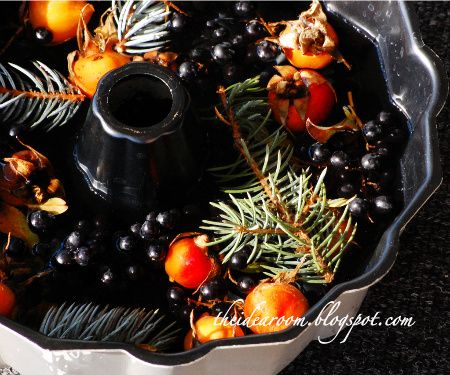 Then I simply placed the pan into my freezer. The next day I had a frozen wreath. To remove the wreath from the pan I just ran the bottom of the pan under hot water for a few seconds and the wreath slid right out. Run a piece of ribbon through the hole and hang your new wreath. You might want to handle the wreath with gloves on your hands.
These wreaths can last up to a few weeks depending on where you place it and how cold the weather is in your area! They can also be used in your table centerpieces for a dinner party if you placed them on top of a pan to collect the melted water. You could also make ice "candles" by freezing water in a tall glass or cylindrical container!
Want To Make Your Holiday Planning EASY And ORGANIZED?
Check Out Our CHRISTMAS ESSENTIALS
JOIN OUR NEWSLETTER
Would you like more Recipes, DIY, Printables and Organization Ideas?
---
Subscribing to the newsletter will enable us to periodically send you creative content exclusively for Idea Room subscribers.
*View our Privacy Policy here.